A ranibizumab implant (Port Delivery System) could ease treatment burden, and even improve long-term visual acuity, in people with neovascular age-related macular degeneration, interim results from the phase 3 randomized Archway trial suggest.
"It's exciting; a huge opportunity for the appropriate patient," said Timothy Murray, MD, from Ocular Oncology and Retina in Miami, who was not involved in the trial.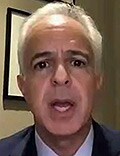 Over the course of 40 weeks, patients with the implant required fewer treatments than those who received intravitreal injections of ranibizumab (mean, 2.0 vs 10.7), Carl Regillo, MD, from Wills Eye Hospital in Philadelphia, reported at EURETINA 2020.
Anti-vascular endothelial growth factor (VEGF) has been highly effective in the treatment of patients with neovascular age-related macular degeneration, and the rate of adverse events has been low. However, many patients require injections every few weeks to maintain their visual acuity. Intravitreal injections are uncomfortable, and many patients find it difficult to get to their many appointments.
The implant, which is slightly longer than a grain of rice, is implanted in the pars plana during a surgical procedure performed in an operating room with local anesthesia. Once implanted, the device — which continuously diffuses ranibizumab into the vitreous cavity — remains covered by the Tenon capsule and the conjunctiva indefinitely.
Every 24 weeks, the clinician uses a customized needle to refill the implant with ranibizumab 100 mg/mL. This office-based procedure is slightly more complicated than an intravitreal injection because the needle must be perpendicular to the implant, and directly in its center.
For the Archway study, 248 participants were assigned to receive the implant and 167 to receive intravitreal injections with ranibizumab 0.5 mg every 4 weeks. Participants had received, and showed benefit from, a mean of five intravitreal injections before enrollment.
Maintenance of vision — measured as change between baseline and best-corrected visual acuity (BCVA) averaged over weeks 36 to 40 — was equal in the two treatment groups.
Table. Ranibizumab Therapy in the Two Treatment Groups

Outcomes
Port Delivery System
Intravitreal Injections
BCVA, mean ETDRS letters
Baseline
74.4
75.5
Average of weeks 36 to 40
74.6
76.0
Center point thickness, µm
Baseline
176.9
177.4
Week 36
182.3
180.0
Around 58% of participants in each group maintained or gained vision at 40 weeks.
"The device really works well to control wet AMD," said Regillo. The researchers did not expect study participants to gain vision during the trial because they had already gotten the benefits of intravitreal ranibizumab injections before enrollment; the goal was to show that vision would be maintained.
If patients in the implant group began to lose visual acuity or gain central subfield thickness, supplemental intravitreal injections of ranibizumab could be administered. Less than 2% needed them.
Adverse events stemmed mostly from the surgery to place the implant: 6.5% of the implant group developed a conjunctival bleb, 5.2% developed a vitreous hemorrhage, 5.2% developed a cataract, 2.4% developed conjunctival erosion, 2.0% developed conjunctival retraction, 1.6% developed endophthalmitis, 0.8% developed rhegmatogenous retinal detachment, and 0.4% developed hyphema.
This study shows that the risk for adverse events is far higher with the implant than with intravitreal injection, Murray told Medscape Medical News. Specifically, rates of vitreous hemorrhage were higher in the implant group than in the injection group (4.0% vs 2.4%), as were rates of cataract (4.0% vs 3.6%).
And at 2.4%, the rate of vitreous hemorrhage is higher than normal for this number of intravitreal injections, he noted.
There were no other adverse events in the injection group.
The difference in the number of adverse events between the two treatment groups will likely decrease over time because there is some risk with each intravitreal injection, Regillo told Medscape Medical News. Most of the adverse events related to the implant are likely to occur at the time of the surgery.
Although no advantage in visual acuity was seen with the implant in this study, there might be one in the real world because patients so often miss injections they need, he said. The hope is that the results "would be as good in the real world as in a clinical trial."
The best candidates for this system are likely to be patients who have already shown a good response to intravitreal injections of ranibizumab and are able to undergo surgery, said Murray. "Some of my patients are relatively ill, with multiple comorbidities. That does not preclude them from being injected, but it could preclude them from going to the operating room for what is an elective procedure."
Patients on antiplatelet therapy, those with uncontrolled hypertension, and those with poorly controlled diabetes might not be good candidates, he explained. Independent ocular comorbidities — such as age-related macular degeneration with diabetic-related retinopathy, previous complex retinal detachment or extensive lattice degeneration, and previous surgery — might also make the implant procedure too risky, he added.
Data out to 96 weeks will likely be presented next year, and Genentech said it plans to continue following Archway participants for another year after that. Last year, the company launched the phase 3 Pagoda trial to assess the implant in patients with diabetic macular edema. The planned completion date for that study is December 2022.
The study was funded by Genentech, maker of the Port Delivery System. Murray reports financial relationships with Regeneron and Alcon Surgical. Regillo reports financial relationships to Adverum, Allergan, Chengdu Kanghong, Genentech, Graybug Iconic, Iveric, Kodiac, Lineage, and Merck.
European Society of Retina Specialists (EURETINA) 2020. Presented October 3, 2020.
Follow Medscape on Facebook, Twitter, Instagram, and YouTube
Medscape Medical News © 2020

Cite this: Implant Reduces Treatment Burden in Wet Macular Degeneration - Medscape - Oct 13, 2020.