A West Virginia nurse who developed a national profile in the United States for her relief efforts with COVID-19 patients has been charged with shooting a woman in the abdomen, according to several news reports.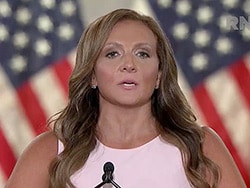 Amy Thorn, 39, who also goes by her maiden name, Amy Ford, and also by Amy Johnson, heightened her profile by speaking at the Republican National Convention (RNC) in support of President Donald Trump's coronavirus response. She is now charged with malicious wounding in the shooting of Jonda Whitt during an argument in Williamson, West Virginia, late Thursday afternoon, according to a report from WSAZ News Channel.
The Williamson Daily News, citing a criminal complaint filed in Mingo County Magistrate Court, reports that during the argument, Thorn went to her vehicle, retrieved a handgun, and shot the woman in the abdomen. Williamson Police Chief Grady Dotson told the Mingo Messenger the gun was registered and Thorn had a permit to carry it.
The Daily News reported that Thorn said in her statement to police that the shooting was in self-defense.
Whitt was reportedly taken to Tug Valley ARH Hospital in South Williamson, Kentucky, and then airlifted to Pikeville Medical Center in Pikeville, Kentucky, where she underwent surgery.
The Daily News reports that Williamson police said Whitt is expected to recover. Thorn was released from custody after posting a $5000 bond.
RNC Speech
At the opening night of the RNC convention in August, Thorn, who has been a nurse for 17 years, praised Trump's response to the COVID-19 pandemic.
The appearance came after the mother of three's emotional video captured national attention on social media as she related what she was seeing in her weeks at a New York City hospital at the height of the pandemic.
Thorn was assigned to an intensive care unit in Brooklyn, "roughly about 630 beds," she told WSAZ. "They had three intensive care units to start with, and they converted another area to a fourth intensive care unit to hold patients who are on ventilators. The rest of the hospital is primarily all COVID-19 patients."
She also spoke at a White House Rose Garden event in May about her experiences during the pandemic in New York City and San Antonio, Texas.
WSAZ reported that US Sen. Joe Manchin, (D-West Virginia) named [Thorn] one of the "better angels," a program that honors West Virginia residents' standout contributions during the pandemic.
"It's overwhelming to think people call me a hero or an angel because I don't really feel like I did anything special. I just feel like I did what I was supposed to do as a nurse," [Thorn] said at the time.
The video and press release on the recognition for the award have been removed.
Medscape Medical News' attempts to reach Thorn or an attorney representing her were unsuccessful. A person who answered the phone at Trinity Healthcare Services in Williamson, a long-term care facility, said Thorn had been employed at the facility but had not worked there, "for a couple of months."
Marcia Frellick is a freelance journalist based in Chicago. She has previously written for the Chicago Tribune, Science News and Nurse.com and was an editor at the Chicago Sun-Times, the Cincinnati Enquirer, and the St. Cloud (Minnesota) Times. Follow her on Twitter at @mfrellick
For more news, follow Medscape on Facebook, Twitter, Instagram, and YouTube.
Medscape Medical News © 2020

Cite this: Nurse Celebrated in US for COVID Response Charged in Shooting - Medscape - Oct 12, 2020.