Editor's note: In an effort to preserve the experiences of healthcare workers on the front lines, Medscape developed a set of artistic portraits of hospital practitioners who worked (and are working) through this pandemic. These images are accompanied by a short essay written by the participants that gives us a glimpse of their experience.
Brianna Pavalone, RN: In Her Own Words
When the coronavirus pandemic first hit, I questioned whether this is what I signed up for.

I'm a relatively new emergency nurse and I practice at an inner-city hospital. For the past year and a half, I've seen my share of gunshot wounds, collisions, and falls — but it was the older patients who really got to me. Their humor, lightness, and character were evident even in the worst of times.
When coronavirus hit that population the hardest, I had real moments of fear and doubt. I also thought about my own exposure — too much sometimes.

When I became a nurse, I knew that pandemics were possible. As an emergency nurse, I knew I would be on the front lines. But it came about in a way I never imagined.

It was quiet at first and eerily tense. The emergency department slowed as the world suddenly paused, and we waited in anticipation.
Then a 97-year-old man went into cardiac arrest and nothing else mattered. His frail ribs cracked with each compression, and everything I had was focused on him.
Some days were excruciating, but I tried not to mourn. I looked around me and thought about the privilege of treating and protecting my patients, of working with these amazing medical professionals. And that's when it happened.

I realized that while I was exhausted, stressed, and overworked, I was also lucky. We were all lucky. We were participating in one of the most historic and critical medical events of our time. Despite the risk for potential exposure and illness, my team and I got to help.

In return, every night, people wished us safety and protection. They made us masks and sent in personal protective equipment. Fire sirens and parades greeted us. Though COVID-19 brought us heartbreak, it also gave us strength. We are so much stronger than we give ourselves credit for.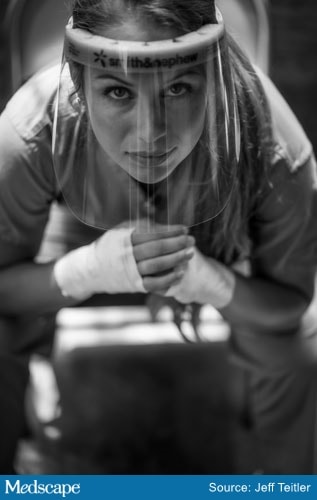 I don't know what my future holds, but years from now, I'll know that I looked this pandemic in the face. I did not run. My team and I fought as hard as we could. This is exactly what we signed up for.

Jeffrey B. Teitler is a professor of filmmaking at Central Connecticut State University and the director of Envision Films. His scripted and nonscripted works have been presented nationwide, including at the Centers for Disease Control and Prevention and the United Nations, and his work has been an official selection and/or winner at a number of film festivals.

Follow Medscape on Facebook, Twitter, Instagram, and YouTube
Medscape Infectious Diseases © 2020 WebMD, LLC

Any views expressed above are the author's own and do not necessarily reflect the views of WebMD or Medscape.
Cite this: COVID Brought Us Heartbreak and Gave Us Strength - Medscape - Oct 16, 2020.