Many practitioners of aesthetic medicine have encountered counterfeit injectables and devices, and some have knowingly purchased such products, according to the results of two recent surveys of such providers.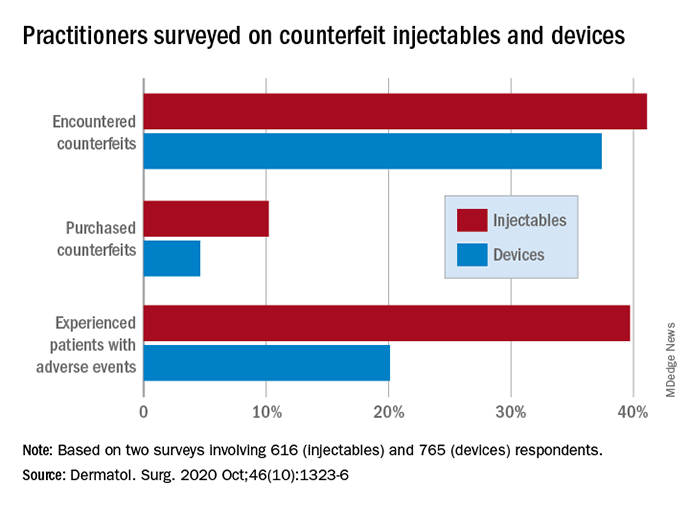 "Counterfeit medical devices and injectables may be more prevalent in aesthetic medicine than most practitioners might estimate," Jordan V. Wang, MD, of Sidney Kimmel Medical College, Philadelphia, and associates wrote in Dermatologic Surgery, even though "the vast majority [believe] that they are inferior and even potentially harmful."
In one of the online surveys, conducted among members of the American Society of Dermatologic Surgery, 41.1% of the 616 respondents said they had encountered counterfeit injectables, more than half (56.5%) of whom were solicited to buy such products. Just over 10% had purchased counterfeit injectables, although nearly 80% did so unknowingly, the investigators said.
In the second survey, 37.4% of the 765 respondents (members of the ASDS as well as the American Society for Laser Medicine and Surgery) said that they had encountered counterfeit medical devices, and nearly half had been approached to purchase such devices. Of those who were approached, 4.6% had actually purchased a counterfeit, but only 6.1% did so unknowingly, Wang and associates reported.
In the medical device survey, almost a quarter (24.2%) acknowledged that they know of other providers using them, while 29.3% of those surveyed about injectables know of others who use counterfeits, they said.
Over 90% of practitioners in each survey agreed that counterfeits are worse in terms of safety, reliability, and effectiveness, but the proportions were smaller when they were asked if counterfeits were either very or extremely endangering to patient safety: 70.5% for injectables and 59.2% for devices, the investigators said.
Experience with adverse events from counterfeits in patients was reported by 39.7% of respondents to the injectables survey and by 20.1% of those in the device survey, they added.
Majorities in both surveys – 73.7% for injectables and 68.9% for devices – also said that they were either not familiar or only somewhat familiar with the Food and Drug Administration's regulations on counterfeits. "This is especially problematic considering the potentially severe adverse events and steep punishments," Wang and associates wrote.
The authors disclosed that they had no significant interest with commercial supporters. Wang is now a fellow at the Laser & Skin Surgery Center of New York.
SOURCE: Wang JV et al. Dermatol. Surg. 2020 Oct;46(10):1323-6.
This article originally appeared on MDedge.com, part of the Medscape Professional Network.
Medscape Medical News © 2020 WebMD, LLC

Send comments and news tips to news@medscape.net.
Cite this: Counterfeits: An Ugly Truth in Aesthetic Medicine - Medscape - Oct 12, 2020.