These are the UK coronavirus stories you need to know about today.
Tougher Restrictions Announced for Scotland
Pubs and restaurants in central Scotland have been told to close for 16 days as the Scottish Government tries to contain growing numbers of COVID-19 cases.
The sharp rise in coronavirus cases in many parts of Scotland has also led to National 5 exams being cancelled in 2021 and replaced with teacher assessments and coursework.
New rules for the hospitality industry apply to licenced premises in the central belt, including Greater Glasgow and Clyde, Lanarkshire, Ayrshire and Arran, Lothian, and Forth Valley.
In other areas of Scotland, licenced premises will be able to open but will only be able to serve alcohol outdoors up to the current curfew time of 10pm.
In addition, snooker and pool halls, indoor bowling alleys, casinos, and bingo halls will close in central Scotland.
People living in the five central health boards have also been asked not to travel outside their region unless they need to.
The new restrictions will come into force at 6pm this Friday and remain in place until 25 October.
In a statement to the Scottish Parliament, Nicola Sturgeon, the First Minister, announced an extra £40 million to help businesses affected by the new measures.
Ms Sturgeon said that without the measures "there is a very real risk that the virus will run out of control by the end of this month", but that with them in place "we hope to slow down its spread, and that will help us keep schools and businesses, including hospitality businesses, open over the winter".
It was later announced that staging National 5 exams for teenagers in Scotland next year posed "too big a risk".
Daily Data
In today's daily data another 14,162 UK positive tests were reported and 70 deaths.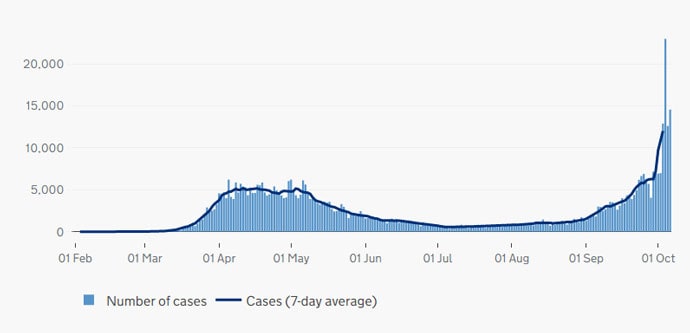 There are 3145 COVID-19 patients in hospital and 410 ventilator beds are in use.
Herd Immunity
Meanwhile, a body of experts have questioned the need for tough lockdown restrictions aimed at curbing the spread of coronavirus.
A group of influential scientists called for a 'herd immunity' approach to the pandemic through a system of "focused protection".
The so-called Great Barrington declaration said lockdown measures were wreaking "devastating effects on short and long-term public health" and should only be applied to the most vulnerable in the community.
It called for a "compassionate approach" to "allow those who are at minimal risk of death to live their lives normally to build up immunity to the virus through natural infection, while better protecting those who are at highest risk".
The authors, including Prof Sunetra Gupta, an epidemiologist at the University of Oxford, said those not in a vulnerable category "should immediately be allowed to resume life as normal" and that "arts, music, sport ,and other cultural activities should resume".
By Wednesday evening the declaration had been endorsed by 3298 medical and public health scientists, and 5049 medical practitioners.
The declaration resulted from a meeting of epidemiologists, economists, and journalists hosted at the American Institute for Economic Research at Great Barrington in the US.
Several UK experts disagreed with the proposal. Among them Dr Rupert Beale from the Francis Crick Institute, who said: "It is not possible to fully identify vulnerable individuals, and it is not possible to fully isolate them. Furthermore, we know that immunity to coronaviruses wanes over time, and re-infection is possible – so lasting protection of vulnerable individuals by establishing 'herd immunity' is very unlikely to be achieved in the absence of a vaccine."

Test Kit Distribution Problems
Swiss pharmaceutical firm Roche said it was working round the clock to address problems at its new UK distribution centre that could lead to shortages of some COVID-19 swab test kits and other vital NHS tests, including for cancer.
This morning, Roche said it deeply regretted the situation and confirmed it had encountered "a number of unforeseen issues" when it switched distribution of products to a new warehouse in Newhaven, East Sussex.
In a statement, it said dispatches of COVID-19 PCR and antibody tests were being prioritised and it was "doing everything we can to ensure there is no impact on the supply of these to the NHS".
Xiaojun Wang, professor of operations management at the University of Bristol, said: "This supply problem occurs at very bad timing when the UK is experiencing a new wave of increasing COVID-19 infections and the surging demand for testing.
"It is difficult to contain infections and curb the increasing trend without increasing testing capability and tracing the contacts of the confirmed coronavirus cases in a timely manner."
Allan Wilson, president of the Institute of Biomedical Science, told Sky News earlier that if the delays lasted several weeks, there was the potential "to significantly impact our ability to deliver diagnostic testing across a wide gambit of tests we deliver normally".
This evening, Roche updated its assessment of the problems. In a statement sent to Medscape News UK, Geoff Twist, general manager of Roche Diagnostics UK and Ireland said: "The current issue with the despatch of products in the UK has not and will not affect our commitment to supply COVID-19 tests.
"We are confident that the plans we have put in place will deliver significant improvements by the weekend to the supply of the tests affected by these logistical issues. We will be well on the way to resolution by the end of next week."
Scientists Question Antibody Test Contract
Scientists questioned a decision by the Government to buy one million home antibody tests for nationwide COVID-19 surveillance despite doubts about their accuracy.
The AbC-19 Rapid Test has been produced and manufactured by the UK Rapid Test Consortium (UK-RTC).
It uses a finger-prick device and provides a result within 20 minutes, without the need to be sent to a lab for analysis.
Lord Bethell, the health minister, said he was "thrilled" by the development of "a powerful tool in understanding the disease and fighting its spread".
The test has been evaluated by Public Health England (PHE) which has yet to publish results.
Dr Hayley Jones from the University of Bristol worked with PHE assessing the test's accuracy. The senior lecturer in medical statistics told the Science Media Centre she had "major concerns" about some methods used in the study which could have led to an over-estimate of test accuracy.
She said reading the result of a 'pregnancy type' test band would be manageable by a trained lab technician, but "perhaps difficult to identify as positive by the general public conducting a self-test".
Jon Deeks, professor of biostatistics at the University of Birmingham, said that "the Government has jumped the gun in purchasing the test before the independent studies evaluating it are finished or available".
He added that "the Government is failing to show us any valid evidence at all that suggests that spending millions buying these tests is sensible".
UK-RTC was set up at the start of the pandemic with the backing of British diagnostics companies including Abingdon Health, BBI Group Holding Limited, CIGA Healthcare Limited, and Omega Diagnostics Limited.
Help for 'Long COVID' Patients
People who experience 'long COVID' symptoms will be offered specialist help at clinics across England, it was announced today.
Estimates have suggested that 10% of people who had COVID-19 might be experiencing symptoms more than 3 weeks after they were infected, with an estimated 60,000 having symptoms after more than 3 months.
Sir Simon Stevens, NHS chief executive, said £10 million would be spent this year to help establish long COVID clinics across England.

Hygiene Shortcomings at Kent Hospital
East Kent Hospitals University NHS Foundation Trust was told to make significant improvements to its emergency department and medical care services after the Care Quality Commission raised concerns about its preparedness for dealing with COVID-19.
CQC inspectors found that some staff at the William Harvey Hospital were not obeying hand hygiene rules and were not always wearing personal protective equipment properly.
The warning followed an earlier inspection of the hospital which found standards lacking.
Prof Ted Baker, the CQC's chief inspector of hospitals, commented: "It is extremely disappointing to find that despite being warned about their hygiene, not enough work had been carried out to address infection control issues within the trust."
See more global coronavirus updates in Medscape's Coronavirus Resource Centre.
© 2020 WebMD, LLC

Send comments and news tips to uknewsdesk@medscape.net.
Cite this: Peter Russell. UK COVID-19 Update: Pubs to Shut in Central Scotland - Medscape - Oct 07, 2020.