These are the UK coronavirus stories you need to know about today.
Warning Over Cancelled Surgery
Surgeons warned of a "tsunami of cancellations" if the NHS had to deal with a surge in coronavirus patients.
New data from the Royal College of Surgeons of England showed that the NHS had been unable to meet its target of returning surgery to 80% capacity by the end of September, despite an objective to attain 90% capacity by the end of October.
A poll of 970 surgeons and surgical trainees found that only 14% of respondents said they could treat the same number of patients in a session as before the pandemic.
Prof Neil Mortensen, the College president, called for 'ring-fenced' beds for elective surgery. "In addition to protecting surgical wards in the NHS, we need to see more capacity bought in from the independent sector, to help get through the backlog," he said. "This is a national crisis requiring a truly national effort across all hospitals – private and NHS alike."
He warned it was "essential our recommendations are heeded to avoid a major setback".
Aerosol Spreading From Sars-CoV-2
Meanwhile, new research suggested that concerns about the risk to health workers from intubation and extubation as a result of aerosols spreading the SARS-CoV-2 virus might have been over-estimated.
Procedures classified as aerosol generating have slowed rates of surgery and contributed to longer waiting lists.
New research, published in the journal Anaesthesia, suggested that tube insertion generated approximately one thousandth of the aerosol generated by a person's single cough, although tube removal produced more aerosol, although still less than 25% of that produced by a cough.
The study, led by North Bristol NHS Trust and the University of Bristol, was based on 19 tube insertions and 14 tube removals.
Prof William Harrop-Griffiths, vice resident of the Royal College of Anaesthetists, commented: "The precautions that protect healthcare workers against COVID-19 infection by aerosol transmission take a lot of time to carry out and greatly decrease the number of patients that can be cared for in operating theatres.
"If manual lung ventilation and tracheal intubation are not deemed to be aerosol generating, this saves time, speeds up the delivery of care to patients in the operating theatre, and greatly increases the NHS's ability to deliver planned surgical care.
"If Public Health England and its devolved equivalents accept this evidence, many more patients can undergo the surgery they need, and the NHS can keep planned surgery going during the second surge of COVID-19 – and may even be able to start to reduce the waiting lists for surgery."
Deaths From COVID-19
The number of registered deaths involving COVID-19 in England and Wales rose for the third week in a row, official figures showed.
The Office for National Statistics (ONS) said a total of 215 deaths mentioned novel coronavirus in the week ending 25 September, an increase of 76 on the previous week.
The number of deaths involving COVID-19 increased in eight of the nine English regions.
Deaths in private homes remained above the 5-year average, statisticians reported.
Prof Sir David Spiegelhalter from the University of Cambridge, analysed the figures and told the Science Media Centre that they showed that "COVID deaths in the UK were doubling around every 2 weeks in September, although still only comprised 2% of deaths in the country".
He said: "Crucially, there is still absolutely no sign of any reduction in the 30% increase in deaths occurring at home – if this is to be a long-term feature of deaths in this country, we need to be confident that appropriate end-of-life care is being made available."
Kevin McConway, emeritus professor of applied statistics at the Open University, commented: "If these patterns continue to hold, we'd unfortunately expect to see a continuing increase in deaths from COVID-19 in the registration figures for the next few weeks at least, though perhaps with a slowing of the rate of increase during that time."
Daily Data
In today's daily data another 14,542 UK positive tests were reported and 76 deaths.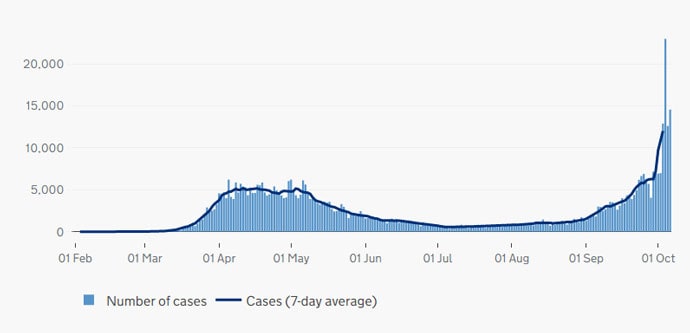 There are 2833 COVID-19 patients in hospital and 393 ventilator beds are in use.
Health Worker Burnout From Coronavirus
Physical, psychological, and emotional pressure on health professionals from months dealing with COVID-19 threaten to push them "beyond their limits", NHS Providers warned.
The briefing said that 99% of leaders from 140 NHS Trusts and foundation trusts in England were concerned about burnout in their workforce because of sustained pressure since March.
Chris Hopson, chief executive of NHS Providers, said: "Many are exhausted. Some are traumatised. A number lost colleagues to the virus."
He added: "Some trusts already face significant gaps in this year's finances, and it could get much worse."
The organisation called for more support from the Government "to deliver a sustainable service".
Guideline to Address 'Long COVID'
Persistent effects of COVID-19 will be the focus of a new guideline to be drawn up by major UK bodies.
The National Institute for Health and Care Excellence (NICE) and the Scottish Intercollegiate Guidelines Network announced they would work with the Royal College of General Practitioners (RCGP) to develop treatment plans for the estimated 60,000 people in the UK who may have the condition, commonly called 'long COVID'.
Longer term impacts of the disease can include on-going shortness of breath, fatigue, heart, lung, kidney, neurological, and musculoskeletal problems.
A formal definition of the disease, how to identify on-going symptoms, and a definition of best practice investigation and treatment options to support the management of the condition across diverse communities would be covered in the guideline, which is expected by the end of the year.
Plea Over Fertility Treatment
A coalition of charities, patient organisations, and professional bodies urged the Government to issue guidance to prevent patients in England missing out on NHS-funded fertility treatment due to the delays caused by the pandemic.
Fertility clinics were instructed to cease offering services at the end of March before being allowed to resume work in May.
Devolved governments in Scotland, Wales, and Northern Ireland have advised clinics to 'stop the clock' so that patients are not excluded for treatment because they have breached the age barrier for treatment.
In a letter to the Health Secretary Matt Hancock, organisations including the Royal College of Obstetricians and Gynaecologists, and the British Pregnancy Advisory Service (BPAS), called on England to be allowed to follow suit.
It said a recent survey by BPAS found that 78% of fertility patients were worried or upset by the uncertainty.
Money and Work Woes Affecting Mental Health
Job security and money worries as a result of the pandemic have contributed to poorer mental health, a survey found.
A poll of 5000 people in England by the University of Exeter and ORB International found that 25% of women who took part in the research reported mental health issues compared to 15% of men.
Among the findings were that:
13% had problems balancing their weekly budget

10% had lost their job or job security

9% said their business or workplace had failed or was struggling

8% were struggling to pay their mortgage or rent
The survey also linked mental health to political views. It found that respondents who voted to remain in the EU during the 2016 referendum were more likely to report experiencing mental health issues due to coronavirus than those who voted to leave the bloc.
Katharine Tyler, who analysed the results, said: "One aim of our research is to generate new integrated survey, media, and ethnographic data to better understand how the COVID-19 crisis has deepened the inequalities across identities exposed in 'Brexit Britain', and whether new inequalities are emerging."
Coronavirus Risk for Psychiatric Patients
New research suggested that at least 38% of older adults in psychiatric wards in London were infected with COVID-19 at the height of the pandemic.
The study, in The Lancet Psychiatry, found that 15% of infected patients diagnosed with COVID-19 died during the study period.
The research team, led by University College London (UCL), found that psychiatric wards were slow to receive tests and personal protective equipment, which they said could have increased mortality rates.
The study involved hospital patients in five mental health trusts in London who were either over 65 or had young onset dementia, in March and April.
The study authors said the findings underlined the need for testing for COVID-19 on admission.
"People shouldn't be disadvantaged by being in a psychiatric ward," said Prof Gill Livingston from UCL, who led the study.
See more global coronavirus updates in Medscape's Coronavirus Resource Centre.
© 2020 WebMD, LLC

Send comments and news tips to uknewsdesk@medscape.net.
Cite this: Peter Russell. UK COVID-19 Update: Surgeons Warn of 'Tsunami of Cancellations' - Medscape - Oct 06, 2020.