The US Food and Drug Administration (FDA) recently approved tafasitamab-cxix (Monjuvi) in combination with lenalidomide for the treatment of adults with relapsed or refractory diffuse large B-cell lymphoma (DLBCL) not otherwise specified, including DLBCL arising from low-grade lymphoma, who are not eligible for autologous stem cell transplant (ASCT).
To find out more about this drug and its approval, Medscape reached out to Ann S. LaCasce, MD, a lymphoma specialist, associate professor of medicine at Harvard Medical School, and director of the Dana-Farber/Massachusetts General Brigham fellowship in hematology/oncology.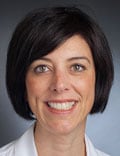 Medscape: How common is relapsed or refractory DLBCL? Have there been any changes in the rates of this disease in recent years?
LaCasce: Approximately 40% of patients with DLBCL will have relapsed or refractory disease. The rates of lymphoma have been rising over the past several decades for unclear reasons. As this is a disease predominantly of older adults, increasing life expectancy likely plays a role. Environmental factors may also be contributing.
How long do patients with relapsed or refractory DLBCL who are not eligible for stem cell transplant usually survive?
This is highly variable, though it's estimated to be approximately 1 year. Some patients will be cured with autologous transplantation or CAR-T cells. The pace of the disease can be highly variable, with some patients responding to multiple lines of therapy whereas others may have rapidly progressive refractory disease.
What makes patients with relapsed or refractory DLBCL ineligible for ASCT?
In order to be eligible, patients need to be younger than 70 to 75 years or so without significant comorbidities and must have chemotherapy-responsive disease. More than half of patients will not fit these criteria.
Can you briefly describe the L-MIND study that led to the approval of tafasitamab-cxix?
This was a single-arm, phase 2 study of tafasitamab plus lenalidomide in patients with relapsed/refractory DLBCL status after one to three prior regimens who were not candidates for ASCT. Patients received tafasitamab until progression and up to 1 year of lenalidomide. The median age was 72 years, and 50% of patients had received only one prior line of therapy.
The overall and complete response rates in 80 patients treated were 60% and 43%, respectively. The median progression-free survival was approximately 1 year. Nearly half of patients required dose reduction of lenalidomide, and about a quarter discontinued the drug. Twenty-five percent of patients discontinued therapy for adverse events.
What's the toxicity profile of tafasitamab-cxix?
The most common adverse events were infusion reactions and myelosuppression, which are managed with standard approaches to incident rate ratios with steroids, antihistamines, etc. Myelosuppression can occur, but in this combination is mostly driven by lenalidomide, which is dose reduced or discontinued.
Where does tafasitamab-cxix fit in the treatment paradigm for relapsed or refractory DLBCL? How does it compare with other available options?
This is an option for patients who are not candidates for potentially curative approaches, including ASCT and CAR T-cell therapy. There are patients not eligible for ASCT who may be appropriate for CAR-T.
Tafasitamab plus lenalidomide requires frequent visits, particularly during the first 3 months, and then every other week until progression. The dose of lenalidomide will not be tolerable for many of these patients.
Other options in this population include polatuzumab plus bendamustine/rituximab or possibly selinexor. The former has similar activity and is time limited, though many patients will not tolerate the full dose of bendamustine. In the study leading to approval, selinexor had a much lower response rate of approximately 30%, and the patient population was much more favorable, given that eligibility required 60 to 98 days after last therapy before enrolling.
The only approval specific for nontransplant patients is tafasitamab/lenalidomide.
From a cost standpoint, how does tafasitamab compare with other options in this patient population?
I don't have exact figures, but all options are very expensive. CAR-T is the most expensive. Given the ongoing therapy of tafasitamab until progression, the cumulative cost could be very high. Polatuzumab plus bendamustine/rituximab and selinexor are also very costly.
What other drugs are in development for relapsed or refractory DLBCL?
Novel CAR T-cell therapies, including lisocabtagene maraleucel that is at the FDA, are in development. Bispecific antibodies (REGN1979 and mosunetuzumab), combinations with CD47 antibodies, and loncastuximab tesirine are all in phase 2 trials.
LaCasce has disclosed no relevant financial relationships.
Kate O'Rourke is a freelance writer in Portland, Maine. She has covered the field of oncology for over 10 years.
For more news, follow Medscape on Facebook, Twitter, Instagram, and YouTube.
Medscape Medical News © 2020

Send news tips to news@medscape.net.
Cite this: 7 Things to Know About New Lymphoma Drug Tafasitamab - Medscape - Oct 05, 2020.