The Nobel Prize in Physiology or Medicine was awarded to two Americans and a British-born scientist this morning for the discovery of the hepatitis C virus (HCV), a discovery that has "saved millions of lives."
Harvey J. Alter, MD, with the National Institutes of Health (NIH) in Bethesda, Maryland; British-born researcher Michael Houghton, PhD, DSc Hon, University of Alberta, in Alberta, Canada; and Charles M. Rice, PhD, with the Rockefeller University, in New York City, share the award, as announced early this morning by the Nobel Assembly at the Karolinska Institute at a press conference in Stockholm, Sweden.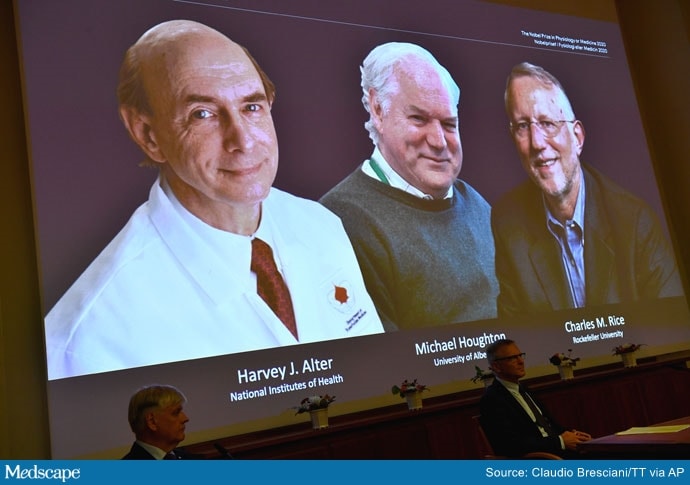 Dr Harvey J. Alter (left on screen), Dr Michael Houghton (center), and Dr Charles M. Rice were awarded the Nobel Prize in Physiology or Medicine.
The announcement noted, "For the first time in history, the disease can now be cured, raising hopes of eradicating hepatitis C virus from the world population."
Even with discovery of the hepatitis A (first isolated in 1979) and B viruses (discovered in 1965), most blood-borne hepatitis cases remained unexplained. The scientists' discovery of HCV revealed the cause of the remaining cases of chronic hepatitis and led to blood tests and medicines that "have saved millions of lives," the committee noted.
"Thanks to their discovery, highly sensitive blood tests for the virus are now available and these have essentially eliminated post-transfusion hepatitis in many parts of the world, greatly improving global health," Thomas Perlmann, secretary of the committee, said in announcing the awards, according to the Associated Press.
Their work also led to the rapid development of antiviral drugs for hepatitis C.
Gilbert Thompson, professor emeritus of clinical lipidology at Imperial College London, United Kingdom, told CNN that the award for the 1989 discovery is "long overdue."
"Hep C arguably has caused just as much, if not more, deaths than the current coronavirus pandemic. It was a major problem and this [work] was an enormous step forward," he said.
The antiviral drugs developed to treat HCV infection may also be effective against COVID-19, a new report suggests.
Perlmann said that he had to call the winners several times before he reached Alter and Rice, CNN reported.
"I woke them up and they were very surprised, they were definitely not sitting by the phone," he said. "But once I reached them, they were extremely surprised and really happy and speechless almost, so it was really fun to talk to them."
A "Rare Treat"
Rice, who was born in Sacramento, California, spent 14 years on the faculty of the Washington University School of Medicine before joining Rockefeller in 2001. He is the scientific and executive director of the Center for the Study of Hepatitis C, established by the Rockefeller University, New York–Presbyterian Hospital, and Weill Cornell Medicine.
At a press conference this morning, Rice said he didn't pick up the phone the first time at 4:30 this morning because he thought it might be a crank call or a "sprinkler test."
He had been researching yellow fever in 1989 when Houghton's sequencing of the viral genome placed HCV in the same viral family, and his research shifted to work that resulted in this morning's prize announcement.
The bigger prize, he said, is going from a "mystery virus" to having drugs that can eliminate the virus with few side effects in more than 95% of people chronically infected.
"It'a a rare treat for a basic scientist," he said.
Co-winner Alter also is adjusting to the magnitude of the moment.
"I am overwhelmed at the moment, but so pleased that this originally obscure virus has proven to have such a large global impact. There are so many persons at NIH who advanced my research, but for now I can only thank NIH itself for creating the permissive and collaborative environment that supported these studies over the course of decades. I don't believe my contributions could have occurred anywhere else," he said today, according to an NIH press release.
Alter had researched viral hepatitis even before his work on hepatitis C, and in the 1960s co-discovered the Australia antigen, a key to detecting hepatitis B virus.
Houghton completed his PhD in biochemistry at King's College London in 1977. In 1982, he moved to the California-based Chiron Corporation, where he conducted the research that led to today's award. He came to the University of Alberta in 2010 and is director of the University of Alberta's Li Ka Shing Applied Virology Institute.
Earlier this year, Houghton received a $750,000 federal grant to work on a vaccine for COVID-19, according to The Globe and Mail.
The Guardian reports that Houghton recently rejected a major prize because it excluded two coworkers at Chiron who helped him identify the virus.
The Guardian reports that in 2013, Houghton refused the $100,000 Canada Gairdner International Award, known as the "baby Nobel," because it did not recognize the work of his former colleagues George Quo and Qui-Lim Choo.
After reluctantly accepting the prestigious Lasker Award in 2000, Houghton said his coworkers did not get proper recognition and decided, "I really shouldn't do this anymore."
According to the World Health Organization, an estimated 71 million people have chronic HCV infection. A significant number of those who are chronically infected will develop cirrhosis or liver cancer.
The prize comes with a gold medal and more than $1.1 million, which will shared among the three.
Marcia Frellick is a freelance journalist based in Chicago. She has previously written for the Chicago Tribune and Nurse.com and was an editor at the Chicago Sun-Times, the Cincinnati Enquirer, and the St. Cloud (Minnesota) Times. Follow her on Twitter at @mfrellick.
For more news, follow Medscape on Facebook, Twitter, Instagram, and YouTube.
Medscape Medical News © 2020

Send news tips to news@medscape.net.
Cite this: Trio Awarded Nobel Prize in Medicine for Discovering Hepatitis C Virus - Medscape - Oct 05, 2020.