President Donald Trump received 2 liters of oxygen therapy on Thursday after his oxygen saturation level temporarily dipped below 94%; still he never experienced any difficulty breathing, and dexamethasone has been added to his treatment regime, the president's personal physician said during a press conference Sunday.

Sean Conley, DO, backed at the briefing by a team of clinicians from Walter Reed National Military Medical Center, added that circumstances may allow the president to be released from the hospital as soon as Monday.
Trump also received supplemental oxygen a second time on Saturday after his oxygen saturation dropped to 93%.
Conley reported the president's most recent oxygen saturation level was 98% and that his levels never dropped below 90%.
In addition, "because of the timeline since his initial diagnosis," Conley and the rest of his care team at Walter Reed initiated dexamethasone treatment on Saturday.
Initial reactions to this morning's update on the president's condition include questions about the indication for starting dexamethasone. Growing evidence suggests, for example, that the steroid could help people with more severe COVID-19 illness, as previously reported by Medscape Medical News.
A tweet from Eric Topol, MD, a professor of molecular medicine at Scripps Research in La Jolla, California, and editor-in-chief of Medscape, questioned the use of dexamethasone given Trump's brief need for oxygen therapy and raised concerns about results of a pivotal trial evaluating oxygen therapy.
Clarifying Need for Oxygen
Two episodes of transient low oxygen saturation and the administration of oxygen therapy in two instances clarified earlier statements Conley made that the president did not require oxygen in recent days.
"I was trying to reflect the upbeat attitude of the team," Conley told reporters when asked why he did not include the oxygen therapy in his comments during a press briefing on Saturday. "In doing so, it came off that we were trying to hide something, which is not necessarily true."
"The fact of the matter is that he is doing very well," Conley said.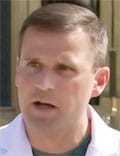 The president remains on room air on Sunday and is walking about the unit, Sean N. Dooley, MD, said at the briefing. In addition, the president has not experienced a fever since Friday morning and his cardiac, liver, and kidney function show "normal or improving findings."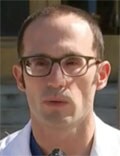 In addition to starting dexamethasone, the president also received a second dose of remdesivir, "which he has tolerated well without any side effects," Brian Garibaldi, MD, said.
Asked about lung scan results, Conley said, "there were some expected findings, but nothing of any concern." He added that the president is being assessed with lung spirometry and "maxing it at 2500 mL each time."
Conley and colleagues reported the president's health status continues to improve, to the point that if he continues on this trajectory, he could be discharged from the hospital as early as tomorrow.
The care team is encouraging the president to be up and out of bed as much as possible today, Garibaldi said, and "we hope to discharge him as early as tomorrow to the White House where he can continue his treatment course."
Damian McNamara is a staff journalist based in Miami. He covers a wide range of medical specialties, including infectious diseases, gastroenterology, and neurology. Follow Damian on Twitter: @MedReporter.
For more news, follow Medscape on Facebook, Twitter, Instagram, and YouTube.
Medscape Medical News © 2020 WebMD, LLC

Send comments and news tips to news@medscape.net.
Cite this: Damian McNamara. Trump's 'Doing Very Well,' Could Be Discharged Monday, Medical Team Says - Medscape - Oct 04, 2020.