Editor's note: Find the latest COVID-19 news and guidance in Medscape's Coronavirus Resource Center.
President Donald J. Trump will be treated at Walter Reed National Military Medical Center for the "next few days," according to the White House, following the breaking news early Friday that he and First Lady Melania Trump tested positive for infection with the SARS-CoV-2 virus.
Trump's physician earlier released a letter with preliminary treatment details.
The president "remains fatigued but is in good spirits," according to Sean P. Conley, DO. He added that the first lady "remains well with only a mild cough and headache."
Trump's initial treatment includes a single infusion of an experimental polyclonal antibody cocktail from Regeneron. (The company announced positive preliminary results this week.) He also is taking zinc, daily aspirin, vitamin D, melatonin, and famotidine, Conley wrote.
Both the president and the first lady are experiencing mild symptoms, according to White House Chief of Staff Mark Meadows and the official FLOTUS Twitter account, and the president is "not incapacitated" at the moment.
Doctors remain concerned, however, that the next 5 to 10 days following their positive results could be critical. This time frame is when some people with milder forms of COVID-19 progress to more serious symptoms and a need for higher-acuity medical care, NBC News reported Friday afternoon.
When asked if the mild symptoms reported by Trump and the first lady mean they are relatively safe, George M. Abraham, MD, MPH, FACP, FIDSA, chair of the Infectious Disease Board, American Board of Internal Medicine, told Medscape Medical News, "Not at all."
"We do know that people may take about 5 to 7 days before exhibiting more serious symptoms including shortness of breath, etc. So it is too premature that the absence of symptoms or mild symptoms are predictive of a mild course of illness."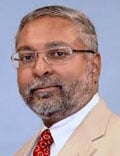 Without further details, experts are making predictions based on risk classifications for COVID-19 illness. For example, Trump is 74 years old, a man, and overweight.
"A 74-year-old has approximately a 3% chance of death, 10-15% chance of severe illness," former CDC Director Tom Frieden, MD, MPH, noted in a tweet. "Higher in males, obesity. Remdesivir, monoclonal ab, convalescent serum unproven, may help."
https://twitter.com/DrTomFrieden/status/1311978067468996610
Frieden also tweeted: "This is a sobering reminder that COVID-19 is an ongoing threat to our country."
Offering a more temperate take, F. Perry Wilson, MD, MSCE, tweeted: "The hot takes pointing out that Trump's age, weight, and sex put him at high risk of bad outcomes are missing something critical. In fact, it's likely Trump will have a mild case."
The president likely would not have been tested had he not been the president, Wilson said, citing CDC figures that only about 10% of SARS-CoV-2 infections are detected through testing.
"Right now the most important thing for the President to do is to avoid spreading the infection to others — just like what the rest of us would do if we tested positive," added Wilson, associate professor, department of medicine; interim director, Program of Applied Translational Research, Yale School of Medicine, New Haven, Connecticut; and a regular contributor to Medscape.
More Questions Than Answers
Despite the incredible level of national and international interest in the health of the president, many questions remain in the wake of today's announcement.
For example, when were the president and first lady exposed to SARS-CoV-2? Some initial reports implicated White House senior aide Hope Hicks as the likely source, because she recently reported being infected and flew on Air Force One with the president and the first lady for the first presidential debate on Tuesday.
Is the president taking hydroxychloroquine, the drug he long promoted to the public for treatment? It's not yet known.
Will the president experience "long haul syndrome," or long-lasting negative effects associated with SARS-CoV-2 infection, even if his symptoms remain mild?
It's premature to forecast: "Nothing is predictive at this point in time and any predictions would be purely speculation," said Abraham, who is also chief of medicine at Saint Vincent Hospital and professor of Medicine at the University of Massachusetts Medical School, both in Worcester.
In the Meantime, Well Wishes
"Overnight we heard that the President of the United States of America, Donald Trump and First Lady, Melania Trump, tested positive for COVID-19," Dr Tedros Adhanom Ghebreyesus, director-general of the World Health Organization, said in a COVID-19 press briefing today.
"I want to start today by wishing them both a full and swift recovery."
Presidential Democratic nominee and former Vice President Joe Biden — who has been tested and came up negative, according to media reports — also expressed best wishes for the president and his wife. "Jill and I send our thoughts to President Trump and First Lady Melania Trump for a swift recovery,'' Biden wrote on Twitter. "We will continue to pray for the health and safety of the president and his family."
https://twitter.com/JoeBiden/status/1312010736604979201
Damian McNamara is a staff journalist based in Miami. He covers a wide range of medical specialties, including infectious diseases, gastroenterology, and neurology. Follow Damian on Twitter: @MedReporter.
For more news, follow Medscape on Facebook, Twitter, Instagram, and YouTube.
Medscape Medical News © 2020

Cite this: President as Patient: What We Know About Trump's COVID Condition - Medscape - Oct 02, 2020.