Remember the COVID-19 superspreader event in Skagit County, Washington? Heavily investigated by the Centers for Disease Control and Prevention, the spread of COVID-19 was linked directly to a single person with mild "cold-like" symptoms who was unaware that she had contracted the disease. She attended choir practice as usual, leading to 87% of the choir — a total of 52 people — developing COVID-19, two of whom died.
Other superspreader events have been reported: a Chicago cluster of 16 cases, including three deaths, stemming from a funeral and a birthday party, and an Arkansas pastor and his wife who transmitted the virus to more than 30 attendees at church events, culminating in three deaths. Had timely diagnostic testing been available to these people, their stories might have had happier endings.
We Need More Testing, Not Less
Now that parts of the United States are reopening, with the virus still spreading, the need for scalable testing remains as urgent as it was in the early days of the outbreak. Accurate antibody tests to determine previous infection and immune response in the wake of the first wave of infection will become equally if not more important in preparing for future outbreaks, as well as understanding the disease course.
Viral and antibody testing are only part of the story. In fact, the more we learn about the experiences of patients diagnosed with COVID-19, the more we realize the crucial role of other laboratory testing to inform treatment decisions throughout the entire course of the illness. There is no one-size-fits-all paradigm for managing patients who contract COVID-19. When a patient receives a diagnosis of COVID-19, what comes next? What does the patient's presentation or history suggest about the disease course?
Virus Detection: The First Bookend
Accurate and accessible viral and antibody testing are crucial to controlling this pandemic. No one should bear the guilt of unintentionally introducing the virus to colleagues, friends, and family, creating a COVID-19 cluster that can cause illness or even death. Healthcare workers exposed to COVID-19 in the workplace fear contracting and spreading the disease unknowingly to others while they are presymptomatic or asymptomatic.
These scenarios underscore the importance of behavioral measures, such as physical distancing and the use of face coverings to maximize safety, regardless of symptom status. Using reverse-transcription polymerase chain reaction (RT-PCR) to detect viral RNA is invaluable for COVID-19 case confirmation, contact tracing, and isolation guidance. However, once a patient has recovered from COVID-19, the virus is no longer detectable by RT-PCR (Figure 1).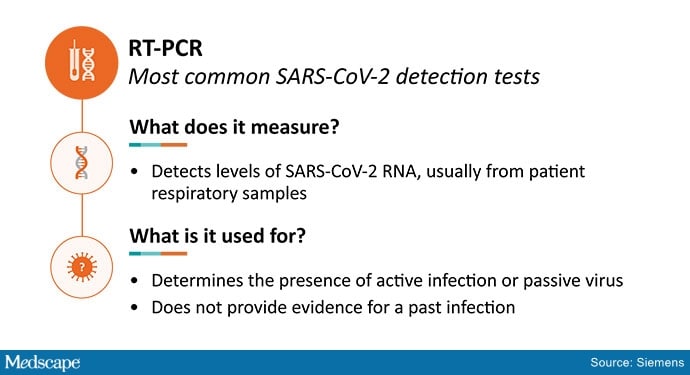 Antibody Testing: The Second Bookend
An antibody test picks up where RT-PCR diagnostic testing leaves off. Antibodies produced in response to an infection are typically detectable within 1-3 weeks after infection. The type of antibody (eg, IgM or IgG) and its titer can be helpful in determining the stage of infection. How long antibodies remain detectable after COVID-19 infection is not yet known, nor do we know the extent of immunity these antibodies confer. Rapid generation of neutralizing antibody responses that inhibit viral replication in vitro has been observed among patients who have COVID-19.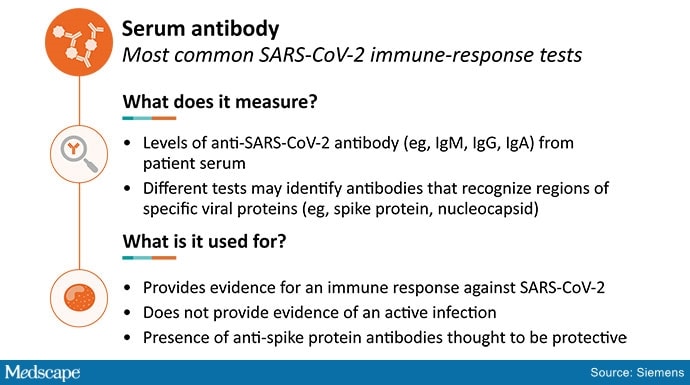 Highly accurate antibody tests can provide critical information about the pandemic. They can shed light on the epidemiology and course of the disease, providing a better understanding of the true prevalence, contagiousness, and mortality of COVID-19. These tests can indicate how much of the population had COVID-19, with or without symptoms, and are therefore likely to be immune for some period.
Epidemiologic studies rely on the use of highly accurate serologic tests to generate robust seroprevalence data, enabling a clearer long-term clinical picture of COVID-19 and a better understanding of the extent to which these antibodies confer immunity. Moreover, antibody tests can help verify the effectiveness of vaccines that induce antibodies against SARS-CoV-2.
But antibody detection is only as good as the reliability of the test. One measure of test performance is specificity. Tests with a specificity less than 100% carry some probability of false-positives, which can lead people to believe they have produced antibodies when in fact they have not. High test specificity is particularly important in areas with low disease prevalence (Figure 3).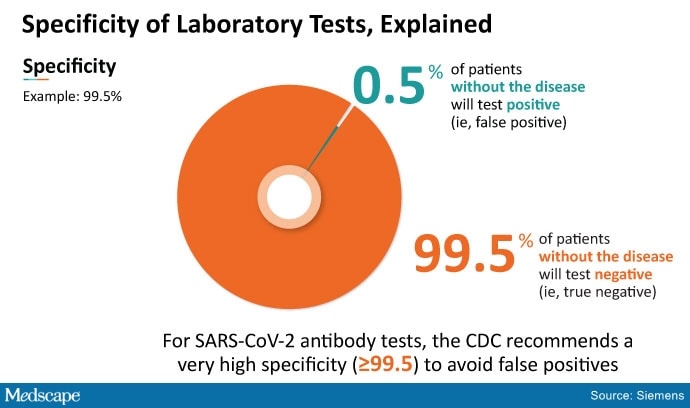 Practically speaking, highly specific, fast, and readily available antibody tests will be invaluable for tracking who was infected and in what geographic location. This information can help to drive key decisions related to a broader reopening of different regions of the country, and for assessing the risk for a second COVID-19 wave. For many, antibody tests may provide an answer to the nagging question, "Did I have it?" — a question that has probably plagued individuals throughout the entire pandemic.
Furthermore, antibody testing can be helpful in deciding when healthcare professionals and others exposed to high-risk populations (eg, elder-care staff, first responders) can safely return to work after a positive COVID-19 test. Another hot topic is whether antibody tests can guide the safe reopening of shuttered businesses and schools.
Antibody tests may contribute to finding effective treatments for COVID-19. For example, convalescent plasma programs conduct antibody tests to detect COVID-19 antibodies in the blood of potential plasma donors .
Markers of Cytokine Storm
Throughout this pandemic, we have heard stories about otherwise healthy individuals whose illness quickly advanced from mild to severe. For example, a healthy 46-year-old physician from New Jersey experienced mild COVID-19 symptoms at first, but then progressed to a high fever, leading to his hospitalization. His chest radiographs showed that he had bilateral pneumonia, and he continued to deteriorate.
A phenomenon known as a "cytokine storm" may be the culprit here. In a cytokine storm, the immune system has an exaggerated response to infection, releasing dozens of cytokines — small proteins that act as the messengers to guide the body's normal immune responses. This can result in the immune system attacking not only the virus but also the body's own tissues, leading to multiorgan failure and, in many cases, death.
Testing for early markers of a cytokine storm in patients with COVID-19 is crucial in saving lives and assessing which individuals may be at greater risk for a more pronounced response to the virus. Blood tests from the patient from New Jersey showed severe inflammation, with elevated levels of ferritin and C-reactive protein (CRP), both biomarkers of cytokine storm, the process underlying his deterioration.
After the rapid diagnosis, this patient was treated with a drug that acts to inhibit interleukin (IL)-6, a cytokine involved in cytokine storms. After this treatment, his condition improved, and he made a full recovery. This case highlights the importance of immunoassay tests to detect blood levels of ferritin, CRP, and IL-6, which may be early signs of a brewing storm. We are hopeful that such tests will help save lives that would otherwise have been lost to this relentless, clinical shapeshifter of a virus.
Testing for Blood Clotting
It's startling to realize how many critically ill patients with COVID-19 develop blood clots. One woman experienced symptoms characteristic of COVID-19 for a few days before she was rushed to the hospital. RT-PCR confirmed infection with SARS-CoV-2, and the woman was admitted. Her medical history was notable for diabetes, atrial fibrillation, and deep vein thrombosis (DVT). After admission, her respiratory status began deteriorating rapidly. Ultimately, she was placed on a ventilator, with her family gathered outside the critical care unit.
Laboratory tests for this patient showed very high levels of D-dimer, a biomarker indicative of clot formation. The intensivist noted the patient's history of DVT and thought that an anticoagulant could be beneficial in this situation, but it was not without risk. Anticoagulants may lead to uncontrolled bleeding, which can be lethal. Nonetheless, the patient's situation was deteriorating rapidly, so the doctor made the difficult choice to administer the anticoagulant. Within 30 minutes, the patient began to improve. Her vital signs stabilized, and she continued to recover over the next 2 weeks before she was discharged. An antibody test before discharge was positive, indicating that she developed an immune response to SARS-CoV-2.
This case and many others highlight the importance of physicians and their teams assessing the risk for poor outcomes in a patient with COVID-19 through medical history and laboratory tests. We believe that this will ensure that each individual patient with COVID-19 can receive optimal, tailored therapy.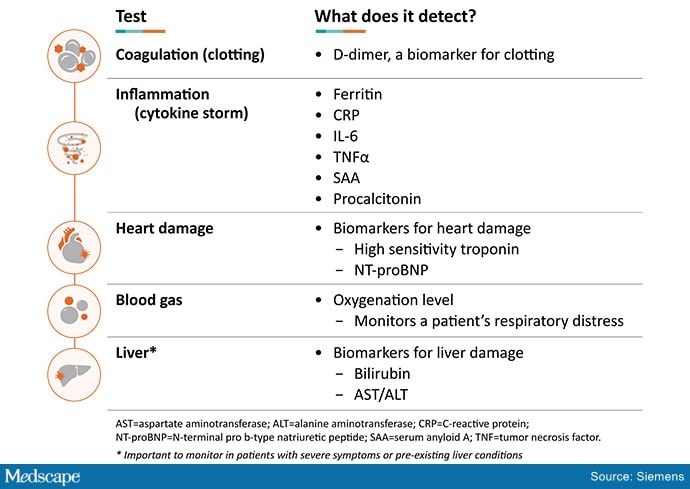 The COVID Curve
The COVID-19 learning curve has been steep over the past few months. However, we now have a great deal of hard-won knowledge that should improve prospects for patients with COVID-19. We've come to appreciate that there is no "typical" patient with COVID-19. Some patients never develop symptoms, whereas others require a ventilator to stay alive and, ultimately, may not make it despite weeks of intensive care. Some patients arrive at the hospital with a preexisting condition that presages a difficult disease course, while previously healthy patients are discharged with organ injuries that leave them vulnerable to other illnesses down the road.
For these reasons, various types of tests at different stages of patients' journeys — from those that detect the virus to those that identify whether a person has antibodies, to still others than can test for life-threatening developments — are essential for guiding clinicians in making informed treatment decisions that yield better outcomes. We believe that the use of these laboratory tests will continue to help us accrue more knowledge about this still-enigmatic disease, enabling us to control the spread of the current pandemic and mitigate future waves.
Ravina Kullar, PharmD, MPH, is an infectious disease research consultant and epidemiologist. She has over 10 years of experience as an infectious disease researcher and has served as a consultant for the World Health Organization and Centers for Disease Control and Prevention. Pertinent to COVID-19, Dr Kullar has advised several pharmaceutical companies and researchers on research projects and data analyses. She is a three-time invited TED speaker on infectious disease–related topics.
Ross J. Molinaro, PhD, MS, is an assistant professor in the Department of Pathology at Emory University and chief medical officer and vice president of global medical, biostatistical and design quality for Siemens Healthineers Laboratory Diagnostics. He is a certified medical laboratory scientist by the American Society for Clinical Pathology, board-certified in clinical chemistry by the American Board of Clinical Chemistry, and a fellow of the Association of Clinical Scientists and American Association for Clinical Chemistry Academy.
Medscape Internal Medicine © 2020 WebMD, LLC

Any views expressed above are the author's own and do not necessarily reflect the views of WebMD or Medscape.
Cite this: In COVID-19, Testing Is Everything - Medscape - Oct 08, 2020.