Can physicians always tell when a patient has less than 6 months to live? And if they misjudge, is that fraud?
A registered nurse and three nonclinicians filed a federal False Claims Act (FCA) lawsuit against Care Alternatives, a for-profit hospice in Cranford, New Jersey, claiming the hospice illegally admitted at least 16 patients who were not in their last 6 months of life and so did not qualify for Medicare hospice coverage.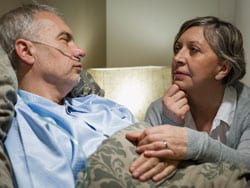 The whistleblowers' medical expert, Robert Jayes, MD, testified that the patients' medical records did not back up the hospice medical director's prognosis of imminent death and thus did not support a certification of need for hospice care. The hospice's medical expert disagreed, testifying that a physician could reasonably have determined that the life expectancy of each of those patients was 6 months or less. The whistleblowers were all former staffers.
A federal district judge held that a "mere difference of opinion between physicians, without more, is not enough" to show that the hospice filed false claims to Medicare under the law. But in March, the 3rd US Circuit Court of Appeals reversed that ruling, finding that "a difference of medical opinion is enough evidence to create a triable dispute of fact regarding FCA falsity."
Attorneys for Care Alternatives, including famed Supreme Court advocate Paul Clement, asked the justices in September to resolve the question of "whether a physician's honestly held clinical judgment regarding hospice certification can be 'false' under the False Claims Act based solely on a reasonable difference of opinion among physicians."
The justices may take the case because there is direct conflict between the circuits on this question. In September 2019, an 11th Circuit panel held that a hospice medical director's finding of terminal illness cannot be deemed false for the purposes of the FCA "when there is only a reasonable disagreement between medical experts as to the accuracy of that conclusion, with no other evidence to prove the falsity of the assessment."
So what does it take for whistleblowers and the government to prove a physician's clinical determination that a patient has 6 months or less to live was false? Conversely, what does it take for hospices and their physicians to make their certifications legally bulletproof?
Such clinical determinations are required to certify that Medicare patients are eligible for hospice benefits, and such patients must be recertified at regular intervals. But if a second physician testifies that the hospice medical director was wrong, is that disagreement enough to defeat a motion for summary judgment and send a FCA fraud lawsuit to a jury?
One key factor is that there is a degree of subjectivity regarding criteria for hospice care. The Centers for Medicare & Medicaid Services (CMS) has not created clinical benchmarks that must be satisfied to certify a patient as terminally ill. Medicaid administrative contractors offer hospices written guidance on how to determine whether specific medical conditions carry a 6-month prognosis. But that determination still requires a physician's clinical judgment about individual cases.
CMS has been clear that a patient whose condition stabilizes or improves may nevertheless remain eligible for hospice care.
Health law attorneys are watching the issue closely because FCA cases against hospice operators, which can carry treble damages, have proliferated in recent years, and the number of for-profit hospice operators has soared.
The central allegation in most of these cases is that the hospice inappropriately admitted patients who did not qualify for hospice care because they weren't in their final 6 months of life. That's often accompanied by allegations that hospices and their medical directors provided unlawful financial incentives that prompted the directors to certify nonqualified patients. Whistleblowers and the government must prove not only that the certification decision was false but also that it was made in the knowledge that it was false.
In July, the US Department of Justice announced a $3.2 million FCA settlement with Hope Hospice in Florida. The deal resolved allegations that the hospice knowingly submitted false claims to Medicare from 2012 through 2016 for patients who were not terminally ill and that it billed for higher levels of care that weren't medically necessary.
In 2017, the government signed a $75 million settlement with Chemed Corp and its subsidiary, Vitas Hospice Services, the largest FCA hospice settlement to date, over similar allegations that the hospice company billed for patients who were not in their last 6 months of life. The suit also claimed the company rewarded employees with bonuses for the number of patients admitted, without regard to whether they were terminally ill. There have been many similar settlements over the past several years.
This issue also is important in FCA cases against other types of healthcare providers, including hospitals, because physicians make all kinds of clinical decisions that trigger payments by Medicare, Medicaid, and other government health insurance programs.
"This will spill over to many other types of physician clinical decisions," said Lawrence Kraus, a litigation partner at Foley & Lardner in Boston who defends healthcare providers in FCA cases. "Clinical judgment comes up in almost every instance because the Medicare statute requires that the service provided be reasonable and necessary."
The question of whether and how physicians' clinical decisions can be proved false has been fought over for years in FCA litigation against hospices and other providers filed by private whistleblowers. The Justice Department sometimes participates in such cases.
The debate finally has reached a boiling point with the split between the 11th Circuit decision in US ex rel. Paradies v. AseraCare and the 3rd Circuit ruling in US ex rel. Druding v. Care Alternatives.
Those clashing opinions, along with dissonant rulings on this issue by other federal district and circuit courts around the country, including the 6th, 9th, and 10th Circuit Courts, have created substantial uncertainty for hospices and their medical directors. The lack of legal clarity, they say, is causing them to hold back on admitting dying patients into hospice, which deprives them and their families of much-needed end-of-life palliative care and services.
"We often find ourselves balancing what a patient needs against the inexact science of predicting someone's life expectancy," said Joe Rotella, MD, chief medical officer for the American Academy of Hospice and Palliative Medicine. "But if it's a case of duelling experts and we have to be 99.9% sure that no one will disagree with us, a lot of dying patients who are entitled to hospice would not get it."
On the other side, attorneys who represent whistleblowers in hospice fraud cases say it's important to allow juries to hear falsity claims that are based on medical expert opinions in order to protect patients from unethical hospice operators that admit patients into hospice before they are terminally ill. Once patients enter hospice, Medicare will no longer pay for curative care that could prolong their lives.
They argue that the AseraCare ruling made it harder to bring such cases, at least partly because it has made the Justice Department more leery about intervening and prosecuting them.
In that case, three former AseraCare hospice employees filed an FCA suit in 2008 alleging that the hospice knowingly used reckless business practices to admit patients ineligible for Medicare hospice coverage. The Justice Department later joined the suit. The whistleblowers and the government said there was pressure on sales and clinical staff to meet aggressive monthly quotas for patient intake and to discourage meaningful physician involvement in eligibility certifications.
The government's medical expert, Solomon Liao, MD, identified at least 123 patients who had stayed in the hospice for more than a year and who were ineligible because their life expectancy was longer than 6 months at the time of admission. But he did not testify that the hospice medical director or the defense's medical expert, Gail Cooney, MD, were necessarily wrong in finding the patients eligible.
"If someone is admitted improperly, that person waives the right to lifesaving medical care, and I can't imagine a more important issue," said Mark Schlein, senior attorney in charge of the FCA unit at Baum Hedlund Aristei & Goldman in Tallahassee, Florida. "But AseraCare discourages the government from joining many righteous cases."
The physician's prognostic decision on whether the patient will die within 6 months is uniquely pivotal in hospice care because, unlike in other areas of care, it alone determines whether a patient qualifies for the Medicare benefit. Both the hospice medical director and the patient's attending physician, if there is one, must certify the prognosis in writing at the start of each hospice stay period.
"There's nothing else in medicine like that," Rotella said. "The physician's medical opinion is the key that opens this wonderful comprehensive care called hospice. But predicting someone's life expectancy is a very inexact science."
Worries about inappropriate utilization of Medicare's hospice benefit have grown along with the program's cost. Spending climbed from $16.8 billion in 2016 to $19.2 billion in 2018, a 14% increase, according to the federal Medicare Payment Advisory Commission. The number of beneficiaries who used the benefit rose to 1.55 million, up from 1.43 million in 2016, and length of stay also ticked up.
The number of hospices jumped from 3250 in 2007 to 4639 in 2018, a 43% increase. Of particular concern is that the number of for-profit hospices has doubled and that the number of nonprofit facilities has modestly declined. For-profit hospices now make up about 70% of the industry, which 20 years ago was dominated by nonprofits.
Patients' average length of stay was much longer in for-profit hospices than in than nonprofits ― 110 days vs 68 days. One explanation, MedPAC said in its March 2020 report, is that long stays are more profitable and that financial incentives likely play role.
"My experience is there is a greater susceptibility to engaging in fraudulent and abusive practices among some for-profit hospices than for nonprofits," Schlein said. "They are more worried about the bottom line. There's a huge amount of government money involved, and it's very tempting for some unscrupulous administrators."
Hospice industry leaders acknowledge the existence of a small number of fraudulent providers. They favor a focused federal enforcement crackdown, rather than a broad second-guessing of hospice directors' certification decisions.
"If the government were more targeted on increasing enforcement against truly bad actors, then quality hospices could devote their resources to providing patient care," said Bryan Nowicki, a partner at Husch Blackwell in Madison, Wisconsin, who represents the National Association for Home Care & Hospice.
Balancing the fraud concerns, however, are fears that placing excessive scrutiny on hospice operators' eligibility determinations could discourage them from serving the large number of Medicare beneficiaries who qualify for hospice but currently aren't receiving the services.
Only 50.7% of beneficiaries who died in 2018 used hospice, and use rates were significantly lower for Black patients and other minority patients. The median length of stay was only 18 days, suggesting that many patients entered hospice too late to gain the full benefit of the services.
"Most people get too little hospice care, not too much," said Edo Banach, CEO of the hospice association. "Individuals who qualify for hospice care shouldn't be denied because the provider is spooked."
Whether or not the US Supreme Court takes the case, attorneys on both sides say the circuit split over the medical expert issue doesn't change the fact that hospices and their medical directors must follow a careful, well-documented process for certifying patient eligibility.
Although both the 3rd and 11th circuit panels disagreed on what it takes to prove the medical director wrong and get an FCA case to a jury, they said hospices must be able to document that the physician adequately reviewed each patient's medical record and reached a reasonable clinical judgment.
Hospices need to implement a thorough process for reviews of medical necessity, including having outside medical experts review the certification decisions of the doctors who admit the most patients, said Brian McEvoy, managing partner at Polsinelli in Atlanta, who defends hospices.
On the whistleblower side, attorneys will continue to face a tough burden in proving scienter ― that hospices knew or should have known about the false eligibility certifications or other errors, said Peter Chatfield, a partner at Phillips & Cohen in Washington, DC, who represents whistleblowers.
That requires showing damning patterns of behavior, such as vague diagnoses of patients, physicians signing off on certification requests from marketing staff without individual review, or a high percentage of patients who survive for a year or longer. It particularly helps when there is evidence of improper financial arrangements between hospices, physicians, and referral sources such as nursing homes.
The stronger the showing by the whistleblower of suspicious patterns of conduct ― apart from an outside medical expert's testimony that the eligibility certifications were wrong ― the more likely the Justice Department will take on the case. That greatly improves the odds of winning a settlement or judgment.
"The government doesn't want to get in the middle of a medical debate between experts," Schlein said. "We've been successful because we've put together a picture with a variety of factors that make the case clear and compelling and that the government supports."
Meanwhile, the hospice physicians at the center of the legal battle must continue to struggle with tough certification calls. Rotella, at the American Academy of Hospice and Palliative Medicine, said he and his colleagues constantly consult with each other on cases because denying a certification or recertification could cause a patient to be hospitalized and even hasten her or his death.
"If you are conservative, a lot of people will die within weeks and lack access to the best care," he said. "If you are sloppy, you open the hospice company to claims of fraud. Given the uncertainty in prognosis, these are agonizing decisions."
Harris Meyer is a freelance writer in Chicago, Illinois
For more news, follow Medscape on Facebook, Twitter, Instagram, and YouTube.
Medscape Business of Medicine © 2020

Send news tips to news@medscape.net.
Cite this: Physicians Misjudge a Terminal Patient's Life Span: Is It Fraud? - Medscape - Sep 30, 2020.