Editor's note: Find the latest COVID-19 news and guidance in Medscape's Coronavirus Resource Center.
Concerns are being raised over an increased risk of severe COVID-19 outcomes in multiple sclerosis (MS) patients on anti-CD20 B-cell depleting drugs such as ocrelizumab and rituximab following presentation of new data.
A Global Data Sharing Initiative study, including information on more than 1500 MS patients, most of whom had suspected or confirmed COVID-19, has shown increased risks of hospital admission, treatment in the intensive care unit (ICU), and ventilation for patients on ocrelizumab and rituximab compared with other MS drugs.
The study was presented at a special session on multiple sclerosis and COVID-19 at a final "Encore" event on September 26 as part of the 8th Joint European Committee for Treatment and Research in Multiple Sclerosis-Americas Committee for Treatment and Research in Multiple Sclerosis (ECTRIMS-ACTRIMS) 2020, this year known as MSVirtual2020.
This adds to an earlier report from Italy — which was published as a preprint in The Lancet — that shows similar findings. In the Italian study, among a cohort of 745 patients with MS and COVID-19, therapy with an anti-CD20 agent (ocrelizumab or rituximab) was associated with more than double the risk of a severe COVID-19 course after controlling for other factors.
However, analysis of clinical trial and post-marketing data on ocrelizumab, also presented at the MSVirtual2020 COVID session by Roche, showed no signal of an increased COVID-19 risk with ocrelizumab compared with that in the general population.
Several other studies reported at the session showed that older age, higher disability, progressive MS, presence of co-morbidities, and Black race are associated with increased risk of severe COVID-19 in MS patients, results that are in line with observations in the general population.
The Global Data Sharing Initiative study was presented by Steve Simson-Yap, PhD, a research fellow at Melbourne School of Population and Global Health, Australia.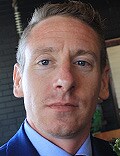 "These data suggest an increased risk of anti-CD20 monoclonal antibodies [mAbs] with more severe COVID-19 outcomes," he told Medscape Medical News. "The big question is: 'Should we switch patients off these anti-CD20 medications during the current COVID crisis?' "
Simpson-Yap said he and his colleagues are not making definite recommendations on the basis of these data. "But we do suggest that medical practitioners consider this risk when making a decision about treatment, particularly in patients who are older, have progressive MS, or severe disability."
Lead author of the Italian study, Maria Pia Sormani, PhD, professor of biostatistics at the University of Genoa, Italy, commented to Medscape Medical News: "Our message would be that MS patients on anti-CD20 therapies should be more careful in protecting themselves against infection with COVID-19."
"I cannot advise on whether it is appropriate to switch away from CD20 drugs, but these drugs have a very long duration of action — they are only taken twice a year, so it would take a long time for the immunosuppressive effects to wear off," Sormani added. "Also, they have a profound effect on MS disease, and suspending the drugs could be more dangerous than the risk of getting COVID-19, but it is important for clinicians to have this information and to understand the biology of what is happening."
Leading experts in MS also urged caution, stressing that the available data were too preliminary for any definite decisions to be made.
Global Data Sharing Initiative
The Global Data Sharing Initiative study included clinician-reported data on 1540 MS patients from 21 countries, of whom 30.9% had suspected COVID-19 and 50.4% had confirmed COVID-19.
Characteristics of admission to hospital, admission to ICU, need for artificial ventilation, and death were assessed in patients with confirmed or suspected COVID-19 infection using log-binomial regression. Adjusted prevalence ratios (aPR) were calculated, adjusting for age, sex, MS type, and Expanded Disability Status Scale (EDSS).
Results showed higher rates of hospitalization, ICU admission, and ventilation for those patients on B-cell depleting therapies vs other MS treatments.
Compared with dimethyl fumarate, MS patients on rituximab were 1.6 times more likely to be admitted to hospital with COVID-19, and those on ocrelizumab had a positive trend toward an increased risk with an aPR of 1.19.
Patients on these B-cell depleting drugs were also more likely to be admitted to ICU (aPR 3.53 for ocrelizumab and 4.12 for rituximab), and the need for artificial ventilation (aPR 3.17 for ocrelizumab and 7.27 for rituximab) compared with dimethyl fumarate.
Higher frequencies of all three outcomes were associated with combined ocrelizumab/rituximab use compared to all other MS disease modifying treatments (hospitalization aPR, 1.49; ICU aPR, 2.55; ventilation aPR, 3.05) and compared with natalizumab (hospitalization aPR, 1.99; ICU aPR, 2.39; ventilation aPR, 2.84).
The natalizumab comparison was done to account for ascertainment bias, Simpson-Yap explained. "We may be just identifying patients more easily if they come into clinic for a biannual infusion. But there was still an increased association versus natalizumab, indicating that the association is genuine and does not just reflect ascertainment bias."
Associations persisted on restriction to confirmed COVID-19 cases and upon exclusion of each contributing data source in turn. No associations were observed between any disease-modifying treatment and death.
"This is the largest database of patients with COVID-19 and MS — including information on more than 1500 individuals — allowing us to evaluate the roles of individual treatments," Simpson-Yap commented. "In addition, we have included information from 11 datasets from around the world — so the results should be broadly generalizable."
He noted that their findings confirmed results from previous studies showing that increasing age, male sex, increasing level of disability, and progressive disease are associated with more severe COVID outcome in MS patients.
"In terms of individual treatments, we found that anti-CD20 drugs ocrelizumab and rituximab showed a positive association with hospitalization, admission to ICU, ventilation. The signal was stronger for rituximab but it there was a consistent association for ocrelizumab as well."
The researchers did not find any signal of risk for other MS treatments. "There was a positive trend for no treatment, but this was attenuated when controlled for age, sex, and disability," Simpson-Yap said.
The data presented were not controlled for comorbidities as that information was not available for all patients in the study.
"But data on comorbidities, body mass index, and smoking is available for two thirds of the sample and showed no effect on the association between anti-CD20 drugs and increased risk of adverse COVID outcomes," Simpson-Yap told Medscape Medical News.
Commenting on the observation of a larger increase in risk with rituximab than ocrelizumab, Simpson-Yap suggested that this may be due the tighter binding of rituximab to the CD20 receptor. But during the discussion, other observers suggested it could be due to duration of treatment, with rituximab having been used for much longer than ocrelizumab, which was only introduced relatively recently.
Italian Study
The Italian study involved 784 patients with MS and with suspected (n = 593) or confirmed (n = 191) COVID-19.
After a median follow-up of 84 days, 13 patients (1.66%) died; 33 (4.2%) were admitted to intensive care; 90 (11.5%) had radiologically documented pneumonia; and 88 (11.2%) were hospitalized.
Results showed that more patients in this COVID-19 cohort were being treated with ocrelizumab compared with the general Italian MS population (OR, 1.84; P < .001). Fewer patients in the COVID-19 group were on interferon, which is believed to have antiviral properties, compared with the general Italian MS population (OR, 0.47; P < .001).
After adjusting for region, age, sex, progressive MS course, and recent methylprednisolone use, therapy with an anti-CD20 agent (ocrelizumab or rituximab) was significantly associated with an increased risk of severe COVID-19 course (OR, 2.59; P = .002).
"We found that the risk of severe COVID disease was higher in patients receiving anti-CD20 drugs (17%) compared to other MS drugs, which were all associated with similar risk of around 10%," Sormani told Medscape Medical News.
She said the results of the global alliance study presented by Simpson-Yap reinforce the Italian data.
"We were worried about drawing definite conclusions that one particular drug class may increase COVID risk just based on our study, but now our results appear to have been confirmed in another independent study," Sormani said. "Now we have two studies showing similar results so I would say with more confidence that is probably a true effect."
There is some biological basis for these observations.
"The mode of action of these anti-CD20 medications is to deplete B cells," Simpson-Yap explained. "These cells have an important role in antigen presentation, so the anti-CD20 drugs could interfere with this part of the immune response. There has thus long been a concern about risk of infection with these drugs, and they could interfere with the body's ability to respond to the virus."
He also noted that previous studies have shown increased risk of various other infections with rituximab compared with other MS treatments.
Experts: "Risk Remains Uncertain"
Commenting for Medscape Medical News, session co-chair, Maria Pia Amato, MD, professor of neurology at the University of Florence, Italy, pointed out that the results of these two studies are not consistent with the Roche data from clinical trials and post-marketing reports on ocrelizumab.
"This may be due, at least in part, to different methodological approaches and characteristics of the study populations," she suggested, adding that the Global Data Sharing Initiative has some limitations, including absence of information on duration of exposure to different treatments and the potential contribution to the risk deriving from previous immunosuppressive therapies.
Amato, who is the new incoming president of ECTRIMS, added: "In my view, based on available evidence, it remains uncertain (not definitively proven) that anti-CD20 can increase the relative risk of severe COVID-19 in people with MS. Further rigorous controlled studies are needed.
"It will also be important to study the immunoglobulin levels in patients treated with anti-CD20 and their serological responses to better understand the characteristics of the immune response to the virus in these patients. Ultimately, the risk-to-benefit balance of the treatment needs to be considered individually, on a case-by-case basis and in open discussion with the patient," she noted.
"In our center, for the moment, we are not systematically interrupting or avoiding starting anti-CD20 agents, but as our knowledge in the field is evolving, we are of course ready to modify this approach," Amato concluded.
Also commenting on the data, president of ACTRIMS, Jeffrey Cohen, MD, said: "It is very difficult to disentangle the risk directly attributable to disease modifying therapies from other risk factors associated with which treatment someone is on. So, at this point, for me, whether the anti-CD20 drugs increase the relative risk of severe COVID-19 remains somewhat uncertain. Moreover, even if the observation of increased risk is true, it is relative risk. The overall absolute in risk seems small and must be considered in the context risk from MS."
On the general increased risk of infection with anti-CD20 mAbs, Cohen, who is director of the Mellen Center for Multiple Sclerosis Treatment and Research at the Cleveland Clinic, Ohio, pointed out that this was "modest" and not applicable to all infections.
"Also, the key immune mechanisms versus infectious agents differ between infectious agents," he noted. "So, while increased risk of COVID-19 or of severe outcome of COVID-19 with anti-CD20 mAbs would not be unexpected, that does not mean it in fact occurs."
Like Amato, Cohen is not changing his practice based on the current results.
"As always, we consider the potential risks and benefits when selecting disease-modifying therapies for each patient," he said. "Those risks and benefits extend beyond COVID-19 and include, for example, risks from MS. At this point, at my center, we are not routinely stopping or avoiding anti-CD20 agents. Of course we are monitoring the situation and as data accumulate we might alter our approach."
There are also concerns that anti-CD20 drugs can reduce the effectiveness of vaccines, with this issue becoming particularly relevant if a COVID-19 vaccine is introduced.
Addressing this issue for Medscape Medical News, Benjamin Segal, MD, program chair of the MSVirtual2020 meeting, said that it's possible the vaccine will be less effective. "However, our experience with other vaccines is that they still promote a degree of protective immunity when given to individuals on anti-CD20 therapy," he said.
"I would follow guidelines we use for other vaccines," Segal, who is chair of the department of neurology and at The Ohio State University Wexner Medical Center, added. "They should be administered at times when a robust immune response is most likely to be elicited (2-4 weeks prior to the next administration of anti-CD20)."
Sormani reported advisory boards/speakers bureau activities for Biogen, Roche, Merck, Novartis, Celgene, MedDay, Immunic and Sanofi. Simpson-Yap has disclosed no relevant financial relationships.
8th Joint European Committee for Treatment and Research in Multiple Sclerosis-Americas Committee for Treatment and Research in Multiple Sclerosis (ECTRIMS-ACTRIMS) 2020: Session SS02. Presented September 26, 2020.
Lancet. Published online July 8, 2020. Full text
For more Medscape Neurology news, join us on Facebook and Twitter.
Medscape Medical News © 2020

Cite this: Sue Hughes. Increased Risk of Severe COVID With Anti-B-Cell MS Drugs? - Medscape - Sep 29, 2020.