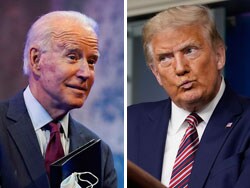 With COVID-19 making health and health care top-tier issues in voters' minds, policy experts expect the issue to spark fireworks during tonight's debate between President Donald Trump and Democratic presidential nominee Joe Biden.
One flashpoint likely to dominate the event: Trump's response to COVID-19.
While the disease is the only health care issue on the agenda for tonight's debate, there are two more debates before the Nov. 3 election. And with more than a month to go, health care issues are sure to get plenty of attention by both sides.
Beyond the pandemic, the candidates are likely to try to convince Americans they are better able to address health policy issues related to the coronavirus, the Affordable Care Act, protections for people with pre-existing conditions, drug pricing, reproductive rights, Medicare, and Medicaid.
Sabrina Corlette, JD, co-director of the Center on Health Insurance Reforms at Georgetown University's McCourt School of Public Policy, thinks the topic of health care will be a high priority for voters.
"We saw from the 2018 midterm elections that health care was front of mind for many voters," she says. "And when you add the pandemic into the mix, it only elevates it as one of those kitchen table issues that have a real salience for people."
Tricia Neuman, ScD, a health policy analyst at the Kaiser Family Foundation, believes the coronavirus will continue to be the primary focus through the election and beyond. But heading into 2021, she predicts the attention will expand to more conventional health policy issues — such as drug costs, insurance coverage, Medicare, and Medicaid.
"Voters are clearly more focused on the health and economic consequences of the pandemic than they are on what might be described as traditional health care issues, like drug pricing or the future of Medicare," she says.
"With [more than] 200,000 deaths due to COVID-19 so far, and the harsh economic consequences of the pandemic that are taking a toll on so many Americans, the shift in voter interest at this time is not all that surprising.
"[But] prescription drug prices and surprise medical bills are pocketbook issues, and are likely to be back on the agenda for the next president and Congress," Neuman says.
Here's a rundown on where Trump and Biden stand on major health care policy issues ahead of tonight's debate
COVID-19
Many political pundits expect the coronavirus crisis — and which candidate voters believe will do the better job fighting the virus and limiting the economic fallout — to play a key role in the election.
"I suspect that COVID-19 will continue be front and center in terms of Congress needing to not just continue to provide resources and policy to combat the pandemic, but also to address the economic fallout and health care," Corlette says. "I think that's going to occupy a lot of time and attention when the Congress convenes in January."
About 36,000 new American cases — and 800 deaths — are being logged daily. The U.S. leads the world in confirmed cases (more than 7.1 million of 33.1 million globally) and deaths (nearly 205,000, vs. 999,000 globally), according to the Johns Hopkins University Coronavirus Resource Center.
That makes COVID-19 one of the leading causes of death in the U.S. The virus has triggered historic economic fallout, leading to job losses, record stock market turbulence, and the closing of countless businesses. It has also stoked heated societal and political clashes over mask-wearing, social distancing, and other measures scientists advocate to combat the crisis.
Trump: The president has emphasized the development of a coronavirus vaccine and antiviral treatments as ways to combat and contain the virus. His administration launched Operation Warp Speed to fast-track a vaccine, which he has said could be available before Nov. 3. In recent testimony before Congress, top public health expert Anthony Fauci, MD, said vaccinations could start as early as November or December.
So far, the federal government has contracted with six drug companies — spending nearly $11 billion — as part of Operation Warp Speed. The operation aims to provide at least 300 million doses of a coronavirus vaccine by January 2021. Five of the vaccines are in phase III clinical trials — the final stage before approval is normally granted. The administration has also spent $225 million on COVID-19 testing efforts for rural areas.
In August, Trump signed an executive order directing the Centers for Medicare & Medicaid Services to expand telehealth benefits for Medicare beneficiaries and people living in rural areas. The administration also authorized funding for 185 telehealth providers in 38 states.
The president banned travelers from China on Jan. 31 and has said this shows he was quick to act to combat the virus and that the move saved American lives. But the ban had exemptions, and many public health experts have said the president did not act early or aggressively enough to contain the coronavirus, which by late January had already infected Americans.
One study, by researchers at the Massachusetts Institute of Technology and University of British Columbia's Vancouver School of Economics, estimated 40,000 American lives would have been spared in April and May had Trump launched a national mask mandate as late as April 1. The country was also hampered by a lack of testing early in the pandemic.
Trump has delegated primary responsibility for the crisis to the states. He has publicly criticized health experts, such as Fauci and CDC officials, who have disagreed with many of his positions and statements on topics such as wearing masks.
Trump has promoted unproven, potentially dangerous therapies. Among them: injecting disinfectants and using UV light inside the body, hydroxychloroquine, and convalescent plasma. He is rarely seen wearing a mask in public.
Biden: The former vice president has outlined a detailed coronavirus action plan he would launch, if elected. It would:
Provide free COVID-19 testing for all Americans.

Hire 100,000 contact tracers.

Eliminate out-of-pocket expenses for treatment.

Deliver "sufficient" personal protective equipment (PPE) for essential workers.

Support science-backed vaccines and medical treatments being developed.

Require the reopening of businesses, workplaces, and schools only after "sufficient" reductions in community transmission.

Shore up safeguards to protect at-risk Americans, including older people.
Biden also advocates boosting pay for health care workers at risk on the front lines. In addition, the Democrat says he would give Fauci, director of the National Institute of Allergy and Infectious Diseases, free license to speak directly to Americans without restrictions.
In August, Biden called for a nationwide face mask mandate to slow the spread of the coronavirus. But he later walked that position back, pending a legal review of White House authority to issue such a mandate.
He has not detailed how he would pay for many of these initiatives beyond promising to force wealthy Americans to "pay their fair share" of taxes to help.
Affordable Care Act
Few policy issues have divided Republicans and Democrats as significantly as the Affordable Care Act, also known as Obamacare.
Trump kicked off his presidency in 2016 with a promise to end the law "on day 1," saying that it unfairly requires people and large companies to buy insurance or pay a heavy fine.
While that didn't happen, he has worked with Congress and pushed administrative actions to weaken, modify, or remove some of the Affordable Care Act's key provisions. The administration also filed a lawsuit before the U.S. Supreme Court asking that the law be overturned.
Supreme Court Justice Ruth Bader Ginsburg's passing this month, and the nomination of conservative judge Amy Coney Barrett, could upend the Affordable Care Act, Corlette notes.
"Any time something goes before the Supreme Court, the outcome can be unpredictable," she says. "But with the loss of Justice Ginsburg, the prospect that the ACA could be struck down, in whole or in part, just became more likely."
As vice president, Biden worked to get the Affordable Care Act through Congress.
"Democrats, including Biden, tend to believe access to health care is a basic human right and the government has a role to play to ensure that people have that right," Corlette says.
"Republicans tend to believe the free market can address a lot of the issues in the health care system. And when you leave market actors free to do what they do, that will drive innovation and get you more choices and options. So, they want less government involvement and less regulation."
There is some common ground. For instance, both candidates say people with pre-existing conditions should be protected and advocate transparency in health care costs — to avoid surprise medical billing. But they don't agree on how to address those problems.
Biden: On the campaign trail, he has said he will strengthen and expand the law, if elected. He says that building on Obamacare is the best way to protect Americans and their health care.
He notes that the law provides the first and only federal protections for people with pre-existing health conditions. Under the act, insurers cannot refuse coverage or charge higher premiums for Americans with prior health conditions, such as diabetes, cancer, and heart disease.
Obamacare also limits out-of-pocket costs for health care, compels employers with 50 or more employees to provide insurance coverage or pay a penalty, and allows young Americans — up to age 26 — to stay on their parents' health insurance plans.
Biden says he wants to bolster the Affordable Care Act with a variety of add-ons that will "insure more than an estimated 97% of Americans," according to the Biden-Harris campaign site.
About 91.5% of nonelderly Americans are insured, according to the latest Census Bureau figures, which show that the number of uninsured people increased by about 2 million — to 27.9 million — between 2017 and 2018. That compares to 46.5 million uninsured Americans in 2010, the year the act was signed into law.
A key component of the Biden health care plan: A Medicare-like public option that would not replace private insurance but serve as an alternative for small businesses and people who do not have coverage, can't afford it, or do not like their employer-based coverage.
It would cover millions of uninsured Americans living in the 14 states that have not expanded Medicaid, which covers low-income people, under the Affordable Care Act's provisions. It would automatically enroll those people.
In addition, Biden proposes expanding the federal insurance subsidies now available for policies purchased through health insurance Marketplaces and capping insurance cost increases.
The Biden plan would cost $750 billion over 10 years and be financed by increasing taxes on the wealthy — meaning it would likely require congressional approval.
In addition, he proposes lowering the federal spending cap on insurance coverage for families from the current maximum of 9.86% of income to 8.5%
Trump: After several failed attempts by Republicans to repeal the Affordable Care Act outright, Trump has used his executive powers, congressional initiatives, and the courts to remove some of its provisions.
In 2017, he worked with the then-GOP-controlled Congress to eliminate the act's tax penalty for Americans who do not buy health insurance.
The White House has also defunded programs aimed at helping uninsured Americans navigate the Marketplaces, where people can buy private insurance, often with government subsidies that help cover the cost of premiums.
The administration has also relaxed rules on health insurers and allowed less comprehensive "skinny" insurance policies that cap benefits and exclude coverage for some conditions. The Affordable Care Act required all plans sold in Marketplaces to cover 10 essential benefits, including mental health, prescription drugs, and pregnancy and maternity care that not everyone wants or needs.
On the president's campaign website, PromisesKept.com, Trump says his administration used alternative ways to expand health care access to Americans in need, including 2.5 million people in rural areas.
Trump has promised to deliver an alternative plan he says is a better, less-costly alternative, but he has not put forth any comprehensive health care plan.
On Sept. 24, he signed an executive order — called the America First Healthcare Plan — that he said guarantees coverage of people with pre-existing conditions. "Any health care reform legislation that comes to my desk from Congress must protect the pre-existing conditions, or I won't sign it," Trump said at a signing event.
Drug Pricing
Drug pricing is a subset of rising health care and insurance costs, which both candidates have pledged to address, if they win the election.
Drug costs have been steadily rising since Obamacare passed in 2010.
U.S. spending on prescription drugs has increased nearly 42% over the past decade — from $253.1 billion in 2010 to $358.7 billion in 2020 (projected) — according to the Centers for Medicare & Medicaid Services.
This year alone, retail prices for 460 commonly prescribed drugs are increasing by an average of 5.2%, according to new analysis by 3 Axis Advisors, a health research firm.
That's more than double the projected rate of inflation.
Biden: He supports legislation approved by the Democratic-led House of Representatives last year giving Medicare the power to negotiate drug prices with drug companies, as private insurers do. Federal law now bars Medicare from negotiating prices on behalf of the 67.7 million Americans who use it.
Drugmakers say the current law is necessary to allow them to spend more on research and development of new medications.
Biden supports the idea of lifting bans on importing drugs from foreign countries with lower costs.
He also advocates creating an independent review board to set price caps for new medications with no competitors; making high-quality generics more available; ending tax breaks for drug company advertising; and limiting their leeway in raising prices.
Trump: Two weeks ago, he issued an executive order aimed at lowering drug costs for people on Medicare. The order directs federal officials to create "demonstration projects" requiring Medicare to pay the same prices for drugs as in Europe and other nations, where drug costs are typically lower.
The pharmaceutical industry denounced the plan, and experts say it is unclear if the White House can carry it out without congressional approval.
The order has no immediate effect, and the process of turning the order into law could take months, or longer, and will likely be challenged in court.
The president has pushed another idea: requiring drug companies to disclose prices in television advertising. But that proposal has been blocked by a federal court.
The president has made his executive order on Medicare drug pricing a centerpiece of his campaign and his plan to lower health costs. Last week, he promised to send cards worth $200 to seniors to help them pay for their prescription drugs.
He has also said the FDA has approved more lower-priced generic drugs under his presidency than ever before. In the first 2 years of Trump's presidency, 2017 and 2018, the FDA approved more than 1,600 generic drug applications — about a third more than it did in the last 2 years of the Obama administration. In 2019, the FDA granted more than 1,000 additional generic drugs final and tentative approvals.
In July, he signed executive orders to discount prices on insulin and epinephrine for low-income patients; allow imports of lower-priced drugs; combat profiteering by intermediaries known as "pharmacy benefit managers"; and guarantee Americans pay the lowest available prices among developed nations for Medicare Part B drugs.
Experts say Trump's executive orders are unenforceable unless Congress passes legislation to enact them.
Medicare
Regardless of who wins in November, Neuman says, the president will have some "really difficult decisions, as will Congress," about how to preserve or modify Medicare and Medicaid in the new year.
Medicare provides health insurance for seniors, and Medicaid is for disabled and low-income Americans.
In August, Trump signed an executive order unilaterally cutting payroll taxes, a primary funding vehicle for Medicare and Social Security.
Under these taxes, employees pay 6.2% of their earnings (on annual income up to $137,700) toward Social Security and 1.45% for Medicare taxes for every pay period. Employers pay the same rate per paycheck, adding up to a combined 12.4% Social Security tax and 2.9% Medicare tax.
Some experts predict that the pressures of the pandemic are already having an impact on Medicare funding. The program provides health insurance coverage for seniors 65 and older.
In April, Medicare's trustees said that the Part A trust fund for the program, which pays for hospital and inpatient care, could start to run dry in 2026.
But those projections did not include the impact of COVID-19. Some economists have since projected Medicare Part A could become insolvent as early as 2022.
Medicare Part B, which pays for doctor and outpatient costs, is funded by general tax funding and beneficiary insurance premiums, so it is not in danger of drying up.
Trump: The president said he would move to make the payroll tax cut permanent, if he's re-elected.
Trump has proposed several budgets to Congress requesting significant cuts to both programs.
The budget proposals would change how Medicare providers are paid and put new limits on who's eligible for Medicaid. The administration has also supported new work requirements for Medicaid beneficiaries, caps on spending growth, and converting the program to block grants.
Biden: He has criticized Trump's payroll tax cut and the administration's budget proposals for Medicare and Medicaid.
Biden has proposed lowering the Medicare eligibility age from 65 to 60, which could extend Medicare to up to 20 million more Americans.
The former vice president also supports increased federal funding to states for Medicaid during the current economic crisis.
Reproductive Rights
Trump: He has sought to expand a federal ban on funding for clinics that provide or refer women for abortion.
The White House moved to cut funding for the Planned Parenthood Federation of America and other clinics that provide abortions, contraceptive services, and health screenings for millions of low-income Americans.
This month, a federal court struck down those restrictions, setting up a potential Supreme Court ruling.
Earlier this year, the administration asked Planned Parenthood affiliates around the U.S. to return millions of dollars in loans from the federal government's coronavirus relief package.
In addition, the president repealed President Obama's anti-discrimination provisions for LGBTQ patients and for those who have terminated a pregnancy. He has allowed employers to exclude Affordable Care Act contraceptive coverage for religious or moral reasons. And he has reinstated and expanded the "Mexico City Policy," which blocks federal international assistance for organizations that perform or promote abortions.
Biden: He supports abortion rights, but his stance on abortion has evolved over the course of his political career.
In 1973, Biden, who is Catholic, said the Supreme Court went "too far" in its Roe vs. Wade decision. As a senator, he also voted to support the "Hyde Amendment," banning the use of federal funds for abortion except in cases of rape, incest, or life-threatening circumstances.
By 2007, he had modified his position on Roe vs. Wade. Today, he says he embraces Roe vs. Wade and says it should not be overturned. Last year, Biden reversed his stance on the Hyde Amendment.
If elected, he says he would nominate justices who would uphold Roe vs. Wade and work to enshrine the landmark abortion ruling into federal law.
He has also promised to restore federal funding for Planned Parenthood and other reproductive care providers and reverse the Trump administration actions on
SOURCES:
Sabrina Corlette, JD, co-director, Center on Health Insurance Reforms, Georgetown University McCourt School of Public Policy.
Tricia Neuman, ScD, health policy analyst, Kaiser Family Foundation.
Biden-Harris campaign: "Health Care."
The White House: "Healthcare."
Promises Kept: "Making America Great Again, Healthcare: President Donald J. Trump Achievements."
Bottom of Form
US News and World Report: "Fauci Disagrees With Trump's Claim About Rounding the 'Final Turn' on the COVID-19 Outbreak."
The New York Times: "A Timeline of the Coronavirus Pandemic."
CBS News: "Read the full transcript of the South Carolina Democratic debate."
U.S. Department of Health and Human Services: "HHS Adds $628 Million to Contract with Emergent BioSolutions to Secure CDMO Manufacturing Capacity for Operation Warp Speed."
Everyday Health: "Trump vs. Biden: Who Do You Trust With Your Health?"
Centers for Medicare & Medicaid Services: "Trump Administration Proposes to Expand Telehealth Benefits Permanently for Medicare Beneficiaries Beyond the COVID-19 Public Health Emergency and Advances Access to Care in Rural Areas."
The New York Times: "A Timeline of the Coronavirus Pandemic."
VoxEu: "Mask mandates and other lockdown policies reduced the spread of COVID-19 in the US."
The Washington Post: "It's true Trump didn't pledge Obamacare repeal in 64 days. He pledged it in one."
Congressional Budget Office: "Repealing the Individual Health Insurance Mandate: An Updated Estimate.
Los Angeles Times: "Trump and Biden offer starkly different visions of U.S. healthcare."
Statistica.com: "Prescription drug expenditure in the United States from 1960 to 2020."
AARP: "Hundreds of Prescription Drugs Are Costlier in 2020."
The New York Times: "Trump Issues Expansive Order Aimed at Lowering Drug Prices."
The New York Times: "As He Woos Drugmakers on Virus, Trump Demands Drug Price Controls."
MarketWatch: "Here's what Trump's payroll-tax deferral could mean for your paycheck."
Centers for Medicare & Medicaid Services: "2020 annual report of the Boards of Trustees of the Federal Hospital Insurance and Federal Supplementary Medical Insurance Trust Funds."
NPR: "Another Problem On The Health Horizon: Medicare Is Running Out Of Money."
Forbes: "Dems Slam Trump's Executive Actions, Biden Calls Payroll Tax Cut 'A Reckless War On Social Security.'"
Politico: "Federal court blocks Trump's abortion 'gag' rule."
NPR: "Trump Administration To Planned Parenthood: Return Coronavirus Relief Funds."
NPR: "Trump Speaks At March For Life, An Anti-Abortion Rights Demonstration."
The New York Times: "When Joe Biden Voted to Let States Overturn Roe v. Wade."
The Associated Press: "In reversal, Biden opposes ban on federal money for abortion."
Politico: "Biden calls for enshrining Roe v. Wade in federal law."
JAMA Network: "Trump vs Biden on Health Care."
The Wall Street Journal: "Trump Executive Order Takes New Aim at Drug Prices."
Kaiser Health News: "Back to the Future: Trump's History of Promising a Health Plan That Never Comes."
Politico: "Trump's talking health care again, with 2020 in mind."
Reuters: "Factbox: Trump-Biden healthcare showdown in the spotlight amid pandemic."
The Washington Post: "How specific were Biden's recommendations on the coronavirus?"
Kaiser Family Foundation: "KFF Health Tracking Poll — September 2020: Top Issues in 2020 Election, The Role of Misinformation, and Views on A Potential Coronavirus Vaccine."
Johns Hopkins University Coronavirus Resource Center: "COVID-19 in the USA."
WebMD: "Biden Calls for National Mask Mandate."
Axios: Biden on presidential mask mandate: " 'Our legal team thinks I can do that.' "
U.S. Department of Health and Human Services: "Fact Sheet: Explaining Operation Warp Speed."
White House: "Remarks by President Trump on the America First Healthcare Plan."
Vox: "Joe Biden's evolution on abortion, explained."
Census Bureau: "Income, Poverty, and Health Insurance: 2018."
NPR: "What To Know About Those $200 Drug Cards President Trump Promised."
Kaiser Health News: "Trump Administration Salutes Parade Of Generic Drug Approvals, But Hundreds Aren't For Sale."
WebMD Health News © 2020 WebMD Inc.

This news article was written and produced by staff at WebMD Health and is intended for a consumer audience. Questions or comments? Email newstip@webmd.net.
Cite this: Trump, Biden Plans on Health Care - Medscape - Sep 29, 2020.