Cosmetic laser procedures in darker skin types are associated with higher risks of pigmentary alterations and scarring, but can be performed safely with special considerations, according to Andrew F. Alexis, MD, MPH.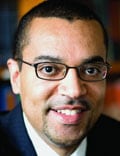 "With the devices and approaches we have today, we can achieve safe and favorable outcomes, as long as we keep in mind that there is no one-size-fits all approach," Dr. Alexis, chair of the department of dermatology at Mount Sinai Morningside and Mount Sinai West, New York, said during the virtual annual Masters of Aesthetics Symposium. "Conservative parameters are key."
According to 2018 data from the American Society for Aesthetic Plastic Surgery, 30% of all aesthetic procedures in the United States are being performed on self-identified non-White racial ethnic groups. "This is projected to continue to increase given demographic changes as well as changes in our technologies and approaches to aesthetic procedures that allow for safer outcomes across a more diverse range of patients," said Dr. Alexis, professor of dermatology at Icahn School of Medicine at Mount Sinai, New York. "That being said, even though we have many safe and effective options for all skin types today, we still have to consider that on the whole, there are higher risks of pigmentary and scarring complications when we perform most of our aesthetic procedures in darker skin types. The concept of limiting the degree of injury associated with a procedure remains paramount. Even when we pick the correct device for a give patient's skin type, if our parameters aren't optimal, or if our technique isn't optimal, we can still end up with pigmentary and scarring complications."
He offered key principles for maximining safety and optimal outcomes:
Know your device. Understand the range of parameters that are safe and effective for the given skin types that you see in your practice. "Don't just rely on what the manufacturer provides in the manual, because you could have safe parameters as directed by the manual but undertreat some patients because the settings are too conservative," Dr. Alexis said. "On the other hand, there might be scenarios where following recommended settings for a specific skin type might still wind up with a complication. Doing test spots is key in order to master the device that you are using."
Know your patient. Don't assume that you know a patient's skin phototype or ancestry when that person first presents. "When we do that, we can arrive at erroneous conclusions with respect to phototype and with respect to ancestral background, and with respect to risk of pigmentary and scarring complications," he said. "Treat your patient as an individual; no cookie-cutter responses, no assumptions." He makes it a point to ask patients about their ancestry and about how their skin responds to sunlight in terms of tanning ability and to injury and inflammation such as insect bites, acne, and minor abrasions. "What happens to their skin when those things happen?" Dr. Alexis said. "Do they have a tendency to hyperpigment or not? You can easily ask for that or look for evidence of that on their skin. Similarly, asking about a personal or family history of keloids or hypertrophic scars is helpful in determining an overall risk assessment for a patient before you proceed with a given procedure."
Recognize differences in preferred treatment options and parameters. Often, less is more. For example, he said, with laser hair removal, strive for longer wavelengths, lower fluences, longer pulse durations, and increased epidermal cooling. A study from 2002 in the Journal of the American Academy of Dermatology showed that the maximum tolerated fluence of type VI skin with the 1064 Nd: YAG laser was 50 J/cm2.
According to Dr. Alexis, nonablative fractional resurfacing "set the stage for being able to have safe outcomes for all skin types," he said. "That being said, the higher the skin phototype, the higher the incidence of postinflammatory hyperpigmentation. How can we reduce this? The most important parameter is the treatment density, even though in a retrospective review from my center, high energies were associated with higher PIH rates too. Using conservative treatment densities lowers the risk of hyperpigmentation."
Prophylactic use of hydroquinone prior to resurfacing with fractional lasers is another way to minimize the risk of postinflammatory hyperpigmentation. With this approach, Dr. Alexis asks patients to apply hydroquinone two weeks before treatment and for at least 4 weeks after. "Sun protection is key," he said. "But when taking all of this into account, using conservative treatment densities in the range of 11%-20% coverage with a 1,550-nm Erbium-doped fractional laser, you can get favorable outcomes across skin types. But sometimes you can wind up with complications even if you do the right things." He recalled a patient he treated for acne scarring and atrophic scars. After three treatments with the nonablative fractional 1,550-nm Erbium-doped laser set at level 4 (11% coverage), the patient developed hyperpigmentation of the treatment area. Dr. Alexis chose to continue treatment "with a few tweaks to reduce the risk of further hyperpigmentation," he said. "I reduced the treatment density and the number of passes by half, so that the total energy delivered was halved. I also increased the concentration of hydroquinone from 4% to 6%. With that, the postinflammatory hyperpigmentation resolved."
Another tool for resurfacing is the microsecond 1,064-nm Nd:YAG laser. "No anesthesia is required, there's minimal down time, and you can treat all skin types," Dr. Alexis said. "No pre- or posttreatment prophylaxis with bleaching agents are necessary, but multiple laser treatment sessions are required in order to achieve clinically meaningful results." His approach to treating types V and VI skin involves a 1,064-nm Nd:YAG laser with a 5-mm spot size, a 0.3-microsecond pulse duration, a fluence of 12-14 J/cm2, a repetition rate of 5-8 Hz, 1,000-2,000 pulses per cosmetic unit, and avoidance of pulse stacking. He generally performs 4-6 treatment sessions 2-6 weeks apart.
An additional option for resurfacing is the 650-microsecond 1,064-nm Nd:YAG laser. The recommend fluence in skin of color is 14-21 J/cm2. A recent review article in the Journal of Drugs in Dermatology described clinical experience using this device for a wide range of conditions in darker skin types, including acne, hyperpigmentation, and melasma.
A more recent approach is using fractional radiofrequency devices, especially those that feature coated pin tips. These tips "protect the epidermis from heat injury and deliver heat to the deeper dermis where we want it, and minimize the risk to the epidermis," Dr. Alexis said. In a 2018 study in the Journal of Drugs in Dermatology of 35 patients with skin type VI, participants received three sessions of facial treatments, 4 weeks apart using a fractional RF device with 24-pin coated tip. The researchers found that the regimen was safe and effective, and that it resulted in improved wrinkles, acne scars, and overall skin appearance.
Dr. Alexis disclosed that he has served as an adviser to or has received consulting fees from Leo, Novartis, Menlo, Galderma, Pfizer, Sanofi-Regeneron, Dermavant, Unilever, Celgene, Beiersdorf, Valeant, L'Oreal, BMS, Scientis, Bausch Health, UCB, Foamix, and Cassiopea.
This article originally appeared on MDedge.com, part of the Medscape Professional Network.
Medscape Medical News © 2020

Cite this: 'Conservative Parameters' Key to Maximizing Cosmetic Laser Results in Skin of Color - Medscape - Sep 28, 2020.