Editor's note: Find the latest COVID-19 news and guidance in Medscape's Coronavirus Resource Center.
An increase in suicidal thoughts and attempts; anxiety; and depression are among the major mental health consequences of the COVID-19 pandemic in youth, new research shows.
In a national survey of 1000 high school and college students, almost 25% reported they knew a peer who developed suicidal thoughts since the start of the pandemic — and 5% reported making a suicide attempt themselves since COVID struck.
In addition, more than half reported they were worried about their own mental health.
Commissioned by the nonprofit organization Chegg.org (an advocacy, fundraising, and research group aimed at students nationwide) and conducted in partnership with the Born This Way Foundation (a nonprofit aimed at supporting the emotional/mental health of today's youth) the report findings "shed vital light on the toll the pandemic has had on students' mental health," Maya Enista Smith, executive director of the Born This Way Foundation, said in a news release.
"It is so incredibly important that young people do not suffer in silence, and that we properly understand and prioritize their mental and emotional wellness," Smith added.
Coping During COVID
The findings are part of the fourth report in Chegg.org's 2020 State of the Student Series, which was created to offer "insights into how students are feeling and coping during the COVID pandemic."
The survey, conducted August 7-17, included 1000 students currently enrolled in US high schools and colleges.
Results showed that 58% of the college students and 53% of the high school students reported being "moderately" or "very" or "extremely" worried about their own mental health.
In addition, 53% of college students and 62% of high school students reported reported increased stress since the start of the pandemic, 48% and 51% experienced anxiety, and 33% and 38% suffered depression.
More than half (55%) of respondents reported they had offered support to a friend they thought might be struggling with mental health issues and 49% reported a friend had reached out to them.
In addition, 23% of college students and 24% of high school students said they knew of someone who had had suicidal thoughts since the start of COVID-19; some 5% of both groups reported that they had made a suicide attempt themselves.
"In general, females are more likely to be anxious, or report feeling hopeless, isolation, or having thoughts of suicide," the authors report.
"Real Conversations" Essential
Results also showed that only 43% of the college group and 40% of the high school group said their school provided mental health resources school and only 38% of both groups believed their teachers "take mental health seriously."
Two thirds of participants reported they had never sought help from college or school counseling services. Of these, 24% said it was because they didn't feel comfortable doing so.
Among the 29% of students who did seek counselling services at school, 76% reported that it was helpful.
Finally, the survey showed that 46% of college students and 47% of high school students reported they were anxious about a return to school, whereas only one quarter of students reported feeling optimistic about such a return.
"The fact that significant numbers of students are experiencing stress, anxiety, and depression yet do not feel comfortable seeking help from their professors or teachers, or their college or school counseling services, demonstrates that students are not receiving the support they deserve," Lila Thomas, director of social impact at Chegg and head of Chegg.org said in a release.
Still, "we are pleased to see that young people are reaching out to their friends for support during these uncertain times," Christine Moutier, MD, chief medical officer for the American Foundation for Suicide Prevention, said in the same release.
"It's more important than ever that we continue to educate young people about how to have real conversations about mental health. By doing so, we will be able to save lives and bring hope to those affected by suicide," Moutier added.
Uncertainty a "Big Driver" of Anxiety
Commenting on the findings, Anish R. Dube, MD, MPH, a member of the American Psychiatric Association's Council on Children, Adolescents, and their Families, told Medscape Medical News that the increase in stress and anxiety in youth because of COVID-19 was expected.
"But this report puts a number on that and to see how much of an increase there was is pretty concerning. Even more problematic is the 5% who actually attempted suicide," said Dube, a psychiatrist working in the juvenile justice system for Orange County, California.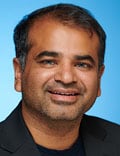 Dube noted that he has witnessed an increase in stress and anxiety in his own patients during the pandemic. Although he has not observed an increase in suicidal thoughts in his outpatients, his colleagues who work in pediatric emergency departments "have seen an increase in the severity of attempts."
"In my own experience, there's lot more stress and anxiety about what's going to happen to their family members, especially those with pre-existing medical conditions," Dube said.
Also, his young patients have expressed concern about their own futures. "Nobody quite knows what direction the job market is going to go, what jobs are going to be still left, and are they being adequately prepared in school," he added.
In addition, he noted that worries about school differ among individual patients. Some are anxious about staying safe at school fearing for their own health and risking the health of family members at home. Others worry about staying home and the negative impact of social isolation.
Uncertainty, said Dube, is a "big driver" of a lot of the anxiety in youth.
Public Health Response Needed
Overall, the new report highlights that "we have to frame mental health not just from an individual psychopathology level but from a public health standpoint," Dube said.
"The numbers show that half of students are reporting symptoms for anxiety disorders. We just don't have the capacity, as far as clinicians in the United States, to treat everybody on an individual level. So it requires a public health initiative," he noted.
"The same way you have smoking cessation or talk about obesity, mental health has to become a part of that same conversation. It's not just about physical wellness, we have to also look at mental well-being," he said.
It's important for clinicians "to look out for folks who are coasting," meaning those who appear to be doing well but are hiding their true feelings or symptoms and who are not seeking help, said Dube.
"We have to be extra vigilant, especially on suicidality and if they know others having problems. As clinicians, it's reaching out more to the young people that we treat and to their support systems," he added.
The report authors and Dube have disclosed no relevant financial relationships.
Chegg.org. Published online September 10, 2020. Full report.
Follow Deborah Brauser on Twitter: @MedscapeDeb . For more Medscape Neurology news, join us on Facebook and Twitter
Medscape Medical News © 2020

Cite this: Suicide, Depression, Anxiety: COVID 19's Heavy Toll on Youth - Medscape - Sep 25, 2020.