Editor's note: Find the latest COVID-19 news and guidance in Medscape's Coronavirus Resource Center.
Adeline Fagan, 28, a second-year obstetrics/gynecology resident in a Houston hospital, died last week, 2 months after contracting COVID-19, her family reported.
The family posted on a GoFundMe page set up in her honor that, although she mostly delivered babies, Fagan was doing a rotation in the emergency department treating patients with COVID-19.
According to Fagan's family, flu-like symptoms began July 8 and within a week she was diagnosed with COVID-19 and hospitalized. She was given several respiratory therapies and medications, with no response. She was placed on extracorporeal membrane oxygenation (ECMO) on August 4.
Her father, Brant Fagan, posted on social media that on the evening of September 18 the family had called Adeline's hospital and gotten a good report, but half an hour later they got the news that a routine check had found she was unresponsive and it was discovered she had had a massive brain bleed. The family had to decide about a risky procedure to relieve the pressure.
"The neurosurgeon said it was a '1 in a million' chance she would even survive the procedure, but that Adeline would have several severe cognitive and sensory limitations if she did survive," Brant Fagan wrote.
Adeline's parents were able to be with her that night.
"We spent the remaining minutes hugging, comforting and talking to Adeline. And then the world stopped," her father wrote.
Adeline's sister Maureen said in an interview with CNN, "Adeline did pass away in my mom and dad's arms."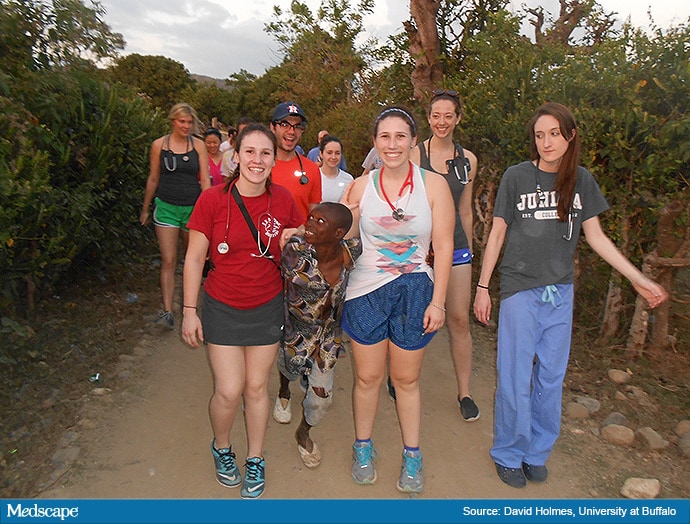 Dr Adeline Fagan, center, walking with friends while in Haiti in 2017.
Hemorrhages "Most Feared" Complication of ECMO
Jeffrey Katz, MD, director of critical care services at the NorthShore University HealthSystem in Evanston, Illinois, told Medscape Medical News that intracranial hemorrhages associated with ECMO are uncommon, but "are probably the most feared complications of ECMO."
Research has shown a risk rate of 3% to 4% on the heart-support ECMO, he said.
"It's unclear what the risk is on the respiratory support ECMO," he said, "but we postulate that it's probably less."
Any patient on ECMO, Katz said, needs relatively high levels of anticoagulation and that is a risk for intracranial hemorrhages.
"There have been case reports about patients with COVID having this hemorrhage complication on ECMO," Katz said.
The two main causes are thought to be the high doses of anticoagulation and that COVID causes inflammation of the blood vessels. The combination can lead to intracranial hemorrhaging, Katz said.
It's often associated with a high risk for death, and when patients do survive "they survive with significant neurological defects," he said.
Katz explained the choice: Patients are put on ECMO because "you don't think they can live without it," so providers trade a small risk for hemorrhages for a chance at life.
Although he did not know the particulars of Adeline's case, Katz said, "A 28-year-old vibrant young woman — who for whatever reason develops a severe COVID-19 ARDS (acute respiratory distress syndrome) — she's the exact person you'd want to use this type of technology on.
"That's the type of patient you go to the ends of the Earth for," he said.
COVID-19 deaths are much more prevalent in people older than Adeline Fagan.
As of September 16, 2020, 1405 people ages 25 to 34 have died from COVID-19, of the more than 200,000 deaths nationwide, according to the Centers for Disease Control and Prevention.
According to CBS affiliate KHOU, Adeline's sisters said she had a history of asthma, upper respiratory infections, and pneumonia, but that did not keep her from the work she loved even during the pandemic.
Maureen told the TV station in August, "It's what she wants to be doing. She wants to get out of bed every morning and deliver babies and help women."
Another of Adeline's three sisters, Natalie Fagan, told KHOU that "from the beginning of time her sister wanted to be a doctor."
"She fought for it," Natalie Fagan said. "She fought hard. She studied hard. She studied really hard and she got there."
"A Little of Ourselves in Adeline"
Jesse O'Shea, MD, an infectious disease physician at Emory University School of Medicine in Atlanta, Georgia, told Medscape Medical News that he met Adeline, a Syracuse-area native, through a mutual friend 4 years ago when she was a medical student at the University of Buffalo's Jacobs School of Medicine and Biomedical Sciences in New York.
"Every one of us in the medical community sees a little of ourselves in Adeline," he said. "We are on the front lines treating patients and we know there's some risk of catching it ourselves. For this to happen to someone my age reveals this vulnerability we all have to the virus," O'Shea said.
"To know the struggle that her family had gone through and her friends and the community, over the last couple of months and to have this outcome, it just tore me apart," he said.
According to the University of Buffalo, Adeline participated in four global medicine outreach trips to Haiti during medical school.
A medical school classmate said as part of the university's remembrance, "No matter how hard things were, she came in ready and with a smile on. After our first trip in Haiti, we came back and she had contracted chikungunya."
The classmate added, "She hobbled around in pain for weeks, but was not deterred in the least. Instead, she kept talking about how much she loved the trip and wanted to go back (and she did three times, more than any other student in our class)."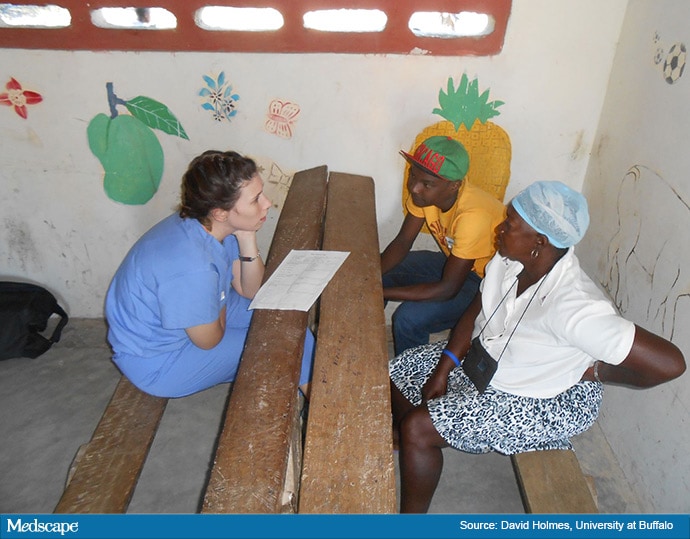 Fagan, left, in Haiti in 2017.

According to the university's tribute, David Holmes, MD, clinical associate professor of family medicine and director of the Jacobs School of Medicine and Biomedical Sciences' Global Health Education Program, remembered Fagan as "a wonderful person who really cared about people and the world."
The family made a final request on its GoFundMe page: "If you can do one thing, be an 'Adeline' in the world. Be passionate about helping others less fortunate, have a smile on your face, a laugh in your heart, and a Disney tune on your lips."
Marcia Frellick is a freelance journalist based in Chicago. She has previously written for the Chicago Tribune, Science News, and Nurse.com, and was an editor at the Chicago Sun-Times, the Cincinnati Enquirer, and the St. Cloud (Minnesota) Times. Follow her on Twitter at @mfrellick.
For more news, follow Medscape on Facebook, Twitter, Instagram, and YouTube.
Medscape Medical News © 2020

Cite this: OB/GYN Resident on ECMO for COVID-19 Dies at 28 - Medscape - Sep 24, 2020.