Breathing enriched oxygen on a nightly basis may lead to clinically meaningful symptomatic improvement in mild to moderate major depression, new research suggests.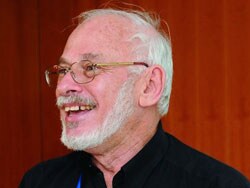 "We saw a highly significant effect of normobaric hyperoxia therapy in lowering Hamilton Rating Scale for Depression scores," R. Haim Belmaker, MD, reported at the virtual congress of the European College of Neuropsychopharmacology.
In addition, the patients on enriched oxygen also showed statistically significant and clinically meaningful improvements relative to sham-treated controls on the secondary endpoints of Clinical Global Impressions Scale, the World Health Organization–Five Well-Being Index, the Sheehan Disability Scale, and the Sense of Coherence Scale, added Belmaker, professor emeritus of psychiatry at the Ben Gurion University of the Negev in Beersheva, Israel.
Numerous PET imaging studies have documented diminished brain mitochondrial function in patients with depression or schizophrenia. And mitochondria need oxygen to do their work. Yet, the idea of administering enriched oxygen in an effort to boost mitochondrial energy metabolism has long been viewed with skepticism – even though it's a simple and well-tolerated intervention – because of the fact that 90%-95% of the oxygen supply is carried bound to hemoglobin, and oxygen enrichment doesn't further increase hemoglobin saturation in individuals with normal lung function. However, recently it has been shown that inspired enriched oxygen roughly doubles arterial oxygen tension, and while this doesn't translate into anything close to a doubled oxygen supply to tissues, it may result in increased oxygen diffusion into brain tissue, the psychiatrist explained.
Normobaric hyperoxia therapy is not to be confused with hyperbaric oxygen therapy, which requires a special chamber to handle markedly increased atmospheric pressures and has some inherent dangers. Mobile bedside oxygen generator units for oxygen enrichment are commercially available over the counter. Those used in the Israeli study were about the size of a vacuum cleaner and weighed a little more than 40 lb. Much smaller, more convenient units are available as well, but are costlier.
Belmaker reported on 51 adults with mild or moderate symptoms of major depressive disorder and a mean 11-year disease history who were randomized double blind to breathe either 35% oxygen or normal air – that is, 21% oxygen – at 1 atm pressure delivered from an investigator-supplied oxygen generator through standard plastic nasal prongs at a flow rate of 5 L/min for 7 hours nightly for 1 month.
"Controls heard the same flow and felt the same feeling on the face but were receiving 21% oxygen," he noted.
Oxygen generator units are capable of enriching air to more than 90% oxygen; however, the investigators wanted to be cautious in a pilot study of an untested therapy, and they found evidence from both animal and human studies that 40% oxygen is reassuringly safe. Most participants were on stable doses of antidepressant medications. Study exclusion criteria included obesity, acute or chronic respiratory disease, psychosis, and suicidality.
The primary study endpoint was the change in Hamilton Rating Scale for Depression score at 1 month. From a mean baseline of 14.6, the score in the normobaric hyperoxia group dropped by more than 4 points while remaining unchanged in controls. In a subscale analysis, it was apparent that most of the improvement occurred in the anxiety and cognitive disturbance subscale domains, according to Belmaker.
Of note, all patients rated by blinded investigators as much improved or very much improved on the Clinical Global Impression scale came from the enriched oxygen group.
No treatment-related adverse events occurred in the study.
"We don't know the mechanism of the benefit of oxygen on the brain. It's complex. In stroke and acute MI we used to think oxygen was beneficial, but scientists now feel that it's not," the psychiatrist said. "This early data deserve replication with higher concentrations of oxygen, different time periods of application, and in different patient groups."
He emphasized that, since individuals with physical illnesses – including sleep apnea and chronic obstructive pulmonary disease – were excluded from the study, it's not possible to say whether normobaric hyperoxia therapy would have an antidepressant effect in such patients.
"I would be especially careful with the normobaric oxygen in any patients with any cardiovascular or hypertensive disease because the increased oxygen pressure can have the side effect of contracting cardiac capillaries as a reflex action. So I certainly cannot recommend applying this study in any patients with a physical disease at this point," Belmaker emphasized.
He reported having no financial conflicts regarding the study, funded by a grant from the Brain and Behavior Research Foundation.
SOURCE: Belmaker RH. ECNP 2020, Session S.12.
This article originally appeared on MDedge.com, part of the Medscape Professional Network.
Medscape Medical News © 2020

Cite this: Breathing Enriched Oxygen May Improve Major Depression - Medscape - Sep 23, 2020.