Editor's note: Find the latest COVID-19 news and guidance in Medscape's Coronavirus Resource Center.
Rheumatologists are seeing the number of telehealth visits skyrocket in their practices as the COVID-19 pandemic rages on and patients seek out alternatives to in-person visits. Telemedicine makes it easier for patients to connect with physicians, but not all patients have access to a computer or device. It also limits what a physician can do. Rheumatologists often rely on physical exams to make diagnoses and treatment decisions – an obstacle if you're looking at patients through a computer screen.
Presenters at the 2020 Coalition of State Rheumatology Organizations' state advocacy conference discussed the benefits and challenges of this mode of care in early September. Within weeks, the U.S. health system eliminated almost half of all medical care as the pandemic ramped up and things went virtual, said Larry Van Horn, PhD, MPH, a speaker at the CSRO conference. Still, "we are in uncharted territory with respect to how telehealth is being used. ... It's being deployed everywhere, but it's too early to tell how it's affecting patient outcomes," said Dr. Van Horn, founder and director of the Center of Health Care Market Innovation at Vanderbilt University, Nashville, Tenn.
Patients seem to like using telemedicine, observed New Jersey state Sen. Herb Conaway, MD, another presenter. "I think it's here to stay, and it's likely to expand going forward. But physicians and others are going to want to make sure it's used appropriately."
Some payers feel that telemedicine should be billed differently than brick and mortar visits, Dr. Conaway said. "Physicians feel differently about that, and so we'll see how this goes, moving forward."

Lately, there have been discussions of liability concerns associated with telemedicine, said CSRO President Madelaine A. Feldman, MD, who practices in New Orleans. "There are some things you can miss with virtual visits. Certain new patient visits may need to be done in person."
The Landscape of Telehealth in Rheumatology
Telehealth has directly affected the way rheumatologists do business. In a national survey of more than 1,100 adult patients, the American College of Rheumatology found that 66% are choosing telehealth for rheumatology visits, mainly to avoid exposure to the SARS-CoV-2 virus. This contrasts with a 52% decline in the percentage of patients who are currently seeing a rheumatologist since 2019. "The pandemic has altered almost every aspect of our rheumatology practices," said ACR President Ellen Gravallese, MD in a statement. "It has impacted our patients' lives significantly and required us to create new ways of delivering care through improved telehealth and other adaptations."
While many rheumatologists have resumed in-person visits, "others, like myself, are doing a hybrid," Dr. Feldman said.

At the height of the pandemic in New York City, Elana J. Bernstein, MD's practice relied entirely on telehealth visits. "We weren't seeing any patients in the office for a couple of months. Now that things have reopened here, we've resumed face-to-face visits," keeping some telehealth visits for patients who are still uncomfortable with in-person visits or who live far away, Dr. Bernstein, director of the scleroderma program at Columbia University, New York, said in an interview. She estimates that telehealth represents about 20%-30% of her practice right now.
Advantages, Drawbacks of Telehealth
For patients in underserved or geographically distant areas, telehealth means access to care, Kanika Monga, MD, of the University of Texas Health Science Center, Houston, said in an interview. During the COVID-19 public health crisis, "it has allowed the most vulnerable patient populations to continue receiving care at the click of a button."

Virtual visits also improve patient care by improving follow-up and compliance, Dr. Monga continued. "For example, in our patient population, mobility can be a major issue because of the underlying disease. Telemedicine improves care for patients who struggle to make it to appointments." It's also more convenient for patients in her county that depend on arranged and/or public transportation and have to request a portion of their day off work for a doctor's appointment.
But the virtual visit has its drawbacks. Different available platforms and their usability create challenges, Dr. Monga said. "Although some patients are tech-savvy, some are not. This is a challenge, especially when using platforms that have many steps involved." Telemedicine also highlights general health inequities that already exist in some populations. Patients who are older, live in rural areas, are less educated, or are from a lower socioeconomic household might not have the technology or Internet connection available to enable telemedicine visits.
Telemedicine also complicates the physical examination, which is a central part of the diagnostic process, Dr. Bernstein said. Some components of the physical exam lend themselves to a video visit, such as evaluating for facial rashes or examining a patient's digital ulcers. "But if you suspect the patient has rheumatoid arthritis, for example, you can't examine the joints for swelling." When seeing scleroderma patients over telemedicine, "I can't perform the modified Rodnan skin score to assess for skin thickening, or auscultate the lungs for crackles. It's also hard to assess a patient's response to therapy over telemedicine," Dr. Feldman added.
Some rheumatologists have sought out multiple pathways on telemedicine to provide more options for patients.
Christine Peoples, MD, clinical assistant professor of medicine at the University of Pittsburgh Medical Center, uses several telehealth options to reach patients that live in the largely rural area she serves. For her, telemedicine isn't a novel concept. "I've been providing care through telemedicine for 6 years," she said in an interview. Prior to COVID-19, her patients had gone to teleconsult centers for a telemedicine visit. With the onset of the COVID-19 pandemic, she expanded telehealth services to include more home video visits through the practice's online medical record.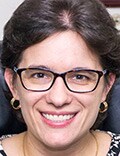 For care that can't take place online, Dr. Peoples said she works with colleagues in orthopedics, which have far greater numbers than rheumatologists in Pennsylvania, to provide injections to patients. All of the teleconference centers are at local hospitals or outpatient community centers. Patients can go there to get an injection from another doctor, she said. Additionally, all of her practice's locations at UPMC hospitals have infusion centers.
Adopting a "Computer-Side" Manner
Any practice offering telemedicine should be training their staff, as virtual meetings require certain skills, Dr. Peoples stressed. "You have to have experience as a rheumatologist, but you also have to have experience in telemedicine. Then it's about merging those two skills." Physicians need to be familiar with the technology and equipment. "I have a Bluetooth stethoscope that hears the heart and the lungs" of a patient during a virtual visit, she said.
Most importantly, physicians need to adopt a "computer-side" manner. "Make sure you have good eye contact on the screen, that you're maintaining a good, professional relationship with the patient." Training nurses to assist doctors during a telehealth visit is also key.
Dr. Peoples said UPMC has been training its fellows in telemedicine to adopt these skills.
Efforts to Pay Doctors for Telehealth
As rheumatologists navigate the growing market for telehealth, questions remain about the long term payment outlook for these services.
For now, there appears to be reimbursement parity for telehealth visits, Dr. Feldman said. COVID-19's public health emergency put into place certain flexibilities for telehealth. But some concerns remain about the commercial insurance sector. Whether private payers will continue paying the same amount as they do for in-person visits once the pandemic is over is unknown, Dr. Feldman added. "Insurance companies have had a boom in profits and should not be able to use 'losses' from COVID as an excuse for stopping pay parity for telehealth visits."
David Allen, spokesperson for America's Health Insurance Plans, said some plans are voluntarily offering telehealth payment parity during the public health emergency. "However, as a policy, AHIP does not support mandating that clinicians be paid the same amount for telehealth and in-person care," Mr. Allen said, adding that AHIP hasn't tallied how many insurance companies offer payment parity. "Too many variances exist between plans to make any kind of declarative statement on this."
For her telemedicine visits at teleconsult centers, Dr. Peoples said compensation is comparable with traditional in-person visits. "Compensation is different for video visits where the patient is at home. However, these video visits are still reimbursed by most insurance plans."
Federal payers and many states have taken actions on parity. Telehealth is seeing major legislative action at the state level, Kelly Hughes, a program director for the National Conference of State Legislatures, said during the CSRO meeting. All 50 states, the District of Columbia, and Puerto Rico have made revisions to telehealth policies during the COVID-19 pandemic to maintain access to health care services and to minimize potential exposure. Most of these are temporary modifications to address the pandemic, but some states are either adopting permanent changes or mulling over permanent changes to telehealth, Ms. Hughes said.
Modifications vary widely by state, but the top three trends include allowing reimbursement for phone calls (not requiring video), expanding the types of providers authorized to provide telehealth services, and allowing a relationship between a patient and provider to begin with a telehealth visit.
The Commonwealth Fund reports that at least 13 states have enacted payment parity laws in response to COVID-19. Another four had parity laws in place prior to the pandemic. "Many states have taken direct action via Medicaid policy; all but two issued specific guidance on the expansion or reimbursement of Medicaid-based telehealth services," according to the Commonwealth Fund.
In Texas, where Dr. Monga practices. Gov. Greg Abbott (R) has temporarily waived regulations to lift certain telehealth restrictions. The Texas Department of Insurance under an emergency rule is directing state-regulated health plans to cover telemedicine visits at the same rate as in-person visits during the COVID-19 emergency declaration. "This has helped expand our telehealth options in Texas," Dr. Monga said.
Medicare has also boosted coverage of telehealth services. "I appreciate that the Centers for Medicare & Medicaid Services has acknowledged the value of telehealth services by reimbursing for audio-only visits at the same rate as audiovisual and in-person evaluations during the public health emergency," Dr. Monga said.
CMS has also proposed to expand telehealth access in its CY 2021 Physician Fee Schedule Proposed Rule. Additionally, the Department of Health & Human Services Office of Rights will not be penalizing physicians for HIPAA noncompliance for conducting visits through technologies such as FaceTime or Skype during COVID-19, she added.
While telehealth can't replace all in-person visits in rheumatology, "it can certainly provide us with support during certain circumstances, as we have learned during the current health emergency," Dr. Monga said. "I hope that even after this crisis has passed that parity for telehealth will be maintained and we can make permanent some of the current updates."
This article originally appeared on MDedge.com, part of the Medscape Professional Network.
Medscape Medical News © 2020

Cite this: Rheumatology Feels Impact of COVID-19 Telehealth Boom - Medscape - Sep 22, 2020.