Since mid-August, wildfires have spewed smoke into California, Oregon, and Washington. In one month, fires in California alone have scorched 3.1 million acres — an area larger than the state of Connecticut. The smoke is now spreading across the United States and intermittently making the air unhealthy for much of the western US, according to the US Environmental Protection Agency (EPA), with hazardous levels of particulate matter in some areas.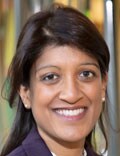 Medscape recently spoke with R. Sharon Chinthrajah, MD, to understand the health risks associated with the smoke exposure. Chinthrajah is an allergist and pulmonologist at Stanford Health Center in Palo Alto, California, and director of the Clinical Translational Research Unit of Stanford's Sean N. Parker Center for Allergy and Asthma Research. This interview was edited for length and clarity.
Medscape: What kind of smoke-related health problems are showing up in clinics and emergency rooms in California?
Chinthrajah: We're seeing more spikes in asthma and chronic obstructive pulmonary disease (COPD), and also patients are showing symptoms similar to allergic reactions.
Wildfire smoke can tip the immune system to be overactive. Sometimes, patients' regular controller medications that keep symptoms at bay are no longer enough. People are also experiencing eye irritation and skin irritation — anywhere where the wildfire smoke comes in contact with mucosal surfaces such as the eyes, nose, and lungs. And people have had rashes or flares of eczema or just itchy skin because they've been out in poor air quality over the last month.
There are more conservative air quality parameters for children, people 65 years and older, and pregnant women. Poor air quality can be the tipping point for some of these folks, and we have to be mindful of that. Primary care providers, emergency room physicians, and some specialists may also see myocardial infarctions and strokes, in addition to exacerbation of underlying respiratory conditions.
Medscape: How does the air quality interact with COVID-19?
Poor air quality changes our immune system, and drives us indoors in closer proximity to each other, since we can no longer gather outside and socially distance. A study from Italy, reported in a preprint, showed a positive correlation between PM [particulate matter] 2.5 levels and the incidence and fatality rate of COVID-19. Other researchers have found that patients more likely affected by COVID-19 lived in areas with poor air quality. Poor black and Hispanic communities live closer to highways with more air pollution, and have more underlying asthma, COPD, and cardiovascular conditions — all risk factors for COVID19.
Even before wildfires it was hard to distinguish between a COVID-19 infection, a COPD exacerbation, and an allergy exacerbation. Now we're throwing wildfires on top of that. And we're coming upon flu season, too.
Medscape: What do we know about the long-term effects of polluted air?
We can draw from our knowledge of poor air quality in other parts of the world where air quality is higher than an air quality index (AQI) of 200 for months or years. Poor air quality can lead to decreased lifespan. A German study that looked at early life exposure to high levels of air pollution suggests that it can have lasting effects, including reduced lung function when tested later in childhood. Other rigorous studies are needed to look at long-term effects on various organs and lung health.
Medscape: How is the smoke affecting the care of your patients?
For patients with asthma, we might bump up their usual controller inhalers and review an asthma action plan, inclusive of prednisone. We give them tools to help them recognize symptoms of an exacerbation. That might be something as simple as a peak flow meter. I want them to contact me about any change in health status, for example any changes in their ability to exercise, or any chest tightness, cough, or palpitations. And the medical community has really changed the way we practice in the last 6 months, trying to find the right mix of virtual vs patient visits to minimize risk all around.
Medscape: Can physicians help prevent these smoke-related health problems?
Education is our best tool. We have to educate patients about the harmful effects of wildfire smoke, and about resources to check the air quality index before going outside, because there are still people who don't do that. They should plan the kind of outdoor activity they do, and take precautions to minimize the risk. This is not our usual wildfire season, which starts in October or November. We started in August this year and we've had 4 weeks of steady poor air quality days. It's a wake-up call that climate change is real and it has lasting effects on our environment and our health.
Medscape: Are you advising patients to avoid exercise?
I tell patients they should exercise indoors, whether they have exercise equipment or not. Common items at home can be used as weights — like soup cans. You can also do online classes with other folks to have a sense of being in a group.
Medscape: Is air quality safe indoors?
Here in the Bay Area, houses can be extremely old or new. In old houses especially, even if you shut your windows and recirculate your indoor air, you may still have leakage through doors, windows, or skylights. There are some sensors that can allow you to test your indoor air quality. An air purifier can improve the quality of air indoors.
Medscape: Are you advising patients to wear masks outdoors?
Yes. The best mask for wildfire smoke is the N95. As healthcare workers we are all fitted for N95s, but lay people have never been fitted, and the masks could create a false sense of security. I remind patients to make sure it fits over the nose and chin and that they're wearing both straps to create a tight seal on the face. There have been some small studies that surgical masks also filter smaller particle size. Even multi-fabrics that people are using because of COVID-19, with a PM2.5 filter inserted, could be helpful, though we have never tested them in this circumstance. There are gaps on the side of those types of masks and it doesn't filter all the air you are breathing. But if that's all you have, it's better than nothing. I tell my respiratory patients if the indoor quality is compromised, they should wear masks indoors as well.
Medscape: It's an intense time to be a pulmonologist. How are you holding up?
It is stressful. It's not just about taking care of patients but also managing homeschooling and taking care of family members, especially the elderly or children. But this is why we chose our professions, to help patients and families make the best health decisions they can. Now, more than ever, people need good information to guide them. There is a great sense of camaraderie within the healthcare teams that show up every day. We are just a little bit kinder to each other and more understanding and flexible.
Chinthrajah has disclosed no relevant financial relationships.
Laird Harrison writes about science, health and culture. His work has appeared in national magazines, in newspapers, on public radio, and on websites. He is at work on a novel about alternate realities in physics. Harrison teaches writing at the Writers Grotto. Visit him at lairdharrison.com or follow him on Twitter: @LairdH.
For more news, follow Medscape on Facebook, Twitter, Instagram, and YouTube.
Medscape Medical News © 2020

Cite this: Wildfire Smoke Tied to Diverse Health Problems - Medscape - Sep 16, 2020.