The Trump administration on Wednesday announced staff changes following outcry about inflammatory statements and claims of attempted interference with a key federal report.
The Department of Health and Human Services (HHS) announced a 60-day leave of absence for Michael Caputo, who has served as its assistant secretary of public affairs.
Caputo "has decided to take a leave of absence to focus on his health and the well-being of his family," HHS said in a statement.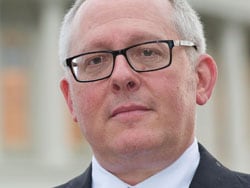 HHS also announced the departure of Paul Alexander, PhD, who served as a senior policy adviser to the assistant secretary for public affairs. Alexander had been hired to engage with the department on a temporary basis, HHS said.
Politico had recently reported that Caputo and Alexander sought to interfere with the Centers for Disease Control and Prevention's (CDC) Morbidity and Mortality Weekly Report (MMWR) related to the coronavirus.
That story caused significant concern among physicians, scientists, and lawmakers, as the MMWR play a key role in the CDC's efforts to warn the medical community about emerging threats.
House Ways and Means Chairman Richard E. Neal (D-MA) yesterday asked HHS Secretary Alex Azar to provide his committee with detailed information on relevant publication processes involving the CDC.
Neal sought reports on what, if any, directives HHS received from the White House, as well as the names and titles of any HHS political appointees involved in the publication of the reports in question and their contributions during the editorial process.
"As you know, the CDC's Morbidity and Mortality Weekly Report (MMWR) series has long served as a critical tool to inform state and local public health officials, healthcare providers, researchers, and the general public about infectious diseases and other ongoing public health developments —regardless of the political party of the Administration in charge," Neal told Azar.
There also had been concerns raised about Caputo's remarks in a video posted on Facebook over the weekend where he said the CDC was harboring a "resistance unit" to undermine President Trump. Caputo has apologized to HHS staff for his remarks, Politico reported.
The Washington Post also reported on the HHS officials' interactions with the MMWR process. Alexander sent repeated emails to the CDC seeking changes and demanding that the reports be halted until he could make edits, according to the Post.
Ryan Murphy, as the principal deputy assistant secretary for public affairs, will lead the day-to-day operations of the office during this time. Murphy has previously served as acting assistant secretary for public affairs in addition to working as an aide on Capitol Hill.
For more news, follow Medscape on Facebook, Twitter, Instagram, and YouTube.
Medscape Medical News © 2020

Cite this: HHS Advisers Take Leave, Depart Amid Controversies - Medscape - Sep 16, 2020.