The 541 accountable care organizations (ACOs) that participated in the Medicare Shared Savings Program (MSSP) in 2019 generated $1.19 billion in net savings for Medicare, the largest annual haul for the program, the Centers for Medicare & Medicaid Services (CMS) reports.
The gross savings for Medicare, before accounting for shared savings bonuses and the collection of shared losses from ACOs, was $2.65 billion, according to a news release from the National Association of ACOs (NAACOS). On the basis of those two figures, ACOs netted 55% of the money they saved.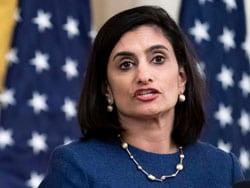 In a Health Affairs blog post, CMS Administrator Seema Verma noted that ACOs that participated in the MSSP's new Pathways to Success (PTS) tracks outperformed those that were finishing up their contracts in the MSSP's original tracks.
The 206 ACOs in the PTS tracks, most of which require that ACOs take downside risk, achieved average net savings of $169 per Medicare beneficiary, compared with $106 per beneficiary for the 335 ACOs in the "legacy" tracks.
Most of the ACOs in the original program took upside-only risk, meaning they were not financially penalized if they spent more than their budget in the MSSP. Pathways to Success was designed to move the ACOs more quickly to taking two-sided risk.
From that perspective, during the first 6 months of PTS — ACOs were allowed to enroll in it starting July 1, 2019 — the new program achieved a significant part of the agency's goal. According to CMS, 29% of the ACOs in the MSSP were in a downside risk track last year, compared with 19% in 2018. By January 1, 2020, 37% of the ACOs were taking two-sided risk.
As in past years, ACOs that took this kind of risk in 2019 saved more money than those that did not. Combining the legacy and PTS risk tracks, the downside risk ACOs reaped net savings of $152 per beneficiary compared with $107 for the upside-only risk ACOs. ACOs in the PTS downside risk tracks achieved net savings of $193 per beneficiary, compared with $142 for ACOs in the PTS's upside-only risk track.
"Low-revenue" ACOs, which are typically physician-led, have performed better than "high-revenue" ACOs, which are usually led by hospitals, Verma noted. In 2019, low-revenue ACOs had net savings of $201 per beneficiary, compared with $80 for high-revenue ACOs. Among PTS participants, the relative amounts were $189 and $155.
New-entrant ACOs in the PTS tracks generated net average savings of $150 per beneficiary. "This is the first time ACOs new to the program had lower spending relative to their benchmarks [budgets] in the first performance year," Verma noted.
PTS policies have improved the performance of participating rural ACOs, she said. Overall, urban ACOs saved twice as much per beneficiary as did rural ACOs in 2019 — $125 vs $64 per beneficiary. But in the PTS tracks, the difference was much smaller — $170 vs $158.
"These early results indicate that the redesigned financial incentives adopted under Pathways to Success may better support rural ACOs in delivering better coordinated and more efficient care for beneficiaries and encourage more rural providers to enter into value-based care," Verma said.
Ninety-two percent of eligible ACOs earned quality improvement reward points in 2019. That was about the same as in the previous 2 years.
MSSP's COVID-19 Policy Changes
This year, Verma pointed out, CMS has adopted new MSSP policies to mitigate the impact of the COVID-19 pandemic on ACOs. Among other things, CMS has eliminated shared losses of ACOs for the duration of the public health emergency.
It will also allow ACOs for which current agreement periods expire on December 31, 2020, to extend those agreements by a year rather than having to switch to the newer risk-based contracts. ACOs in any of the MSSP BASIC tracks can maintain their current level of participation for performance year 2021.
In addition, Verma said, CMS has removed the costs associated with patients who are hospitalized for COVID-19 in calculating ACO financial benchmarks and performance-year spending. The agency is also using primary care telehealth visits in assigning beneficiaries to ACOs and has lowered the burden of reporting quality measures, she continued.
In the NAACOS news release, Clif Gaus, ScD, president and CEO of the association, reiterated his position that Pathways to Success has diminished ACO participation in the MSSP, and he called for Congress to pass a bill that would make changes in the program.
However, Gaus applauded the ACOs that contributed to the MSSP's strong results last year. "These results clearly show that ACOs are helping improve our health system at a time when it's needed more than ever," he said.
"When we emerge from the ongoing pandemic, we'll need alternatives to fragmented fee-for-service and better cost-control strategies, which ACOs provide. There should be no debate that we need to foster the growth of more ACOs so their benefits are delivered to more seniors."
Follow Medscape on Facebook, Twitter, Instagram, and YouTube.
Medscape Medical News © 2020

Cite this: ACOs Rack Up Largest Savings Ever for Medicare - Medscape - Sep 16, 2020.