When John A. Parrish, MD, worked with R. Rox Anderson, MD, and a team of clinicians and scientists in the early 1980s to develop the first pulsed dye laser for dermatologic use, it became clear that the Food and Drug Administration required convincing that their prototype would be safe.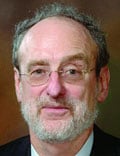 "Laser medicine was new, and lasers had some specific frightening risks like blindness and bleeding from laser suturing," recalled Dr. Parrish, founder of the Wellman Center for Photomedicine at Massachusetts General Hospital, Boston. "The main issue was eye risk. Because the operator and the patient were at risk for eye injury, the FDA was reluctant to press on with laser treatments of skin."
To make the FDA more comfortable with their efforts, Dr. Parrish and his colleagues drew from the published work of ophthalmologists, who were ahead of dermatologists in the clinical use of lasers. "A lot of the animal experiments and the human understanding of laser-tissue interactions came from ophthalmologists," he said. "We worked with a fellow named David H. Sliney, PhD. He was very interested in laser safety of the eye, so we worked closely with him to measure the boundary conditions that could be used without injuring the eye."
To Dr. Parrish, forging that partnership illustrated a key principle in developing novel diagnostics and therapeutics that use lasers and light: You need a multidisciplinary team. "You need a pathologist, clinicians, physicists, technologists, and engineers, because all of the barriers to figure out how to deliver a new treatment safely often don't rest in one person's mind, so early on we had to be very collaborative and find experts who would help us solve problems," he said. "That's how the Wellman Labs got started. All of the new treatments were explored by multidisciplinary teams so that we didn't have to hope that the expertise to get past all the barriers was in one person's mind. That was often not the case."
Dr. Parrish credits his mentor, the late Thomas B. Fitzpatrick, MD, PhD, who in 1975 devised the Fitzpatrick scale of skin phototypes, with inspiring his career path. Dr. Fitzpatrick, who is widely considered the father of modern academic dermatology, was professor and chief of dermatology at Harvard Medical School when Dr. Parrish began his dermatology training there. "He was a great clinician who loved patient care and he was a very curious investigator," said Dr. Parrish, who cofounded the Consortia for Improving Medicine with Innovation and Technology (CIMIT). "He not only trained me, but I became his collaborator during my early faculty time. What I learned most from him was the joy of work, curiosity, and serious commitment to patient care. It was almost contagious."
Of all the devices he's played a role in developing in the past 50 years, Dr. Parrish said that he remains most surprised by the impact of pulsed lasers in dermatology. "It took us a while to understand the capabilities of pulsed lasers in that they could confine injury to small spots and treat multiple areas at once," he said. "A lot of that did not come because we were so wise to think about that, but we did a lot of work in the early days with a free-electron laser, a pulsed laser which had a tunable wavelength and a tunable pulse duration. That gave us the capability of looking at very specific injuries and the host responses that heal without scarring."
This article originally appeared on MDedge.com, part of the Medscape Professional Network.
Medscape Medical News © 2020

Cite this: Visionary Reflects on the Importance of Teamwork in Advancing Technology - Medscape - Sep 16, 2020.