MANCHESTER—The MPTS tribunal of a leading oncologist accused of inappropriate treatment of dying patients and falsifying records continued on Wednesday with a supporting statement from the widower of one of his patients.
Professor Justin Stebbing faces allegations he failed to provide good clinical care to 11 patients between March 2014 and March 2017 by not properly disclosing the risk of treatments and not fully examining patients.
Prof Stebbing of Imperial College London, who also has a private practice in Harley Street, denied all the accusations against him which were set out by the General Medical Council (GMC) earlier this week.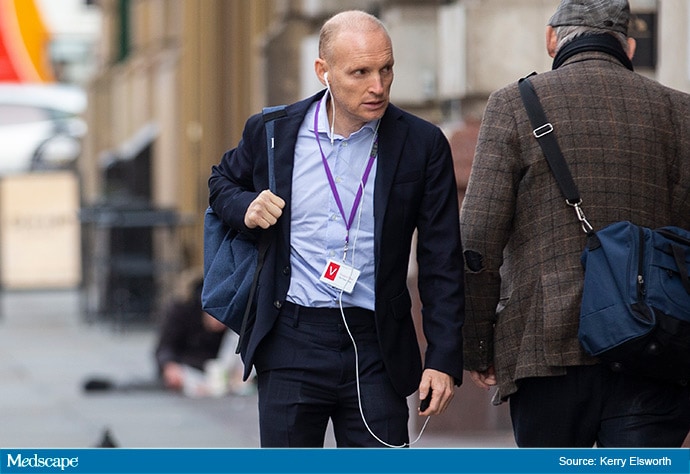 Above and Beyond
The hearing was attended by Tom Letcher who had read about the case and felt compelled to come along to support the doctor who had treated his late wife for breast cancer.

Michele Letcher was treated by Prof Stebbing after her second diagnosis of triple negative breast cancer in June 2011 until her death, at the age of 45, in March the following year.
The 59-year-old from Prestwich said he contacted Prof Stebbing after reading about him in a newspaper and spoke of the extent to which the doctor had gone above and beyond. He said if the Professor was guilty of anything, it was working really hard to keep his wife alive.
"He explained things so well I felt like I was his apprentice."
The family read about the tribunal and he offered to become a character witness.
"He was just different class," Mr Letcher said. "I had done my research, I knew that the drug Avastin was on the market for £10,000 for six to eight sessions, I went down prepared to max out my credit card, he said don't do that, go and have a coffee, within an hour Bupa had covered it."
Mr Letcher said his wife even wrote a poem about the care she received from Prof Stebbing to be read out at her funeral.

Evidence
The tribunal discussed the admissibility of evidence, with GMC Counsel Sharon Beattie arguing that Prof Stebbing's lawyer, Mary O'Rourke QC, had put forward reports from experts that referred to other patients who could not possibly be cross-examined.
It was unfair, she said, arguing that: "The proposition that any expert can advance any evidence they want away from the rules of evidence is not correct."
But Ms O'Rourke countered saying: "I am not saying an expert can say anything and get away with it.
"I am saying there are clear mechanisms to challenge evidence that is inadmissible.
"I am saying that the mechanism is during the tribunals."
Tribunal chair Hassan Khan said that there was no precedent in statute or case law to resolve this issue and said he would come back with a decision on this next week.
The case is expected to continue fully next month with the first witnesses to give evidence.
Chris Jaffray is a freelance journalist experienced in covering MPTS hearings.
© 2020 WebMD, LLC

Send comments and news tips to uknewsdesk@medscape.net.
Cite this: Chris Jaffray. Widower Supports Wife's Oncologist at Tribunal - Medscape - Sep 17, 2020.