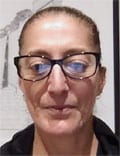 Consuming more milk, cheese, or yogurt might be a simple, low-cost way to boost bone health and prevent some falls and fractures in older people living in long-term care facilities, according to a new randomized study from Australia.
"Supplementation using dairy foods is likely to be an effective, safe, widely available, and low cost means of curtailing the public health burden of fractures," said Sandra Iuliano, PhD, from the University of Melbourne, Australia, who presented the findings during the virtual American Society of Bone and Mineral Research (ASBMR) 2020 annual meeting.
The researchers randomized 60 old-age institutions to provide residents with their usual menus or a diet with more milk, cheese, or yogurt, for 2 years.
The residents with the altered menus increased their dairy consumption from 2 servings/day to 3.5 servings/day, which was reflected in a greater intake of calcium and protein, along with fewer falls, total fractures, and hip fractures than in the control group.
Medscape Medical News invited two experts who were not involved in the research to comment on the study.
"This is the first randomized trial to show a benefit of dairy food intake on risk of fractures," Walter Willett, MD, DrPH, professor of nutrition and epidemiology at the Harvard T.H. Chan School of Public Health, Boston, Massachusetts, told Medscape Medical News.
The results are "not surprising" because supplements of calcium plus vitamin D have reduced the risk of fractures in a similar population of older residents living in special living facilities, said Willett, coauthor of a recent review article, "Milk and Health," published in the New England Journal of Medicine.
"It is important for everyone to have adequate intake of calcium and vitamin D," he said. However, "it isn't clear whether it is better to ensure this clinically by supplements, overall healthy diet, or extra dairy intake," he added, noting that consuming the amount of dairy given in this Australian study is not environmentally sustainable.
Clifford Rosen, MD, professor of medicine, Tufts University School of Medicine, Boston, Massachusetts, told Medscape Medical News that, importantly, the Australian researchers studied the impact of increased dietary calcium and protein, not the impact of vitamin D via supplements.
"This is progress towards getting interventions to our most needy residents to prevent fractures — probably the most compelling data that we have had in a number of years," he noted.
The current study shows "it's not [the] vitamin D," because the residents had initial low calcium levels but normal vitamin D levels. "For too long we've been stuck on the idea that it is [increasing] vitamin D in the elderly that causes a reduction in fractures," said Rosen. "The data are not very supportive of it, but people continue to think that's the most important element."
On the other hand, the current study raises certain questions. "What we don't know is, is it the calcium, or is it the protein, or the combination, that had an impact?"
Would Upping Dairy Decrease Falls?
Older adults living in institutions have a high risk of falls and fractures, including hip fractures, and "malnutrition is common," said Iuliano during her presentation.
Prior studies have reported that such residents have a daily dietary calcium intake of 635 mg (half the recommended 1300 mg), a protein intake of 0.8 g/kg body weight (less than the recommended 1 g/kg body weight), and a dairy intake of 1.5 servings (about a third of the recommended amount), she said.
The group hypothesized that upping dairy intake of elderly residents living in long-term care institutions would reduce the risk of fractures. They performed a 2-year cluster-randomized trial in 60 facilities in Melbourne and surrounding areas.
Half gave their 3301 residents menus with a higher dairy content, and the other half gave their 3894 residents (controls) the usual menus.
The residents in both groups had similar characteristics: they were a mean age of 87 years and 68% were women.
A subgroup had blood tests and bone morphology studies at baseline and 1 year.
Researchers verified nutrient intake by analyzing the menus and doing plate waste analysis for a subgroup, and they determined the number of falls and fractures from incident and hospital X-ray reports, respectively.
33% Fewer Fractures in the Higher Dairy Group
At the study start, residents in both groups had similar vitamin D levels (72 nmol/L) and bone morphology. They were consuming two servings of dairy food and drink a day, where a serving was 250 mL of milk (including lactose-free milk) or 200 g of yogurt or 40 g of cheese.
Their initial daily calcium intake was 650 mg, which stayed the same in the control group, but increased to > 1100 mg in the intervention group.
Their initial daily protein intake was around 59 g, which remained the same in the control group, but increased to about 72 grams (1.1 g/kg body weight) in the intervention group.
At 2 years, the 1.5 servings/day increase in dairy intake in the control vs intervention group was associated with:
an 11% reduction in falls (62% vs 57%),

a 33% reduction in fractures (5.2% vs 3.7%),

a 46% reduction in hip fractures (2.4% vs 1.3%), and

no difference in mortality (28% in both groups).
The intervention was also associated with a slowing in bone loss and an increase in insulin-like growth factor-1.
Four Dairy Servings a Day "Is High"
Willet said, "It is reasonable for seniors to take one or two servings of dairy per day, but four servings per day, as in this study, is probably not necessary."
Moreover, "dairy production has a major impact on greenhouse gas emissions, and even two servings per day would not be environmentally sustainable if everyone were to consume this amount," he observed.
"Because the world is facing an existential threat from climate change, general advice to consume high amounts of dairy products would be irresponsible as we can get all essential nutrients from other sources," he added.
"That said, modest amounts of dairy foods, such as one to two servings per day could be reasonable. There is some suggestive evidence that dairy in the form of yogurt may have particular benefits."
The study was funded by Melbourne University and various dietary councils. Iuliano has reported receiving lecture fees from Abbott. Rosen and Willett have reported no relevant financial relationships.
ASBMR 2020 annual meeting. Presented September 11, 2020.
For more diabetes and endocrinology news, follow us on Twitter and Facebook.
Medscape Medical News © 2020 WebMD, LLC

Send comments and news tips to news@medscape.net.
Cite this: More Dairy Lowers Risk of Falls, Fractures in Frail Elderly - Medscape - Sep 15, 2020.