Editor's note: Find the latest COVID-19 news and guidance in Medscape's Coronavirus Resource Center.
If a second wave of COVID-19 hits the United States, the nation will be much better prepared, said Admiral Brett Giroir, MD, assistant secretary for health at the US Department of Health and Human Services, because the availability of equipment and testing has improved and communication is better.
Ventilators alone in the Strategic National Stockpile, which numbered about 9,000 at the beginning of the pandemic, now number 119,000, he reported.
"We are never going to use all those ventilators, but they are there," he told the audience during his plenary at a virtual conference organized by the Society of Critical Care Medicine (SCCM), entitled COVID-19: What's Next. Preparing for the Second Wave.
"In March, when it looked like we needed an extra 60,000 or 80,000 ventilators, the response was, let's make them as quickly as possible," he said.
Numbers Have Improved From July's Peak
Giroir, a pediatric critical care specialist who leads the nation's COVID-19 diagnostic response, cited the progress made in decreasing the number of cases since the peak in July.
New cases are down an estimated 38%, hospitalizations are down 37%, ICU patients are down 50%, and deaths are down about 10%, he said.
"There is a cadence to this. The percent positivity goes up, then the ER visits go up and cases go up, then hospitalizations go up, ICU admissions go up," he explained. Then deaths — a lagging indicator — go up.
However, "the reverse is also true," he noted. With good adherence to mitigation strategies, such as distancing, mask-wearing, and hand-washing, the number of cases can quickly decrease.
Currently, 10 states have a positivity rate above 10%, according to a Reuters tracker.
States With Test Positivity Rates Above 10% as of September 13
State
Test Positivity Rate
South Dakota
18.9%
Kansas
17.3%
Iowa
15.2%
Mississippi
14.7%
Idaho
14.0%
Missouri
13.8%
Florida
13.4%
Nevada
11.4%
South Carolina
11.4%
Wisconsin
10.3%
Other Supplies Ramping Up
Stockpiles of other healthcare supplies are being built up in the event of a new wave, thanks to the Defense Production Act (DPA).
Production of N95 respirators had been at about 20 million per month, Giroir said, but "by this fall, we will be making over 170 million additional respirators per month."
Gloves, however, which are not normally made in the United States, are still an issue. "We have a long way to go," he explained. "We use billions a year. We're just getting started on that."
There were severe shortages of testing swabs related to supply-chain issues, but "now we're going to have an extra 120 million per month," he reported. In fact, the supply was so short at the beginning of the pandemic that he sent a C-17 military transport aircraft to bring swabs from Italy.
"We didn't understand who the manufacturers were, we didn't understand the supply chain, so we really started from scratch," he said. "The nation truly did not have the information systems to prepare us for this outbreak."
The picture painted by Giroir of how unprepared the country was at the beginning of the pandemic, how little was known about testing capacity, what supplies were needed, and what vendors were available — despite the previous experience of China and Italy — is striking, said SCCM President-elect Greg Martin, MD, MsC.
And the progress that has been made is just as striking, he told Medscape Medical News.
Testing Advances
The number of tests has grown exponentially and, to date, about 85 million tests have been performed in the United States. A shift is currently underway from elaborate, expensive referral tests done in laboratories to more highly sensitive point-of-care tests, whether molecular or antigen.
"We're sending point-of-care tests to every single nursing home in the country, and extending that now to assisted living," Giroir said.
A focus on rapid and large-scale testing will also help schools and businesses reopen.
A new development in testing — next-generation sequencing — is garnering an increasing share of the market. The first emergency use authorization for such a test was granted in June by the US Food and Drug Administration. That technology can reveal not just the diagnosis, but the genetic sequence of a virus. Comparisons of sequencing over time can help scientists see how viruses are mutating.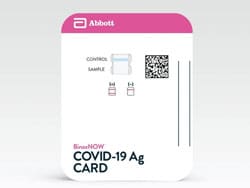 BinaxNOW, a portable rapid test for the detection of COVID-19 infection, is also exciting, Giroir said. The United States is buying 150 million of the tests, which use a nasal swab, require no instruments, can give results in 15 minutes, and are about the size of a credit card, according to a press release from Abbott.
"We will be able to make them in the United States — 48 million per month," Giroir reported. Most will go to state governors to support the reopening of schools and day-care facilities.
Although testing and a good stockpile will help the country prepare for a second wave of COVID-19, the next pandemic might not be respiratory in nature, Martin noted.
Flexibility in federal laws, such as the DPA, that allow the production of whatever equipment is necessary, and creativity by individuals, such as the 3D printing of ventilator adaptors, will be the key to the management of any future crises, he said.
"That's going to be much more effective than having a stockpile of things that eventually will degrade," Martin said. "Even if you had 100 million gloves in the national stockpile, that wouldn't serve you in 5 years or 10 years, when they become brittle and disintegrate."
Giroir and Martin have disclosed no relevant financial relationships.
COVID-19: What's Next. Preparing for the Second Wave. Presented September 12, 2020.
For more news, follow Medscape on Facebook, Twitter, Instagram, and YouTube
Medscape Medical News © 2020

Cite this: Ramping Up for the Second Wave of COVID-19 - Medscape - Sep 14, 2020.