About two thirds of patients who are diagnosed with chronic lymphocytic leukemia (CLL) are initially managed with a 'watch-and-wait' approach, but other one third of patients will need to be started on drug therapy straight away. But with which regimen?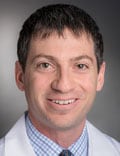 The standard therapy to date has been time-limited chemoimmunotherapy, and this still has a key role to play in certain cases. But evolving continuous treatments and evidence on the array of factors that can influence response are making decision-making more individualized than ever, said Matthew S. Davids, MD, MMSc, director of clinical research in the Division of Lymphoma at Dana-Farber Cancer Institute and associate professor of medicine at Harvard Medical School, Boston, Massachusetts.
"Continuous versus time-limited treatment discussions are long discussions now and should be individualized to particular patients and their comorbidities," said Davids.
Davids was speaking at a "How I Treat" session at the recent American Society of Hematology's (ASH) Meeting on Hematological Malignancies, which was held virtually because of the COVID-19 pandemic.
Key Factors to Consider
Key factors in determining the most effective approach are the patient's TP53 and immunoglobulin heavy chain (IGHV) gene mutation status, Davids said.
For instance, the traditional choice for frontline care for CLL has been standard chemoimmunotherapy (eg, fludarabine, cyclophosphamide and rituximab [FCR]), with a typical treatment duration of 6 months. However, the response effects appear most durable in younger patients with mutated IGHV and intact TP53.
As evidence, Davids cited data from a long-term follow-up of one of the original FCR studies in 300 patients, which found that about 60% of patients had long-term disease-free survival.
Importantly, the study showed the effects did not extend to patients with unmutated IGHV, who tended to have steady progression of disease over time.
BTK Inhibitors
In recent years, Bruton's tyrosine kinase (BTK) inhibitors have made inroads into the treatment of CLL, and have shown efficacy over chemoimmunotherapy as a front-line therapy, Davids noted.
For example, the phase 3 ECOG E1912 trial showed that a combination of the BTK inhibitor ibrutinib (Imbruvica) with rituximab provided superior improvement in progression-free survival (PFS) and overall survival (OS) compared with FCR in previously untreated patients with CLL.
However, contrary to the effects seen in FCR chemoimmunotherapy, the benefits in PFS in the treatment (ibrutinib) arm appear to favor unmutated IGHV patients.
Nevertheless, FCR shows longer-term functional remission (up to 15 years) compared with BTK inhibitors, which have shorter follow-up data, and therefore chemoimmunotherapy still has a role, Davids said.
"In terms of when to consider chemoimmunotherapy in front-line CLL, for patients with mutated IGHV, I think it is reasonable to discuss FCR as an option," he said.
"There are some CLL experts who don't use chemoimmunotherapy at all anymore, saying they don't think it's worth the risk even though there are long-term data that are favorable," he told Medscape Medical News.
"The majority of us feel there is still a place for chemoimmunotherapy [in CLL], but it's more limited than it's ever been before."
Combination of FCR and Ibrutinib?
Davids and colleagues have investigated the combination of FCR with ibritunib, and last year published results from a single-arm phase 2 trial in 85 patients.
They found that, with the exception of high-risk patients with TP53 mutations, the outcomes were encouraging.
"We found this combination could achieve deep responses in people who did not have TP53 aberrant CLL," Davids said.
"In total, 84% of patients were able to achieve undetectable minimal residual disease in bone marrow — regardless of their IGHV status," he said.
Another more recently investigated BTK inhibitor is acalabrutinib (Calquence), which has been used both alone or in combination with obinutuzumab (Gazyva).
Management of BTK Toxicities
One issue with the BTK inhibitors is that they are given continuously, and toxicity management is important, Davids emphasized.
Potential adverse effects can range from arthralgias, atrial fibrillation, and bleeding risk to hematologic toxicities, hypertension, and infection.
"If we need to commit patients to long-term therapy with BTK inhibitors, we need to be able to actively manage these toxicities in order to be able to keep patients on therapy," Davids asserted.
Newcomer: Venetoclax
A new alternative to either chemoimmunotherapy or BTK inhibitors includes time-limited treatment with B-cell lymphoma-2 (BCL-2) inhibitor venetoclax (Venclexta), which has demonstrated high efficacy and durability in CLL, Davids noted.
In the CLL14 trial , the combination of venetoclax with obinutuzumab improved progression-free survival when compared to the combination of chlorambucil/obinutuzumab.
"With over 3 years of follow-up in the venetoclax-obinutuzumab arm, there is to date no difference in progression-free survival based on IGHV mutation status for this 1-year time-limited treatment," Davids said.
An analysis of minimal residual disease further showed deep remissions with the venetoclax group, which could explain the response regardless of IGHV mutation status, Davids said.
Venetoclax, like other treatments, may have less durable efficacy among high-risk patients with TP53 status, and while retreatment might be an option for some of those patients, data is still lacking, Davids noted.
BTK Inhibitors vs Venetoclax/Obinutuzumab
In weighing the pros and cons of BTK inhibitors vs venetoclax in combination with obinutuzumab, Davids noted that there are several factors that need to be considered.
Factors favoring BTKs include having longer-term efficacy data: remission in some ibrutinib patients as far as 8 to 9 years out, and convenient regimens that don't require monitoring for tumor lysis syndrome (as is required for venetoclax).
Benefits with venetoclax/obinutuzumab, however, include that the therapy can be time-limited to 1 year with no known cardiac or bleeding risks (as evident with BTK inhibitors); efficacy is seen regardless of IGHV status; and limiting the treatment to one year offers potential cost-savings and potentially better adherence.
Relapsed/Refractory Setting
The same drugs are also useful in the relapsed or refractory setting. BTK inhibitor therapy with ibrutinib monotherapy shows significant 5-year efficacy in PFS and OS, and acalabrutinib has also shown significant benefit, Davids noted.
Notably, in the recent phase 3 MURANO trial, the time-limited 2-year venetoclax/rituximab regimen showed dramatically greater improvement in relapsed/refractory CLL compared with a regimen of bendamustine plus rituximab, with a 4-year PFS of 57.3% vs just 4.6%.
The regimen also translated to nearly a 20% absolute increase in overall survival at 4 years (P < .0001).
This time-limited 2-year venetoclax/rituximab therapy "is one of the most important regimens right now for relapsed/refractory patients," Davids said, adding that this is the regimen that he prefers.
"I no longer use chemoimmunotherapy in the relapsed/refractory setting, particularly in light of the MURANO study, with the dramatic overall survival benefit of using a novel agent-based approach," he said.
Additional time-limited treatment options include cellular therapies such as allogeneic transplantation and investigational CAR-T cell therapy, which can be particularly good options to consider for CLL patients in later-line therapy or for young patients with relapsed TP53 aberrant CLL.
Davids underscored that "active participation in clinical trials remains critical, as there are still many unanswered questions regarding therapy for CLL."
"There is much to learn on how to optimize the care of these patients," he said.
Davids reported relationships with AbbVie, Genentech, Janssen, Pharmacyclics, TG Therapeutics, Celgene, Astra-Zeneca, Verastem, Eli Lilly, MEI Pharma BMS, Syros, Surface Oncology, Adaptive Biosciences, BeiGene, Ascentage Pharma and Novartis.
American Society of Hematology's (ASH) Meeting on Hematological Malignancies: Presented August 27, 2020.
For more from Medscape Oncology, join us on Twitter and Facebook
Medscape Medical News © 2020

Cite this: Which Drug Therapy for CLL, Time-Limited or Continuous? - Medscape - Sep 09, 2020.