Clinicians managing patients with heart failure (HF) won't be surprised that these patients take almost seven prescription medications per day, totaling around 10 doses a day. They also won't be shocked to learn that approximately 60% of patients with HF have a comorbidity burden of five or more chronic conditions. All of these factors have the potential to be a perfect storm for polypharmacy and medication nonadherence.
Polypharmacy and medication nonadherence are separate and complex issues, but together they can lead to adverse consequences, including increased utilization of health resources, direct and indirect healthcare expenditures, and mortality. Although many different interventions have been evaluated over the past two decades to prevent polypharmacy and increase adherence, there is no "one-size-fits-all" approach. In our review, we'll provide you with a conceptual framework to address both of these complex and multifactorial issues in the context of the patient with HF, as well as share additional resources to help minimize polypharmacy.
Getting Medication Adherence to 'Stick' With Patients
Several definitions have been proposed for "medication adherence." The World Health Organization defines it as the extent to which the person's behavior — taking medication, following a diet, and/or executing lifestyle changes — corresponds with the agreed recommendations from a healthcare provider. In patients with HF, depending on the study, medication adherence can range between 10% and 98%, with a generally agreed-upon average of 40%-60%.
Although the estimates vary, the detrimental end result of medication nonadherence, particularly to guideline-directed medical therapy (GDMT), remains the same. For example, a longitudinal study of 135 patients with HF followed for 3.5 years found that event-free survival (eg, visits to an emergency department for HF decompensation, cardiac rehospitalizations, mortality) was significantly worse (hazard ratio, 2.208; P =.038) when the number of prescribed doses taken (dose count) or the correct dose (dose day) was < 88% compared with patients whose adherence was above this threshold.
Solving a Multidimensional and Complex Puzzle
When we consider etiology, barriers, and even solutions, we see that adherence is a two-way street: It is not determined solely by patient behaviors but also by factors that influence the prescribing patterns of the clinician. According to data from HART, 37% of clinicians did not prescribe GDMT to their patients with HF — even in the absence of a contraindication — and nearly 37% of patients did not take their GDMT as prescribed.
Nonetheless, medication adherence is multidimensional, akin to a complex puzzle that cannot be solved by just one clinician. First, clinicians must identify the type of medication nonadherence (Table 1) and then consider each puzzle piece to understand potential barriers and etiology (Figure). For instance, the cost of medication is one of many factors that could affect adherence. It could be partially mitigated with increased use of generics and attention to deprescribing.
In addition, a multidisciplinary approach is necessary to identify possible solutions. Inclusion and assistance from many different practitioners with various skill sets, including social workers, case managers, psychologists, psychiatrists, and pharmacists should be considered.
Table 1. Types of Medication Nonadherence
Type
Description
Fulfillment
Patient never fills the prescription
Nonpersistence
Patient decides to discontinue their medication; in some cases, discontinuation may be unintentional and due to a miscommunication of the therapeutic plan
Nonconforming
Patient does not take medication as prescribed; this includes skipping doses, taking incorrect doses, taking doses at the incorrect time, or taking a higher dose than one prescribed
From Jimmy B, Jose J. Patient medication adherence: measures in daily practice. Oman Med J. 2011;26:155-159.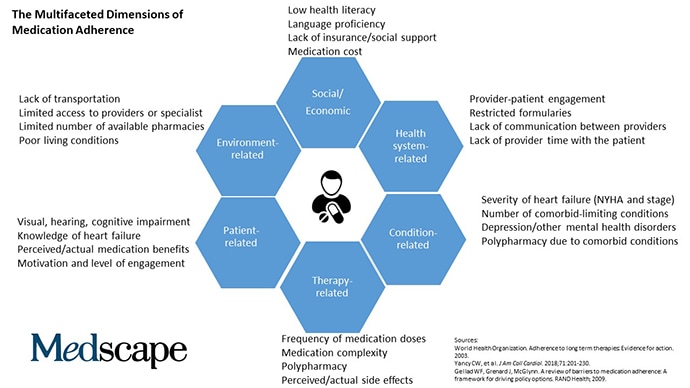 Figure. The multifaceted dimensions of medication adherence. NYHA = New York Heart Association. Download PDF version
© 2020 American College of Cardiology & Medscape

Cite this: Tips for Handling Polypharmacy and Medication Nonadherence in Patients With Heart Failure - Medscape - Sep 10, 2020.