During a telemedicine visit with his physician, a 62-year-old obese patient with an ankle injury reported new swelling of his leg. Three weeks had passed since the man visited an emergency department, where he underwent surgery and had a cast applied to the wound. The physician, during the telemedicine visit, advised the patient to elevate his leg and see an orthopedist within 24 hours. A doppler ultrasound was ordered for 12:30 PM that same day.
The patient never made it to the appointment. He became unresponsive and went into full arrest hours later. His death fueled a lawsuit by his family that claimed failure to diagnose and treat deep venous thrombosis. The family contended the providers involved should have referred the patient to care immediately during the video visit.
The case, which comes from the claims database of national medical liability insurer The Doctors Company, illustrates the legal risks that can stem from video visits with patients, says Richard Cahill, JD, vice president and associate general counsel for The Doctors Company.
"By evaluating the patient remotely, the physician failed to appreciate the often subtle nuances of the clinical presentation, which undoubtedly could have been more accurately assessed in the office setting, and would probably have led to more urgent evaluation and intervention, thereby likely preventing the unfortunate and otherwise avoidable result," said Cahill.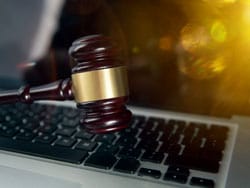 According to a Harris poll, 42% of Americans reported using video visits during the pandemic, a trend that is likely to continue as practices reopen and virtual care becomes the norm. But as physicians conduct more video visits, so grows their risk for lawsuits associated with the technology.
"We probably will see more malpractice suits filed the more telehealth is used," said Mei Wa Kwong, JD, executive director of the Center for Connected Health Policy. "It's a numbers game. The more it's used, the higher likelihood that lawsuits occur."
3 Problems in Not Being Able to Touch the Patient
1. The primary challenge with video visits "is the inability to directly observe and lay hands on the patient," says Jonathan Einbinder, MD, assistant vice president of analytics for CRICO, a medical liability insurer based in Boston, Massachusetts.
"While you can see them via video, it can be hard to get a full sense of how sick the patient is and whether other things might be going on than what they are reporting," said Einbinder, a practicing internist.
Such incomplete pictures can lead to diagnostic errors and the potential for lawsuits, as demonstrated by a recent CRICO analysis. Of 106 telemedicine-related claims from 2014 to 2018, 66% were diagnosis-related, according to the analysis of claims from CRICO's national database. Twelve percent of the telemedicine-related claims were associated with surgical treatment, 11% were related to medical treatment, and 5% were associated with medication issues. A smaller number of claims resulted from patient monitoring, Ob/Gyn care, and safety and security.
Another analysis by The Doctors Company similarly determined that diagnostic errors are the most common allegation in telemedicine-related claims. In the study of 28 telemedicine-related claims from The Doctors' database, 71% were diagnostic-related, 11% were associated with mismanagement of treatment, and 7% were related to improper management of a surgical patient. Other allegations included improper performance of treatment or procedure and improper performance of surgery.
"Because a 'typical' exam can't be done, there is the potential to miss things," said David L. Feldman, MD, chief medical officer for The Doctors Company Group. "A subtlety, perhaps a lump that can't be seen but only felt, and only by an experienced examiner, for example, may be missed."
2. Documentation dangers also loom, said William Sullivan, DO, JD, an emergency physician and an attorney who specializes in healthcare. The legal risk lies in documenting a video visit in the same way the doctor would document an in-person visit, he explained.
"Investigation into a potential lawsuit begins when there is some type of bad outcome related to medical care," Sullivan explains. "To determine whether the lawsuit has merit, patients/attorneys review the medical records to retrospectively determine the potential cause of the bad outcome. If the documentation reflects an examination that could not have been performed, a lawyer might be more likely to pursue a case, and it would be more difficult to defend the care provided."
Sullivan provides this example: During a video visit, a patient complains of acute onset weakness. The physician documents that the patient's heart has a "regular rate and rhythm," and "muscle strength is equal bilaterally." The following day, the patient's weakness continues, and the patient goes to the emergency department where he is diagnosed with stroke. An EKG in the ED shows that the patient is in atrial fibrillation.
"The telehealth provider would have a difficult time explaining how it was determined that the patient had normal muscle strength and a normal heart rhythm over a video visit the day before," Sullivan said. "A lawyer in a subsequent malpractice case would present the provider as careless and would argue that if the provider had only sent the patient to the emergency department after the telehealth visit instead of documenting exam findings that couldn't have been performed, the patient could have been successfully treated for the stroke."
3. Poorly executed informed consent can also give rise to a lawsuit. This includes informed consent regarding the use of telehealth as the accepted modality for the visit rather than traditional on-site evaluations, as well as pre-procedure informed consent.
"Inadequate and/or poorly documented informed consent can result in a claim for medical battery," Cahill said.
A medical battery allegation refers to the alleged treatment or touching of a patient's body without their consent. As the AMA Journal of Ethics explains, a patient's consent must be given, either expressly or implicitly, before a physician may legally "interfere" with the physical body of the patient.
Ideally, the informed consent process is undertaken during a first in-person visit, before virtual visits begin, Feldman said.
"There is a lot that a patient has to understand when a visit is done virtually, which is part of the informed consent process," Feldman said. "The pandemic has forced some physicians to do their first visit virtually, and this makes the process of informing patients more onerous. It is not a simple matter of converting an in-person office practice to a remote office practice. The workflows are different, so there are definitely legal concerns as it relates to privacy and cybersecurity to name a few."
Waivers May Be Weak Protection
Since the pandemic started, a number of states have enacted emergency malpractice protections to shield health professionals from lawsuits. Some protections, such as those in Massachusetts, offer immunity to health professionals who provide general care to patients during the COVID-19 emergency, in addition to treatment of COVID patients. Other protections, like those in Connecticut, apply specifically to care provided in support of the state's pandemic response.
Whether that immunity applies both to in-person visits and video visits during the pandemic is not certain, said J. Richard Moore, JD, a medical liability defense attorney based in Indianapolis. Indiana's immunity statute for example, does not make a specific provision for telehealth, he said.
"My best prediction is that if considered by the courts, the immunity would be applied to telehealth services, so long as they are being provided 'in response to the emergency,' which is the scope of the immunity," he said. "I would not consider telehealth physicians to be either more or less protected than in-person providers."
Regulatory scrutiny for telehealth providers has also been relaxed in response to COVID-19, but experts warn not to rely on the temporary shields for ultimate protection.
In March, the US Department of Health and Human Service's Office of Civil Rights (OCR) eased enforcement actions for noncompliance with HIPAA requirements in connection with the good faith provision of telehealth during the COVID-19 health crisis. Under the notice, health providers can use popular applications such as Apple FaceTime, Facebook Messenger, Zoom, or Google Hangouts, to offer telehealth care without risk that OCR will impose fines or penalties for HIPAA violations.
But once the current health care emergency is mitigated, the waivers will likely be withdrawn, and enforcement actions will probably resume, Cahill said.
"It is recommended that, to avoid potential problems going forward, practitioners use due diligence and undertake best efforts to obey existing privacy and security requirements, including the use of technology that satisfies compliance regulations, despite the waiver by OCR," he said.
In addition, a majority of states have relaxed state-specific rules for practicing telehealth and loosened licensure requirements during the pandemic. At least 47 states have issued waivers to alter in-state licensure requirements for telemedicine in response to COVID-19, according to the Federation of State Medical Boards. Most of the waivers allow physicians licensed in other states to provide care in states where they do not hold licenses, and some enable doctors to treat patients without first having had an in-person evaluation.
But at least for now, these are temporary changes, reminds Amy Lerman, JD, a healthcare attorney based in Washington, DC who specializes in telehealth and corporate compliance. Given the current pandemic environment, a significant concern is that physicians new to the telemedicine space are reacting only to the most recent rules established in the context of the pandemic, Lerman said.
"As previously noted, the recent developments are temporary in nature — states and various federal agencies have been pretty clear in setting this temporal boundary," she said. "It is not advisable for providers to build telepractice models around temporary sets of rules.
"Furthermore, the recent developments are not necessarily comprehensive relative to all of the state-specific and other requirements that telemedicine providers are otherwise expected to follow, so relying only on the most recent guidance may cause providers to create telepractice models that have key gaps with respect to regulatory compliance."
How You Can Avoid a Lawsuit
As businesses reopen and practices resume treatments, physicians should weigh the choice between in-person care and video visits very carefully, said Joseph Kvedar, MD, president of the American Telemedicine Association and a dermatology professor at Harvard Medical School, Boston, Massachusetts.
"We have to be very thoughtful about quality in this current phase, where we are doing what I call a hybrid model," he said. "Some services are offered by telehealth and some require patients to come into the doctor's office. We have to be very thoughtful about what types of care we determine to be appropriate for telehealth, and that has to be based on clinical quality. And if it is, it should follow that we'll have low incidence of liability claims."
Data should be at the center of that conclusion, Kvedar advises.
"Think about what data is needed to make a therapeutic or diagnostic decision," he said. "If a healthcare provider can gather the information needed without touching the patient, then the provider is probably on safe, solid ground making that decision via a telehealth interaction. If the patient can come into the doctor's office, and the provider deems it necessary to see the patient in-person and touch the patient in order to make that clinical decision, then the patient should come in."
An important step to preventing liability is also having strong telehealth systems and protocols in place and the necessary support to carry them out, says Einbinder of medical liability insurer CRICO.
For example, Einbinder, who practices in a 12-doctor internal medicine group, said when he finishes a virtual visit, he enters any orders into the electronic health record. Some of the orders will result in notifications to Einbinder if they are not executed, such as a referral appointment or a procedure that was not completed.
"I also can forward my orders to a front desk pool that is responsible for making sure things get done," he said. "And, in our hospital system, we have good case management for complex patients and population management for a variety of chronic conditions. These represent additional safety nets."
Another liability safeguard is sending patients a "visit summary" after each virtual visit, Sullivan said. This could be in the form of an email or a text that includes a brief template including items such as diagnosis, recommendations, follow-up, and a reminder to contact the doctor or go to the emergency department if symptoms worsen or new problems develop.
"Patients tend to remember about half of what physicians tell them and half of the information patients do remember is incorrect," he said. "Consider a few sentences in an e-mail or text message as a substitute for the after-visit instructions from an office visit to enhance patient understanding. There are several inexpensive programs/services that allow text messages to be sent from a computer using a separate dedicated phone number and pretty much every patient has a cell phone to receive the instructions."
Sullivan suggests having a documentation template specifically for telehealth visits. He also recommends the inclusion an "informed refusal of care" in the record when necessary. Sullivan's wife, a family physician, has encountered several patients who fear contracting COVID-19 and who have refused her recommendations for in-person visits, he said. In such cases, he said it's a good idea to document that the patient decided to forgo the recommendations given.
"If a patient suffers a bad outcome because of a failure to seek an in-person exam, a short note in the patient's chart would help to establish that the lack of a follow-up physical exam was the patient's informed decision, not due to some alleged negligence of the medical provider," he said.
Concerning informed consent, Feldman says at a minimum physicians should discuss the following with patients:
Names and credentials of staff participating

The right to stop or refuse treatment by telemedicine

Technology that will be used

Privacy and security risks

Technology-specific risks and permission to bill

Alternative care in case of an emergency or technology malfunction

Any state-specific requirements
"Physicians can ensure they have a strong informed consent process during video visits by taking the time to cover these points at the beginning of the first visit, and being sure the patient understands and agrees to these," Sullivan explained. "Ideally, this conversation can be recorded for future reference if necessary or at a minimum documented in the medical record."
Consider These Extra Precautions
Cahill advises that practitioners be especially mindful of their "web-side manner" and the setting in which they are communicating with virtual patients to promote confidentiality, professionalism, and uninterrupted interactions.
"Use of a headset in a quiet home office is advisable," he said. "Physicians must also be cognizant of their physical appearance and the background behind them when the visit includes both audio and visual capability. For 'face-to-face' telehealth encounters, it is recommended that a white lab jacket be worn as the appropriate attire; coat and tie are unnecessary."
Some patients may need to be reminded of the need for confidentiality during a video visit, Moore adds. Physicians are typically in a position to ensure confidentiality, but some patients may not understand how to protect their privacy on their end.
"If the physician sees on the screen or hears from an audio connection that there are other people around who may be able to overhear what is communicated, the physician probably has some responsibility to remind the patient that she or he may want to go to a more private place, close the door, etc," he said. "While I think a claim against a physician on this basis would be pretty weak, it is still a good practice for the physician to be cognizant of those kinds of concerns even if the patient is not."
Finally, for physicians who set up telehealth operability during the pandemic — possibly in a hurry — consider using your actual case data to take a look backwards, said Lerman, the Washington, DC-based healthcare attorney. Reviewing the data can help determine whether you're in compliance with relevant state laws, she said.
"If, for example, a provider set up telehealth operations during the pandemic and can see that most of their patients are based in a single state, or a small group of states, it is worthwhile to take [the] time and become familiar with the telemedicine laws in those states," she said. "If there are modifications that need to be made, it may be easier to make them incrementally before the telehealth operations grow any larger in scope."
For more news, follow Medscape on Facebook, Twitter, Instagram, and YouTube, and follow Alicia Gallegos on Twitter
Medscape Medical News © 2020

Cite this: 3 Malpractice Risks of Video Visits - Medscape - Sep 01, 2020.