Yet another study has missed a chance to show that patients with heart failure (HF) with preserved ejection fraction (HFpEF) can fare significantly better with sacubitril/valsartan (Entresto), compared to other renin-angiotensin-aldosterone system (RAAS) inhibitors.
In PARALLAX, which compared sacubitril/valsartan to "individualized" medical therapy (IMT) that could include standard RAAS inhibitors, those on the newer agent showed tantalizing but short-lived early drops in natriuretic peptide levels but no relative gain in 6-minute walk distance (6MWD) over 24 weeks, both primary endpoints.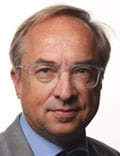 Nor did sacubitril/valsartan control symptoms better or offer a persistent quality-of-life advantage compared to IMT, which could include an angiotensin-converting enzyme (ACE) inhibitor, an angiotensin-receptor blocker (ARB), or a placebo, reported Burkert Pieske, MD, Charité University Medicine and German Heart Center, Berlin, Germany, during the virtual European Society of Cardiology (ESC) Congress 2020, which replaced the traditional annual meeting because of the COVID-19 pandemic.
Still, there were a few bright spots for sacubitril/valsartan, the sole approved angiotensin-receptor/neprilysin inhibitor (ARNI), in less conclusive post hoc analyses. They included significant risk reductions for HF hospitalization and a composite of cardiac death or HF hospitalization.
Another reflected a possible renal protective effect; sacubitril/valsartan, compared to IMT, appeared to blunt deterioration in the 6-month estimated glomerular filtration rate (eGFR).
The post hoc findings speak to ARNI safety rather than efficacy in HFpEF, Pieske told theheart.org | Medscape Cardiology. "We cannot derive from this a clear outcome benefit. It is a signal that goes in the right direction: sacubitril/valsartan was safe in this patient population."
Natriuretic Peptide Signal
The temporary drop in N-terminal pro–brain natriuretic peptide (NT-proBNP) levels on sacubitril/valsartan in the study isn't benefit enough to formally recommend the drug for HFpEF. But given that "we have no specific therapies for HFpEF after years and years of investigation, I think we should take all information that we can get into consideration," Piesky said. That includes the "significant and impressive reduction in NT-proBNP, an established marker for heart failure disease severity and prognosis."
Natriuretic peptide reductions in PARALLAX were independent of patients' baseline left ventricular ejection fraction (LVEF). Just over half the patients had an LVEF of at least 50%; for the remainder, LVEF ranged from >40% to 49%, which European guidelines refer to as HFpEF and HF with mid-range ejection fraction (HFmrEF), respectively.
PARALLAX as well as the earlier PARAGON-HF study defy universal hopes for a first evidence-based, safe, and approvable drug that prolongs survival in patients with HFpEF. Currently, they often receive medications indicated for HF with reduced ejection fraction (HFrEF), such as ACE inhibitors, ARBs, beta blockers, aldosterone antagonists, and sometimes sacubitril/valsartan.
In PARAGON-HF, which was reported at last year's ESC sessions by theheart.org | Medscape Cardiology, risk for HF hospitalization or cardiovascular death went down 13% for the HFpEF patients who received sacubitril/valsartan compared to those who received standard valsartan, a primary endpoint difference that fell just short of significance (P = .059). Change in New York Heart Association (NYHA) functional class was also significantly greater with the newer agent.
PARAGON-HF had entered patients with an LVEF of ≥45%, compared to >40% in PARALLAX, which Pieske described as the main difference between the two trials' populations.
Collectively, PARALLAX results are consistent with those of PARAGON-HF, Piesky said, "and provide further evidence for the potential benefits of sacubitril/valsartan in patients with heart failure and mid-range or preserved ejection fraction."
The significant clinical and renal signals in the PARALLAX exploratory post hoc analysis "are important because cardiovascular death is primarily driven by heart failure and renal dysfunction. And both of these were positively affected by sacubitril/valsartan," Rudolf A. De Boer, MD, PhD, University of Groningen, the Netherlands, said as invited discussant for the Pieske presentation.
"Overall, I believe these data validate PARAGON-HF," De Boer agreed. "I think if one intends to use an RAAS blocker in patients with HFpEF or HFmrEF, then sacubitril/valsartan is likely the most effective agent."
IMT Didn't Always Mean RAAS Inhibitors
PARALLAX randomly assigned 2566 such patients in NYHA class 3–4 to receive sacubitril/valsartan or IMT for 24 weeks. The latter consisted of enalapril 10 mg twice a day or valsartan 160 mg twice a day (for patients with a history of hypertension), or no RAAS inhibition in the form of a placebo.
All patients were initially taking diuretics, and 84% were taking beta blockers. Study eligibility required that patients have elevated NT-proBNP levels and echocardiographic evidence of left-ventricular or left-atrial remodeling.
Levels of the biomarker fell by 16% (P < .0001) from baseline to week 12 in the sacubitril/valsartan group compared to those receiving IMT, but the difference attenuated to nonsignificance from week 12 to week 24.
Clinical summary scores on the Kansas City Cardiomyopathy Questionnaire followed a similar pattern.
The two treatment groups similarly improved in 6MWD from baseline to week 24, by 9.7 m for patients taking sacubitril/valsartan and 12.2 m for those who received IMT.
Table. HR (95% CI) for Clinical Outcomes, Sacubitril/Valsartan vs IMT, in Post Hoc Analysis of Safety Endpoints
| End points | HR (95% CI) | P value |
| --- | --- | --- |
| HF hospitalization | .49 (0.30 – 0.81) | .005 |
| Cardiac death or HF hospitalization | 0.64 (0.42 – 0.97) | .034 |
Mean eGFR fell by 1.47 mL/min/1.73 m2 per 6 months in the sacubitril/valsartan group and by 2.57 mL/min/1.73 m2 per 6 months for those on IMT, for an adjusted difference of 1.10 (95% CI, 0.02 – 1.99) that was significant at P = .0158.
The US Food and Drug Administration (FDA) accepted a supplemental new drug application from Novartis in June for the use of sacubitril/valsartan for patients with HFpEF, the company recently announced.
PARALLAX is sponsored by Novartis. Pieske has received personal and institutional honoraria from Novartis for steering committee, advisory board, and speaking activities and fees for speaking or serving on a steering committee from Bayer Healthcare, Merck, Medscape, Daiichi-Sankyo, Bristol-Myers Squibb, and AstraZeneca. De Boer's institution has received grants and/or fees from AstraZeneca, Abbott, Bristol-Myers Squibb, Novartis, Novo Nordisk, and Roche, and he has received speaker fees from Abbott, AstraZeneca, Novartis, and Roche.
European Society of Cardiology (ESC) Congress 2020: Hot Line, presented August 30, 2020.
Follow Steve Stiles on Twitter: @SteveStiles2. For more from theheart.org | Medscape Cardiology, follow us on Twitter and Facebook.
Medscape Medical News © 2020

Cite this: Victory in HFpEF Again Evades Sacubitril/Valsartan Despite Hopeful Signals - Medscape - Aug 31, 2020.