An investigational drug that targets part of the molecular machinery underlying obstructive hypertrophic cardiomyopathy (HCM) can improve both symptoms and functional status in patients with the genetic disorder, suggests a placebo-controlled phase 3 trial.
Treatment with mavacamten (MyoKardia) worked partly by alleviating high-pressure gradients in the left ventricular outflow tract (LVOT), a key characteristic of obstructive HCM. Its effects appeared consistent across a wide range of objective and patient-assessed endpoints.
Mavacamten is "the first potential medical therapy addressing the underlying biology of symptoms in hypertrophic obstructive cardiomyopathy," observed Iacopo Olivotto, MD, Careggi University Hospital, Florence, Italy.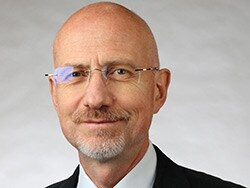 Patients in the EXPLORER-HCM trial who took the new drug showed improvements in "every aspect of objective performance and subjective well-being," Olivotto said at a preview for journalists before his formal online presentation of the results during the virtual European Society of Cardiology (ESC) Congress 2020, staged in lieu of the traditional annual meeting because of the COVID-19 pandemic.
Olivotto, also lead author on the study's same-day publication in The Lancet, was exuberant about the findings. "It is really hard to convey what this actually means for a scientific and clinical community that has spent over 60 years trying to understand and cure hypertrophic cardiomyopathy."
MyoKardia released abbreviated top-line results of EXPLORER-HCM in May, which were reported by theheart.org | Medscape Cardiology at the time.
"I think it's pretty exciting. We certainly need more and better drugs for this patient population," Arnon Adler, MD, who is not associated with the trial but follows HCM at the Peter Munk Cardiac Centre, Toronto General Hospital, Ontario, Canada, said in an interview.
The trial compared the new drug to placebo rather than full contemporary drug therapy for obstructive HCM, Adler cautioned, and had a fairly short follow-up time. But he was impressed that mavacamten's apparent benefits seemed consistent not only for endpoints like change in New York Heart Association (NYHA) functional class and quality of life but also for more objective measures like peak VO2 and LVOT gradients.
"I think the results were promising across the board," he told theheart.org | Medscape Cardiology.
Unique Mechanism of Action
Mavacamten is described as a first-in-class, small-molecule, selective allosteric inhibitor of cardiac myosin adenosine triphosphatase that addresses the underlying pathophysiology of HCM by reducing actin–myosin cross-bridge formation.
It thereby inhibits the excessive myocyte contractility that is a key mechanism of the disorder's tell-tale hypertrophy, something the available HCM drug therapies don't do.
Almost three-fourths of patients in the trial were initially in NYHA class 2. Such patients in practice tend to be treated pharmacologically, with more invasive but generally effective surgical myectomy and alcohol septal ablation performed more often for patients in NYHA class 3.
"In the EXPLORER-HCM trial, patients enrolled did not have any immediate indication for surgery," although many of them in NYHA class 2 would likely progress to NYHA 3, Olivotto told theheart.org | Medscape Cardiology.
Based on the trial, he said, it's possible that mavacamten could lead to "earlier and broader treatment of obstruction symptoms in patients who would never have qualified for surgery in the first place because their symptoms may not be severe enough, but they are still limited."
Notably, the published report notes, 27% of patients taking mavacamten achieved what was defined as a complete response, that is, a reduction of all LVOT gradients to less than 30 mm Hg in the total absence of symptoms.
Only 1% of patients in the placebo control group met that goal, "showing that mavacamten might be capable of achieving marked relief of symptoms and LVOT obstruction," the report states.
In the trial, "treatment with mavacamten led to clinically meaningful improvements in hemodynamic status, functional capacity, and subjective well-being in patients with obstructive hypertrophic cardiomyopathy," agrees an editorial accompanying the EXPLORER-HCM publication.
Mavacamten might even compare favorably to surgery and ablative therapy, speculate the editorialists, Michael Papadakis, MBBS, MD, and colleagues of St. George's University Hospitals NHS Foundation Trust, London, United Kingdom. The drug appeared to reduce the peak LVOT gradient "to less than the guideline-based threshold for septal reduction therapy, 50 mm Hg, in 74% of patients, compared with 21% in the placebo group, indicating that mavacamten could represent a valid alternative to highly specialized invasive therapy," they write.
Standard Drug Therapy
"There are approved drugs for obstructive hypertrophic cardiomyopathy, but they are ancient and were developed for other diseases," observed Olivotto at the media briefing. Those drug options — primarily β-blockers, nondihydropyridine calcium-channel blockers, and the sodium-channel blocker disopyramide — are often ineffective or cause onerous side effects, he said.
Notably in EXPLORER-HCM, patients in both the mavacamten and placebo groups could also be receiving β-blockers and calcium-channel blockers, but no one in the trial could be receiving disopyramide, which can prolong the QT interval.
"By design," mavacamten wasn't compared to disopyramide, "a much more potent drug for lowering gradient and improving symptoms than β-blockers or calcium-channel blockers," said Martin S. Maron, MD, medical director at the Hypertrophic Cardiomyopathy Center and Research Institute, Tufts Medical Center, Boston, Massachusetts.
Therefore, the trial's results can't be extrapolated to conclude that the new drug is superior to disopyramide "or the gold standard, surgical myectomy," he told theheart.org | Medscape Cardiology.
Adler agreed that observational studies suggest a benefit from disopyramide that may rival the apparent effect of mavacamten. "But of course, you can't make direct comparisons because we never had a study like this for disopyramide." Because it has many side effects and limitations, "it's not a drug that I like using, but it is beneficial for some patients and I do use it quite a bit."
What EXPLORER-HCM does seem to show, Maron said, "is that the mechanism of action of the drug does seem to play out. It lowers gradients in a pretty reliable and powerful way, and that translates into clinical improvement in many patients. So it starts to support the idea that this drug and the class of drugs, myosin inhibitors, may represent another medical therapy option for symptomatic obstructive HCM."
And, he pointed out, about a fifth of patients with obstructive HCM don't respond to disopyramide with fewer symptoms, and in others the drug "starts to lose efficacy over time." So disopyramide has limitations, and EXPLORER-HCM "provides the possibility of an additional drug option."
EXPLORER-HCM randomly assigned 251 adults with obstructive HCM in 13 countries to receive mavacamten, titrated from a starting dosage of 5 mg/d to a possible 15 mg/d, or placebo for 30 weeks.
The patients were required to have a peak LVOT gradient at least 50 mm Hg, a left ventricular ejection fraction (LVEF) of at least 55%, and symptoms indicating NYHA class 2 or 3; ultimately, 73% started the trial in NYHA class 2.
In the intention-to-treat analysis, 36.6% of patients receiving mavacamten and 17.2% of control patients met the composite primary endpoint (P = .0005) consisting of a 1.5-mL/kg/min or greater improvement in peak oxygen consumption (pVO2) and at least a one-step reduction in NYHA functional class, or at least a 3.0-mL/kg/min pVO2 increase without deterioration in NYHA class, by week 30.
Table. Mean Change in Endpoints from Baseline to Week 30 by Group in EXPLORER-HCM
Endpoints
Mavacamten (n = 123)
Placebo (n = 128)
Difference (95% CI)
P Value
Primary endpointa (%)
36.6
17.2
19.4 (8.7 - 30.1)
.0005
Change in postexercise LVOT gradient (mm Hg)
–47
–10
–36 (–43.2 to –28.1)
<.0001
Change in pVO2 (mL/kg/min)
1.40
–0.05
1.35 (0.58 - 2.12)
.0006
≥1 NYHA class improvement (%)
65.0
31.3
34 (22.2 - 45.4)
<.0001
aEither ≥1.5-mL/kg/min increase in pVO2 with ≥1 NYHA class improvement or ≥3.0 mL/kg/min increase in pVO2 with no worsening of NYHA class.
Patients receiving mavacamten also showed greater improvement in the individual endpoints of postexercise LVOT gradient, NYHA class, and two score-based symptom assessments—the Kansas City Cardiomyopathy Questionnaire-Clinical Summary and Hypertrophic Cardiomyopathy Symptom Questionnaire Shortness-of-Breath domain—compared to control patients.
Safety and tolerability issues were similar in both groups, the reports notes. Ten patients in the mavacamten group reported 11 serious adverse events, compared to 20 such events reported by 11 patients in the control group.
"We can say from these results that mavacamten is a promising drug for symptom relief and functional class improvement associated with outflow gradient reduction in selected patients with hypertrophic obstructive cardiomyopathy," and that, on the basis of this trial, it has potential as a drug of first choice, Franco Cecchi, MD, University of Florence, Italy, said as an invited discussant following Olivotto's formal presentation of the trial.
Although serious adverse events were few, it was noteworthy that seven patients receiving mavacamten but only two patients in the placebo group showed LVEF reductions to below the 50% threshold during the trial, Cecchi observed. The LVEFs normalized once the drug was discontinued, but still, it may mean that mavacamten should be carefully uptitrated according to LVEF, he said.
Those LVEF reductions raise questions about "the reliability of being able to dose patients safely in the outpatient setting," Maron said. "You have to ask, Can this be extrapolated to the general practicing community without patients dropping their ejection fractions too much?"
In addition, "we don't have any idea about long-term efficacy for this drug, and we can draw very limited information about long-term safety here as well. That's another other question mark," Maron said.
"If I could have patients really become asymptomatic or mildly symptomatic without any surgery on a drug that is safe and can be taken for a prolonged period of time, that would be great," Adler added. He noted that long-term follow-up of patients taking mavacamten in various trials has been underway and should help answer safety and efficacy questions about chronic therapy.
"Should mavacamten prove to be clinically effective and safe following long-term therapy in a larger and more diverse population, it would represent a much anticipated development in the treatment of hypertrophic cardiomyopathy," the accompanying editorial states.
"Were the drug to realise its potential as a disease-modifying therapy in younger individuals, it would represent a great milestone in the area of inherited cardiomyopathies."
MyoKardia funded EXPLORER-HCM. Olivotto discloses receiving grants from MyoKardia, Sanofi-Genzyme, Shire, Amicus, and Bayer; honoraria from Sanofi-Genzyme, Shire, and Bayer; and payments for consulting from MyoKardia. Disclosures for the other authors are in the report. Papadakis and the other editorialists report that they have no competing interests. Adler had no disclosures. Maron discloses consulting for and serving on a trial steering committee for Cytokinetics, sponsor of the 60-patient phase 2 placebo-controlled trial REDWOOD-HCM of patients with obstructive HCM treated with CK-3773274, a drug that works by a mechanism similar to that of mavacamten.
European Society of Cardiology (ESC) Congress 2020. Presented August 29, 2020.
Lancet. Published online August 29, 2020. Abstract, Editorial
Follow Steve Stiles on Twitter: @SteveStiles2. For more from theheart.org | Medscape Cardiology, follow us on Twitter and Facebook.
Medscape Medical News © 2020 WebMD, LLC

Send comments and news tips to news@medscape.net.
Cite this: EXPLORER Trial Hints at Potential New Drug Option in Obstructive Hypertrophic Cardiomyopathy - Medscape - Aug 29, 2020.