A simple reversal of the way a long-standing surgical procedure is performed to create an arteriovenous fistula for hemodialysis access significantly improves the fistula's function and longevity over those produced by the conventional approach, new research shows.
"Our team at Yale University has been studying how fistulae heal for several years and we postulated that the surgical handling of the vein — an important part of the conventional procedure — led to injury, setting in motion the forces that ultimately lead to fistula failure," Alan Dardik, MD, professor of surgery, Yale School of Medicine, New Haven, Connecticut, said in a video posted on Eurekalert.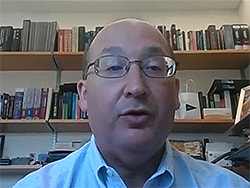 "We thought of a better procedure, which we call RADAR, where instead of joining the vein to the artery [as is done with the conventional approach], we join the artery to the vein and while it sounds like a minor change in technique, the results are amazing — the fistula works better, faster, and lasts longer [than conventional fistulae] and has improved maturation as well as primary and secondary patency that lasts for 3 years, the length of the study," he added.
The study was published online August 19 in Science Translational Medicine.
Preferred Vascular Access
Guidelines emphasize the importance of designating arteriovenous fistulae (AVF) as the preferred vascular access for hemodialysis patients because AVFs have fewer complications, improved access patency, and a lower risk for mortality compared with AV grafts or central venous catheters.
However, as Dardik pointed out, AVFs are still associated with poor outcomes, some 60% of them failing to mature and only half of them being patent 1 year after they were created. Fistulae that fail to mature are prone to early failure.
"Naturally, this leads to repeat procedures at costs to both the patient and the healthcare system," he observed.
Females who require an AVF for vascular access do even less well than men, with only about 40% of conventional AVFs lasting 1 year in women, Dardik added.
And since the majority of AVFs are created in uremic patients, many of these AVFs develop neointimal hyperplasia (NIH) as a result of smooth muscle proliferation, which is also associated with early fistula failure.
When first described back in the mid-1960s, surgical AVFs were created between the radial artery and the adjacent cephalic vein in a side-to-side configuration, the researchers explain.
This procedure was later modified to divide the cephalic vein and swing it onto the side of the radial artery, they note.
In contrast, the Radial Artery Deviation and Reimplantation, or RADAR, technique creates an artery-to-vein (A-V) fistula by transposing the radial artery onto the cephalic vein in the distal forearm to create a radial-cephalic AVF without venous dissection.
"[This avoids] extensive venous mobilization required for conventional AVF surgical procedures," the authors explain.
Furthermore, the RADAR procedure overall minimizes tissue handling of both the artery and vein and surgeons use a tourniquet to avoid use of clamps, which can lead to wall hypoxia.
RADAR vs Conventional AVF
In a comparison of 201 consecutive male and female patients who underwent the RADAR technique with 73 others who received a conventional AVF, "AVF performed with RADAR had significantly higher rates of maturation at 6 weeks (P = .002) and [at] 3 months (P = .001) compared with control AVF, with more RADAR remaining in use for hemodialysis at the end of follow-up (P < .0001)," the authors report.
Other endpoints were all significantly in favor of the RADAR approach compared with conventional AVF.
Cumulative reintervention rate: 12.6% vs 42.6% at 12 months and 17.3% vs 49.1% at 36 months (P < .000001)

Primary patency rates: 72.2% vs 48.1% at 12 months and 62.1% vs 37.6% at 36 months (P = .000065)

Secondary patency rates: 98.4% vs 72.1% at 12 months and 94.9% vs 66.8% at 36 months (P < .0000001)
"There was no evidence of hand ischemia in any patients in the RADAR group," the investigators underscore.
The authors also carried out subgroup analyses to assess whether female and male patients benefit from RADAR to a similar degree.
"At 42 months, female patients undergoing RADAR had a significantly lower rate of cumulative reintervention and improved secondary patency [rates]," the researchers report. Outcomes in females again significantly favored the RADAR approach compared with the conventional technique, with the exception of the primary patency rates, which were not statistically different between the two approaches.
Females
Cumulative reintervention rate: 24.9% vs 50.4% (P = .03)

Secondary patency rates: 89.6% vs 50.4% (P = .0003)
Males
Cumulative reintervention rate: 13.6% vs 48.4% at 42 months (P < .0001)

Primary patency rate: 67.7% vs 42% (P = .001)

Secondary patency rate: 97.6% vs 66.9% (P < .0001)
Animal Model Results
The researchers also developed an animal model of their RADAR technique in an attempt to quantify hemodynamic and molecular changes associated with it.
In the same animal, the right internal jugular vein was transposed onto the right carotid artery to mimic the geometry of conventional AVF, and the left carotid artery was divided and transposed onto the left jugular vein in a configuration mimicking the geometry of RADAR.
Anastomotic NIH was significantly reduced in the RADAR configuration compared with the conventional configuration at all time points examined: day 7, day 21, and day 42.
The same observation held true when they compared the two configurations in female animal models.
"[These findings] are consistent with the improved patency rates in human patients treated with RADAR," the researchers observe.
At the same time, the investigators demonstrated that the creation of a RADAR configuration improved hemodynamics in the venous outflow compared with the traditional configuration.
The hemodynamic differences observed between the RADAR configuration and the conventional configuration may explain the different rates of neointimal formation seen between the two techniques, favoring the new surgical approach, the researchers suggest.
"These data imply that surgical technique matters, and I think that most surgeons understand this," Dardik said.
"And results have important implications for surgical practice," he concluded.
The study was funded by the National Institutes of Health. The authors have disclosed no relevant financial relationships.
Sci. Transl. Med. Published online August 19, 2020. Full text
For more news, follow Medscape on Facebook, Twitter, Instagram, and YouTube.
Medscape Medical News © 2020

Cite this: Artery-to-Vein Surgery Improves Dialysis Access - Medscape - Aug 27, 2020.