Editor's note: Find the latest COVID-19 news and guidance in Medscape's Coronavirus Resource Center.
State and local health departments regularly report the number of deaths from all causes to the US Centers for Disease Control and Prevention (CDC). By comparing recent numbers to those from past years, the agency calculates the number of excess deaths that have occurred during the COVID-19 pandemic, including those directly and indirectly related to the SARS-CoV-2 virus. The most recent numbers are likely still incomplete as it may take 8 weeks or more for death certificates to be registered and reported. Yet, even so, during the week of July 25, the US had 16% more deaths than it had in the same week last year.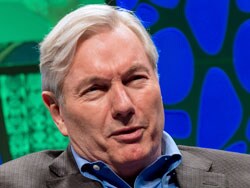 Medscape recently spoke with Michael T. Osterholm, PhD, MPH, to understand what these data reveal about the effect of COVID-19 on the nation. Osterholm is the director of the Center for Infectious Disease Research and Policy at the University of Minnesota, and has served as an advisor to the US government on issues of biosecurity and public health. This interview was edited for length and clarity.
Medscape: The CDC publishes weekly updates on excess deaths during the pandemic. What are those data telling us?
Osterholm: Well, first of all, it shows that excess deaths are a real finding and that these excess deaths are not likely caused by chance alone. So that's very important.
The data help to address an issue that unfortunately continues to be raised. There is a belief by some that the number of deaths due to COVID-19 have been elevated artificially. Those who raise this concern worry that any person who has been tested and found to be positive and dies — no matter what he dies from — would have a death attributed to COVID.
This is just not the case. We have a very specific way in this country of designating primary and secondary causes of death. If somebody has a serious illness, such as cancer, but dies from influenza, then they are listed as dying from influenza. Likewise, if an individual is infected with an agent such as COVID and dies from some other cause, such as an accident, the primary cause of death would be attributed to what causes the death. It would not be attributed to COVID.
We face a real challenge because the rumors persist that we are labeling deaths as being due to COVID when they are not. By this line of thinking, misclassification has artificially raised the number of COVID deaths. Some even go so far as to assert that somehow hospitals are being paid what's been called "a bounty" to classify death as being the result of COVID. This is simply not true at all.
So, is it correct to say that the excess deaths data address that concern and are consistent with the idea that a lot of people are dying because of the pandemic?
That's right. The data also raise the question about how many of these excess deaths are actually due to COVID and were missed in the COVID count and how many resulted from other conditions that were affected because of the presence of COVID-19 in a given community. This could have been because individuals were either not able to access healthcare or were reluctant to do so because of their concern about COVID-19 being in the hospital.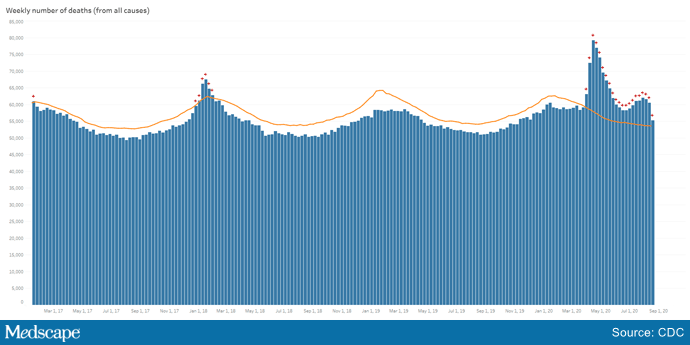 During 3 weeks in April, the excess deaths reached 40% in national numbers. Was that a pretty sharp increase?
When you look back on March 1, COVID-19 was not even in the top 100 causes of death in this country. By the end of April, it had become the number one cause of death daily.
The data tables show it's now down from that time, right?
We peaked at between 15,000 and 17,000 deaths per day. But now we're down to 5000 to 6000 deaths per day. But what we believe will happen over the course of the next 7 to 10 weeks is that these numbers will come way back up again. We anticipate that the fall likely will bring increased occurrences as we see students going back to classes in high schools and colleges, and then we see the spillover with transmission into the general population.
Are the data necessarily predictive? Also, because there is a lag in issuing death certificates, the data are retrospective; will looking back at the data later give a better sense of what actually happened?
Yes, there absolutely is a lag. It is clear from the data that there is a burden. What the data can also help us understand is who is dying from COVID infection. You know, this is a very serious illness, obviously, and from an impact standpoint, it's obvious that many of the deaths that occur are in older individuals and in those with underlying health conditions. Unlike, for example, in 1918, during the influenza pandemic, when most of the deaths occurred in young, healthy adults.
Can the data can be used to help target resources?
Exactly. The data highlight the important issue of racial and ethnic disparities. If you dig down into the racial disparities data on the CDC website, you can see the very real challenge.
And do you trust the data? There's been so much talk about that — about reporting to the US Department of Health & Human Services (HHS) instead of the CDC. Are you worried about the quality of the data?
There are definitely weaknesses in the data. When it comes to the state health departments, I have to say that at this point we surely have challenges. Many of the systems employed by state, local health departments are sorely in need of improvement.
What about the change in reporting data to HHS instead of the CDC?
The reporting is now moving back to CDC and they're in the process of updating the software so that can happen. The issue is that federal reporting is only as good as the reporting that occurs at the state and local level. Whether it is the CDC or HHS, they can only collect what the state and local health departments collect. And the challenge is to improve data collection at the state and local level. (Editor's note: Since this interview was taped, HHS has indicated that data collection will not revert to the CDC.)
Are there states with underfunded health departments that you don't trust?
I think there are some examples. Go back and look at what's been in the public about Iowa. Go look at what's been written in the media about California. Go look at a number of states. Now in Minnesota, we've worked hard to build a very comprehensive surveillance system here. So, at this point, I feel confident here, but I'm sure that for many states you do have to raise the questions. This disease has basically exposed all the weak points in our public health, in the surveillance system.
Lara C. Pullen, PhD, is a freelance medical writer based in the Chicago area.
Follow Medscape on Facebook, Twitter, Instagram, and YouTube.
Medscape Medical News © 2020

Cite this: Excess Deaths: What They Tell Us in the Time of COVID - Medscape - Aug 27, 2020.