Editor's note: Find the latest COVID-19 news and guidance in Medscape's Coronavirus Resource Center.
The US Food and Drug Administration (FDA) has approved marketing of the first authorized diagnostic antigen test for SARS-CoV-2 that can be used without an analyzer.
The BinaxNOW COVID-19 Ag Card (Abbott) is similar in some ways to a home pregnancy test. Clinicians read results on a card — one line for a negative result, two lines for positive.
A healthcare provider swabs a symptomatic patient's nose, twirls the sample on a test card with a reagent, and waits approximately 15 minutes for results. No additional equipment is required.
Abbott expects the test to cost about $5.00, the company announced.
Office-based physicians, emergency department physicians, and school nurses could potentially use the product as a point-of-care test. The FDA granted the test emergency use authorization. It is approved for people suspected of having COVID-19 who are within 7 days of symptom onset.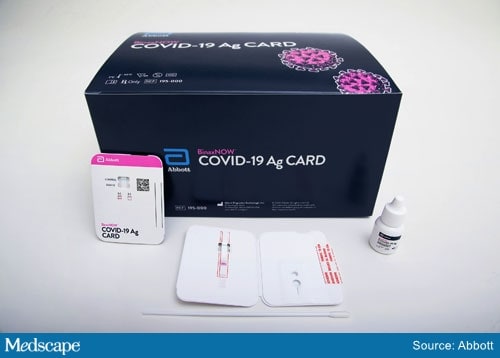 The BinaxNOW COVID-19 Ag Card.
"This new COVID-19 antigen test is an important addition to available tests because the results can be read in minutes, right off the testing card," Jeff Shuren, MD, JD, director of the FDA's Center for Devices and Radiological Health, wrote in a news release. "This means people will know if they have the virus in almost real time."
"This fits into the testing landscape as a simple, inexpensive test that does not require additional equipment," Marcus Lynch, PhD, assistant manager of the Health Care Horizon Scanning program at ECRI, told Medscape Medical News when asked to comment. ECRI is an independent, nonprofit organization that reviews and analyses COVID-19 therapeutics and diagnostics.
The test could help with early triage of patients who test positive, perhaps alerting physicians to the need to start COVID-19 therapy, added Lynch, who specializes in immunology and vaccine development. The test also could be useful in low-resource settings.
The FDA included a caveat: antigen tests are generally less sensitive than molecular assays. "Due to the potential for decreased sensitivity compared to molecular assays, negative results from an antigen test may need to be confirmed with a molecular test prior to making treatment decisions," the agency noted.
Lynch agreed and said that when a patient tests negative, physicians still need to use their clinical judgment on the basis of symptoms and other factors. The test is not designed for population-based screening of asymptomatic people, he added.
Abbott announced plans to make up to 50 million tests available per month in the United States starting in October. The product comes with a free smartphone app that people can use to share results with an employer or with others as needed.
Follow Damian McNamara on Twitter: @MedReporter.
Follow Medscape on Facebook, Twitter, Instagram, and YouTube.
Cite this: FDA Approves Point-of-Care COVID-19 Antigen Test - Medscape - Aug 27, 2020.