Editor's note: This article has been updated to include reactions to the revised guidelines.
The US Centers for Disease Control and Prevention changed its COVID-19 recommendations to state that testing for SARS-CoV-2 infection is now optional for asymptomatic people, regardless of potential personal exposure.
"You do not necessarily need a test unless you are vulnerable individual or your health care provider or state or local public health official recommends you take one," the agency states in its updated guidance, posted August 24.
"If you have been in close contact (within 6 feet) of a person with COVID-19 infection for at least 15 minutes but do not have symptoms, you do not necessarily need a test," the new CDC guidance states.
However, the CDC's advice for healthcare workers states they "may need to get a test," depending on their employer's guidelines. Furthermore, even if a test is negative, special care should be taken to monitor for symptoms and strictly adhere to CDC mitigation protocols.
The change in policy is "coming from the top down," CNN reported today, quoting an unnamed federal health official who report the action resulted from from the upper ranks of the Trump Administration. The New York Times subsequently confirmed the report.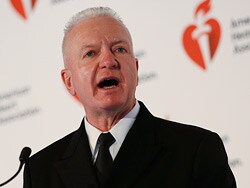 However, "the new guidelines are a CDC action," Admiral Brett P. Giroir, MD, assistant secretary for health at HHS, said during a telephone media briefing today. "As always, the guidelines received proper attention from medical and scientific experts on the COVID-19 task force, including [CDC Director] Dr Robert Redfield and myself."
There was no direction from President Donald Trump or Vice Mike President Pence, Giroir added. "This is evidence-driven. I was there, and I circulated the manuscript to make sure there was consensus reflecting the best available evidence."
He estimated that about 20 coronavirus task force members reviewed the guidance over the past month, including Anthony Fauci, MD, and Deborah Birx, MD.
The new guidelines don't preclude local public health officials from testing asymptomatic individuals in outbreak areas as warranted, Giroir pointed out. "The last section [of the guidelines] specifically states you can be infected and spread the virus even if you feel well, and there will be areas where public health officials will want to test more people. We support that."
And in fact, California Governor Gavin Newsom said today that his state will not follow the revised guidelines. "I don't agree with the new CDC guidance. Period. Full stop," Newsom said in a virtual news conference. "...We will not be influenced by that change."
Increased Transmission a Concern
"Suggesting that people without symptoms, who have known exposure to COVID-positive individuals, do not need testing is a recipe for community spread and more spikes in coronavirus," said Susan R. Bailey, MD, president of the American Medical Association, in a statement. "When the CDC updates a guidance the agency should provide a rationale for the change."
When asked about the criticism from public health officials that this new strategy will likely increase transmission risk, Giroir said, "It is important to understand what a test means. Because the median time to development of symptoms is 7.5 days, getting a negative test at day 3 is not completely meaningless, but it's close to it."
One aim of the CDC guidance is to avoid a false sense of security, he added. "We've heard multiple times, 'I got a negative test — I can go see grandma now.' "
Giroir refuted the idea that limited testing supplies drove the new guidance. The number of tests is likely to climb as children return to school and people return to the workplace, he said. But the CDC is trying to avoid "someone waking up in a place with 1% rate saying they want to get tested today, tomorrow, and the next day.
"We're trying to get more appropriate testing, not less testing," Giroir said.
Only One Test Allowed Without Clinician Order, CMS Proposes
Meanwhile, the Centers for Medicare & Medicaid Services (CMS) announced separately it is considering a change that would only allow recipients to get tested for COVID-19 one time without an order from a treating physician or other qualified practitioner. The interim final rule with comment period also described an initial COVID-19 test without preauthorization as "reasonable and necessary."
The current CDC testing strategy is subject to further updates, the agency notes, as additional information becomes available. A previous update on July 17 stated a test-based strategy is no longer recommended to determine when someone with COVID-19 is no longer infectious — for example, when someone is looking to end home isolation.
Follow Damian McNamara on Twitter: @MedReporter.
For more news, follow Medscape on Facebook, Twitter, Instagram, and YouTube.
Medscape Medical News © 2020

Cite this: CDC Changes COVID-19 Testing Guidance - Medscape - Aug 26, 2020.