Editor's note: Find the latest COVID-19 news and guidance in Medscape's Coronavirus Resource Center.
Officials from the National Institutes of Health (NIH) and Eli Lilly and Company today announced the launch of two clinical trials that will examine the investigational monoclonal antibody LY-CoV555 for the treatment of COVID-19. One trial will include outpatients, and the other will include hospitalized patients.
"This is a significant day, but it's also an example of how the best clinical science can only happen with public participation," NIH Director Francis Collins, MD, PhD, said during a press briefing. "We will be earnestly seeking individuals who've been found to be infected with SARS-CoV-2 virus and who are interested in taking part in seeking answers to a critical question: can monoclonal antibodies reduce severity of COVID-19? Can that approach even save lives?"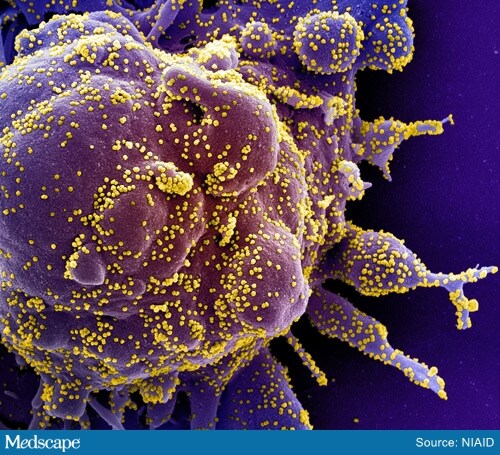 Colorized scanning electron micrograph of a cell heavily infected with SARS-COV-2 virus particles, isolated from a patient sample.
The news marks the latest development in efforts from the NIH's Accelerating COVID-19 Therapeutic Interventions and Vaccines (ACTIV) program, a public-private partnership that was launched in April 2020 to speed development of the most promising treatments and vaccine candidates. The effort includes seven government partners, 20 industry partners, and three nonprofit partners.
The LY-CoV555 antibody was discovered in a blood sample from a recovered COVID-19 patient in the state of Washington by Vancouver, British Columbia–based AbCellera Biologics in collaboration with the Vaccine Research Center of the National Institute of Allergy and Infectious Diseases (NIAID). Following this, Lilly Research Laboratories partnered with AbCellera to develop and manufacture LY-CoV555.
In ACTIV-2, a phase 2 trial, investigators plan to study the safety and efficacy of LY-CoV555 in 200 people with mild to moderate symptoms of COVID-19 who have not been hospitalized. Half will receive the monoclonal antibody, and the other half will receive placebo. To be eligible, study participants must have tested positive for COVID-19 within 7 days and have experienced symptoms within 10 days.
During the briefing, NIAID Director Anthony Fauci, MD, said that the primary objective of ACTIV-2 is "to determine whether the investigational treatment reduces the duration of symptoms through 28 days and increases the proportion of the volunteers who have undetectable virus in the nasopharynx at various periods of time ranging from 3 days to 28 days. If transitioned to phase 3, [this trial will] determine if in fact the intervention reduces the risk of hospitalization and/or death."
The other trial being launched, ACTIV-3, is a phase 3 study that will examine the safety and efficacy of LY-CoV555 in 300 hospitalized patients. Half will receive the monoclonal antibody, and the other half will receive placebo.
If the treatment appears to be effective, "this will go on to a second phase of 700 individuals, for a total of 1000 [patients]," Fauci said. "The entry criteria for this trial are symptoms [of COVID-19] for 12 days or less, requiring hospitalization but without end-stage organ failure. The primary objective is a sustained recovery for 14 days at home after hospital discharge."
"Apollo 11 Moment"
Fauci characterized ACTIV-2 and ACTIV-3 as important from the overall standpoint of helping clinicians manage patients with COVID-19. "We have good therapies for late disease: dexamethasone for people on ventilators or requiring oxygen, and remdesivir for hospitalized patients with documented lung disease," he said. "This is important, because we're talking about people who don't require hospitalization in ACTIV-2, and those who are in the hospital but don't require the kinds of interventions that we see in late-stage disease, in ACTIV-3."
Near the close of the briefing, Dan Skovronsky, MD, PhD, Eli Lilly and Company's chief scientific officer, characterized the launch of these two trials as an "Apollo 11 moment" in the fight against COVID-19.
"Today we have liftoff," he said. "We can't be sure we'll reach our destination on this mission, but our biopharmaceutical industry and our public health partners won't give up until we do."
Safety data and other findings will be shared across the ACTIV-2 and ACTIV-3 studies through an independent data and safety monitoring board. Collins noted that each trial can be adapted to evaluate additional therapies.
For more news, follow Medscape on Facebook, Twitter, Instagram, and YouTube.
Medscape Medical News © 2020

Cite this: 'Apollo 11 Moment': Two Monoclonal Antibody Trials for COVID Launched - Medscape - Aug 04, 2020.