Emergency physician Ming Lin, MD, vividly recalls the morning he was fired from his hospital position after 17 years.
At the time, he knew administrators were not pleased with his public pleas for stronger COVID-19 protections at St. Joseph Medical Center in Bellingham, Washington. In Facebook posts and messages sent to hospital managers, he advocated for better respiratory protections, quicker lab turnarounds, and more restrictions for visitors amid the escalating health crisis.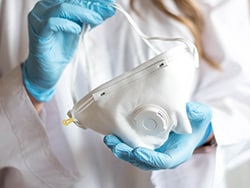 On his way to work in late March, Lin received a text from an administrator relaying that his shift "had been covered." Soon after, he was removed from his post.
"It was quite traumatic," said Lin, who has practiced emergency medicine for 30 years. "It feels like someone just punched you in the gut. It was a shock after 17 years of work."
Lin is now suing PeaceHealth, which operates PeaceHealth St. Joseph Medical Center, and TeamHealth, the medical administration company under which he was contracted to work. His legal challenge, supported by the American Civil Liberties Union–Washington, alleges wrongful termination in violation of public policy and breach of contract, among other claims.
Although his case has drawn widespread attention, Lin says there are countless other instances of alleged workplace retaliation associated with the pandemic that are unrecognized and unreported.
"This is about healthcare workers' ability to speak up about safety without being intimidated, reprimanded, or terminated," he said. "My story, I'm finding, is not new. The only reason I received any media attention is because I was fired, but the fact is, there are lots of other Dr Lin's out there who blew the whistle or mentioned safety issues and were either forced to resign or were silently terminated."
The number of antiretaliation lawsuits such as Lin's has steadily increased since the start of the pandemic. In March, infectious disease nurse Lauri Mazurkiewicz filed a lawsuit against Northwestern Memorial Hospital in Chicago alleging that she was fired for warning coworkers that masks provided by the hospital did not adequately protect them against the coronavirus.
In April, hospitalist Samantha Houston, MD, sued Baptist Memorial Hospital–North Mississippi claiming that she was terminated for appealing to the public for N95 masks and baby monitors to help remotely observe COVID patients. And in June, four emergency department nurses filed a lawsuit against Detroit Medical Center Sinai–Grace alleging they were terminated for drawing attention to staffing and safety concerns at the hospital related to the pandemic.
Knowing your legal rights when it comes to workplace safety and retaliation is critical, say legal experts, particularly as coronavirus cases remain on the rise and the PPE shortage continues. What are your options if faced with retribution for speaking out?
"Employees have the right to work in a safe place," said Jamal Whitehead, a cooperating ACLU-Washington attorney who is representing Lin. "When workers speak out about unsafe conditions and employers act out against them ― whether it be a demotion, a termination, a cut in pay, a denial of overtime, or promotion ― that's retaliation, and the law prevents it."
PeaceHealth did not return messages seeking comment for this article. In a YouTube interview at the time, a spokesman for PeaceHealth said Lin was removed from his post because his warnings generated unnecessary panic and created a public health threat by potentially scaring patients away from the emergency department.
In a statement, TeamHealth said Lin is still under contract with the company and that TeamHealth has offered to place him in another contracted hospital in the United States, although Lin says the positions being offered are limited and are not practical.
"TeamHealth values the hard work of our doctors, who are doing heroic work on the front lines of the pandemic," TeamHealth said in the statement. "We continue to support our doctors so they can deliver high quality care to patients and preserve the healthcare safety net while fighting the COVID-19 crisis."
Another Physician Heads to the Courtroom
As the flow of COVID-19 patients rose at her Mississippi hospital, hospitalist Samantha Houston, MD, became increasingly concerned that nursing staff had masks that were inadequate for protecting them against exposure risk. Doctors were wearing N95 masks at the time, but nurses had only paper masks, despite having more contact with COVID-19 patients, according to Houston's lawsuit against Baptist Memorial Hospital–North Mississippi.
When Houston's appeal to administrators did not result in nurses getting N95 masks, she turned to legislators, vendors, and social media for donations of N95 masks. She also requested donations of baby monitors as a means to communicate with patients from outside their hospital rooms. Soon after, hospital administrators discharged Houston from her position, labeling her actions as "disruptive," according to her lawsuit and media reports.
Baptist Memorial Hospital–North Mississippi declined to comment for this story.
Among her claims, Houston alleges breach of contract and malicious interference with employment and contract of employment. She declined to comment for this story through her attorney.
James Waide, the Tupelo, Mississippi–based attorney who is representing Houston, said his client is able to seek relief under a legal pathway often inaccessible to physicians in similar circumstances. Many hospitals today require doctors to sign arbitration agreements, which force legal disputes associated with employment through arbitration, rather than a jury trial, Waide said. One or more arbitrators then hear the case and make a finding, which frequently favors the employer, said Waide, who has represented workers in employment discrimination cases for 40 years.
"Arbitrators have financial incentive to find for employers, who can give them repeat business," Waide said. "A jury trial is far more likely to provide a fair result because the legal system has painstaking methods to provide impartial jurors and there is full appellate review of decisions."
Houston did not sign such an agreement and was free to pursue a legal remedy through the court system, Waide explained. Her suit also includes a claim for violation of public policy, which alleges the defendants are liable because they discharged Houston in violation of public policy of protecting medical employees and the public from COVID-19.
"Most states have a public policy exception," Waide said. "Mississippi adopted a public policy exception 20 years ago which put the state in line with the majority of other jurisdictions."
A public policy exception is a common law remedy that prohibits an employer from terminating or discharging a worker for performing an action in accordance with public policy. Houston's suit, for example, contends there is clear public policy in Mississippi "in favor of attempting to diminish risk of severe illness and death of doctors, nurses, and professional medical staff in fighting COVID-19."
Lin's lawsuit in Washington state court includes similar claims for breach of contract and violation of public policy. The complaint alleges he was constructively discharged "in violation of public policies against retaliation for voicing concerns about health and safety."
Will Whistleblower Laws Protect You?
In other COVID-retaliation cases, healthcare workers are relying on state whistleblower laws to protect them.
Michigan's Whistleblowers' Protection Act, for instance, is at the center of a lawsuit issued by four emergency department nurses against Detroit Medical Center Sinai–Grace. The nurses say they were fired for voicing concerns with hospital administrators and later the media about COVID-19 safety practices, staffing problems, and PPE availability. In their June lawsuit, the nurses claim Sinai-Grace violated Michigan's whistleblower law, which protects employees from being terminated for speaking out about unsafe workplace conditions.
The hospital, however, says the terminations came after the nurses took inappropriate photos of deceased patients at Sinai Grace Hospital and shared them with other employees. The photos, which went viral, depicted bodies piling up and being stored in unrefrigerated rooms at the facility.
"We conducted a comprehensive investigation and took appropriate action based on employee admissions of violations of our patients' right to privacy," Detroit Medical Center spokesman Brian Taylor said in an emailed statement. "We have an unwavering commitment and obligation to respect the privacy of our patients and to treat them with dignity and respect. We will not tolerate actions to the contrary."
In their lawsuit, the four nurses denied taking the photos. A fifth nurse issued a similar whistleblower lawsuit against Detroit Medical Center in April, claiming she was terminated in retaliation for speaking out about weak COVID protections at the hospital.
Chicago-area infectious disease nurse Lauri Mazurkiewicz is accusing Northwestern Memorial Hospital of running of afoul of Illinois' Whistleblower Act. Mazurkiewicz says that in March, she sent an email to staff informing them that N95 masks were safer and more effective than the masks they were wearing. The next day, she was fired after arriving at work wearing an N95 brought from home, according to her lawsuit against the hospital.
Attorney Blake Horwitz, who is representing Mazurkiewicz, said his office has received dozens of calls from across the country with similar stories. His firm is currently litigating four retaliation cases associated with the pandemic.
"Lauri Mazurkiewicz's case was just the beginning," he said. "We have filed a number of claims on behalf of people in similar circumstances. We've filed Illinois whistleblower claims as well as retaliatory discharge claims. Some people we've sent to OSHA [Occupational Safety and Health Administration]."
Northwestern Memorial declined to comment for this story. In a previous statement, the hospital said it was reviewing the complaint.
"As Northwestern Medicine continues to respond to this unprecedented health care pandemic, the health and well-being of our patients, our staff and our employees is our highest priority," the hospital said.
A majority of states have some form of whistleblower law, although the statutes vary. Some laws are limited to certain types of fraud, whereas other laws deal directly with health and safety threats.
"There is a quilt patchwork of laws in the country," said Jonathan Karmel, a Chicago-based labor law attorney and co-chair of the American Bar Association's Occupational Safety and Health Law Committee. "It's going to depend state by state and jurisdiction by jurisdiction. You may have city ordinances that are even stronger than some of the state laws and certainly federal law."
My Workplace Is Unsafe or Retaliatory: What Should I Do?
When faced with concerning work conditions or retaliation, a key step is making a clear record of what's happening, says Peter Dooley, safety and health senior project coordinator for the National Council for Occupational Safety and Health.
"Document the occurrence of problems or issues that have occurred that demonstrate the dangers of the situation, with as much detail as possible," he said. "Having that be documented in writing is a very important step."
Remember there is strength in numbers, he adds. When raising concerns with your employer, it's often beneficial to join with other workers with similar concerns and confront management together.
"That's a critical step in terms of creating that dialogue with the employer to try to improve conditions that have been identified with needing improvement," Dooley said. "Individuals can take that action also, but it's always better to do it as a group as much as possible."
Healthcare professionals can also reach out to workplace advocacy groups such as the National Council for Occupational Safety and Health for resources and assistance. The council offers information about coronavirus-related campaigns and tool kits to support worker actions, fact sheets, and updates on federal and state relief bills, among other resources.
For those experiencing retaliation, the National Whistleblower Center offers educational materials to help employees better understand their whistleblower protections, notes John Kostyack, executive director for the center. The center can also connect workers with whistleblower attorneys for evaluation of cases and possible representation.
Seeking help from OSHA is another option, but be prepared to wait. Even before the pandemic, OSHA was taking an average of 272 days to make a determination on a complaint. The agency has now been flooded with thousands of COVID-19–related complaints and has recently come under scrutiny for lax enforcement.
Still, Karmel said it's a good idea to file a complaint with OSHA to get it on the record.
State OSHA offices can also provide assistance. Dooley recommends speaking with a representative over the phone to detail your concerns. OSHA's website provides a list of state agency contacts.
Health professionals may also want to consider contacting a knowledgeable whistleblower attorney, Kostyack advises.
"There are a good number of law firms out there that are whistleblower law firms," he said. "We really do recommend people get qualified counsel, because this is a complex area of law, and it is difficult to navigate for laypeople not versed in it."
As for Lin, he hopes to return to the emergency department one day soon. His lawsuit seeks reinstatement at St. Joseph as well as damages for lost compensation and emotional distress. In the interim, he has secured part-time contract work, which is helping to pay the bills, he said.
"Definitely the most difficult part of being a whistleblower is the prolonged uncertainty of the situation," he said. "It feels like you are slowly flowing down a dark tunnel not knowing where you will end up or when this ride will end. Even worse is I do feel guilty and responsible for dragging my whole family into the uncertainty as well."
Would he do it again?
"For me personally, it's the hard choices we make in life that define who we are as human beings," he said. "Looking at what this pandemic has done to our country so far, speaking out was a necessary choice."
For more news, follow Medscape on Facebook, Twitter, Instagram, and YouTube and follow Alicia Gallegos on Twitter.
Medscape Medical News © 2020

Cite this: MD Loses Job for Speaking Out Against Lack of PPE: What's His Recourse? - Medscape - Jul 22, 2020.