Editor's note: Find the latest COVID-19 news and guidance in Medscape's Coronavirus Resource Center.
Percy Erachshaw, DO, a general surgeon, was happy and encouraged when New York City started to open up a bit during the COVID outbreak and patients began coming back into doctors' offices and having online visits.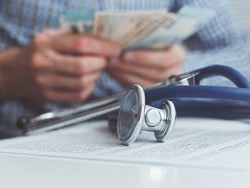 But Erachshaw, like many physicians nationwide, is quickly learning that the insurer payments he's expecting may be a thing of the past.
"The patient volume is back," said Erachshaw, who manages four practice sites in Brooklyn and Queens, New York. Two of the sites that had been closed for 2 or 3 months recently reopened.
However, "I have patients who don't have insurance coverage anymore. They lost their jobs, but they are my long-term patients, so I can't turn them away."
Many of these patients need help getting on Medicaid, but Erachshaw doesn't have enough staff to help them. Much of his former staff left the practice and are not returning. With unemployment benefits temporarily enhanced by federal dollars, "They discovered they were making more money staying at home than working," he said.
Many Patients Lost Healthcare Coverage
Because of layoffs during the COVID-19 crisis, an estimated 12.7 million Americans lost employer coverage from early March to May 1.
Even some workers who have not been laid off may lose coverage. Although the Affordable Care Act requires large employers to provide health insurance, small businesses can cancel coverage.
"Depending on how long the high unemployment lasts, practices could have many more uninsured patients," said Lori Foley, managing principal in Atlanta, Georgia, for PYA, a national healthcare consulting and accounting firm.
Patients who lose coverage have the option of buying their own insurance, but in many cases, Foley says, they can't afford to do so. "Premiums for individual health insurance can be expensive, and laid-off workers may not have been saving for that, because they did not expect to be laid off," she said.
Indeed, many people simply don't have the funds to take out a new insurance policy. According to one analysis, 40% of Americans do not have $400 to cover unexpected expenses.
How Your Income Will Change as Patients Tighten Up
Don't expect patients who have been laid off to turn up at your office with a new form of coverage, says Kathryn I. Moghadas, a healthcare consultant in Winter Springs, Florida. "They're not going to run out and get new coverage," she said. "If they come in, they'll want to use their credit cards and negotiate a cheaper rate with the office."
Many people who are still working are concerned about their finances or about getting the virus, so they're limiting their medical care. Health insurers Humana and Aetna recently noted that use of medical services has plummeted by at least 30%.
High deductibles, which have become increasingly common, also incentivize people to cut back on care, particularly at the beginning of the year, before they have met their deductible. Among workers who have a health insurance deductible, the average deductible is $1655 this year.
Many patients are selecting health services on the basis of price. More hospitals are providing their prices online and even offer tools to calculate payment estimates. Patients also have begun to expect price quotes from practices.
"When these patients call a practice, they may not want to simply book an appointment," Foley said. "They will want to hear about your prices. Many practices are still not used to this. They often don't have the self-pay prices and payment plan information available."
Payers Are Making It Tougher
Some health insurers are taking longer to pay because, like many other businesses in the COVID-19 era, they have fewer staff, says Michael La Penna, a practice management consultant in Grand Rapids, Michigan.
"Due to the lower staffing, it can take an insurer longer than the usual 30 to 45 days to process a payment," he said.
Low staffing has also made it hard to get prior authorizations, such as for primary care physicians' (PCPs') referrals to specialists in health maintenance organizations (HMOs). "We will call the HMO and we would be put on hold forever," Erachshaw said. "It has been a mess and a half. If you don't have an approval for a referral, you can't refer the patient."
Some payers have temporarily waived the prior authorization process for certain services during the COVID-19 crisis, but they may not implement those changes. "Many payers claim to have relaxed authorizations for 'most' or 'many' services," the report said, "but what 'most' or 'many' means is anyone's guess."
Another area of confusion are the new or enhanced telehealth payments that Medicare and many private payers are temporarily allowing during the COVID crisis. "The typical PCP has six, seven, eight different payers, each with a different telehealth policy," said Robert L. Phillips, MD, executive director Center for Professionalism and Value In Healthcare, a think tank in Washington, DC. "As a working clinician, I can't manage all of those policy differences in my head."
"Each insurer has slightly different rules on telehealth, and they keep changing," said Rebecca Etz, PhD, co-director of the Larry A. Green Center, another think thank in Washington, DC, which promotes primary care. "For example, some won't pay for telephone-based care if the call lasts less than 10 minutes."
Insurance companies themselves may be confused about their own telehealth policies and thus underpay or deny payment to providers. Telehealth organizations say insurers have been slow to update their software and policies.
Spotty payments for telemedicine and many other services mean many doctors are reimbursed only a fraction of what they are entitled. In an April survey of physicians and other clinicians in primary care, 57% said that fewer than half of their visits in the past week were reimbursable.
What Practices Can Do to Get Paid
Here are some ways practices can deal with patients who lose insurance and the insurance plans that represent them.
Keep the bill low. Look for ways to keep costs in check. For example, "physicians could find less expensive form of meds for patients who are concerned about high costs," Moghadas said.
Know your prices. "Practices should be able to tell self-pay patients what they basically can expect to pay," Foley said. At the least, a practice could state that a new visit would cost $150 for the visit, plus additional costs for labs and x-rays, and a visit for an established patient would cost $75, she says.
Bring your patients back in. Many of your patients are not going to return to you without a little nudge. "You can't sit back and wait. You need to remind them," said Phil Boucher, MD, a pediatrician in Lincoln, Nebraska, who has been a speaker on the online Back to Busy Summit for physicians who want to revive their practices in the era of COVID-19.
"Reach out to your patients by sending them an email, if not a text or a message on social media," he advised. "Better yet, go on local news and talk about your practice opening. Give them a reason to come in, such as annual checkups and routine care."
For example, Moghadas notes that diabetes patients generally need to come in every 3 months, and women need to see their gynecologist more often than once a year. "You can set up your EHR system to determine when each patient needs to come in," she said.
Update insurance coverage information. "Asking every year about insurance coverage is not frequent enough right now because there are so many changes going on," Foley said. "Ask about coverage on each visit."
Boucher adds that when employees are laid off, coverage often lasts for the rest of the month. If patients inform you of the change immediately, you might be able to get them in to see you before coverage ends, he says.
Help patients get coverage. "Help to get patients signed up with Medicaid or COBRA," Boucher said. "Your billing people can do this through a phone call."
Small practices, however, may not have extra staff to do this work, Foley says. Also, many practices have staff shortages, such as Erachshaw's practice. "I still have to find and train enough staff to get vital signs," Erachshaw said. "I don't have enough people to sign patients up for Medicaid."
Effective Tactics to Collect From Patients
Having many uninsured patients means you have to shift to getting more payments from patients, which is harder to do than getting paid by insurers, Moghadas says. "It really takes a lot of effort to collect this money," she said.
"Most practices are already experienced with patient collections, due to high deductibles," Foley said. "Practices need to identify who is self-pay and what their discount approach is.
"You have to collect at the time of service," Foley adds. "If you wait until after the appointment, the chances of payment drop considerably." If the bill is past due, "tell them about it when they come in for their next appointment," she said. "It's easier to collect a bill face to face."
When patients say they can't pay the bill, ask about their financial hardship. "Find out their household income," Foley said. "Set up a sliding scale in which payments are reduced depending on the patient's income. Health systems do this all the time."
After sending a few bills, Foley says, the next letter to the patient ― the pre-collect letter ― should state that the bill will now go to a collection agency unless it is paid in full. "People worried about their credit rating, such as those buying a house, will pay, but others are willing to let their debt go to a collection agency," she said.
Creating payment plans requires setting a reasonable monthly amount to be paid. "If you set the amount too low, it could take years to pay off," she said. If the amount owed is $500 or less, she recommends setting up three monthly payments, and if it's over $1000, then six monthly payments.
The Future
The road ahead for doctors still seems very bumpy. The reopening of public places is coming in fits and starts, and when the number of COVID-19 cases rises again, patients stay away for a while, Phillips says. "Each temporary spike in COVID cases has a lasting affect on practices," he said. "Patients will disappear for a while afterward."
Philips predicts that because of the epidemic, primary care practices will lose almost $20 billion by the end of the year. If temporary telemedicine payments were removed, the losses could be double that, he says.
When Medicare and other payers drop the current higher payments for telemedicine, as planned, many doctors will be forced to give up telemedicine, predicts La Penna. "At lower or nonexistent reimbursement rates for telemedicine, it would not be worth their while to use it," he said.
Some doctors, however, are doing surprisingly well now that the virus is abating and some restrictions have been lifted in some areas. When surgeries were temporarily banned because of COVID-19, George Waring IV, MD, an ophthalmologist in Mt. Pleasant, South Carolina, lost almost all his patients.
When he reopened in May, he was not sure whether his previous volume of patients would return. Many of his patients undergo Lasik surgery to replace glasses or contact lenses, or they receive advanced lens implants after cataract surgery, both of which are usually not covered by health insurance.
But as it turned out, he's had more visits than at this time last year. Was this the result of pent-up demand for services, as many observers expected after bans on elective surgery are lifted? "No," he said, "it's much more than that."
He has several explanations for the high demand. "Having to wear masks against COVID makes people less comfortable wearing glasses, because they steam up," he said. "Also, people need to avoid putting their hand on their face, which you have to do to insert contact lenses. So they want Lasik.
"Furthermore," he added, "sheltering in place has made some people more contemplative, and they may get a new perspective on life and consider visual self-improvement."
For more news, follow Medscape on Facebook, Twitter, Instagram, and YouTube.
Medscape Medical News © 2020

Cite this: Payment Problems as Patients Lose Coverage due to COVID - Medscape - Jul 14, 2020.