Being told the operating room has already been cleaned. Being questioned by patients about where you went to medical school. Being asked for ID every time you enter your own hospital. Being told you don't look like a doctor. In a series of conversations with Medscape, Black physicians talk about racism they've faced in their training and their clinical work, the change they'd like to see, and how they're coping during this period of both pandemic and racial upheaval.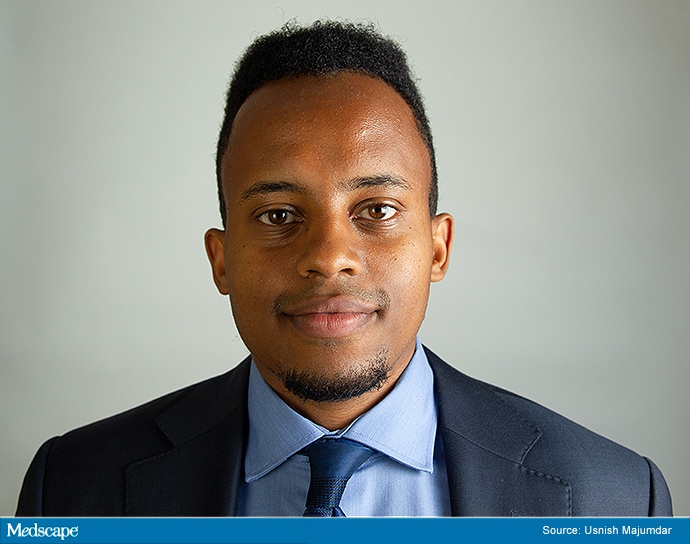 Samuel Kebede, MD, MPhil
I was on my surgical rotation and was told to go to one of the operating rooms to observe a case. I walked in and saw two residents. Before I said anything, they said, "The room's already been cleaned. There's no need for you to do anything." I just paused, took a deep breath, and just very calmly explained that I was actually a medical student and was there to work with them for the day.
These things happen all the time. I expect that I'll still face them now that I've started my residency. I walk into a patient's room and — whether I'm wearing a white coat or not — the patients or other medical staff in the room assume I'm the janitor or that I'm there to pick up food. I'm not saying these are not important roles in the hospital, but it highlights the fact that before I even start talking or do anything, I'm relegated to only those positions; people think I couldn't possibly be the provider. The fact that these things happen so often ― with different people, in different rotations ― is reflective of how much systemic racism there is.
Once, in the middle of a discussion group, the lecturer was quite adamant that we had met before, but I knew we hadn't. She was confusing me with the only other Black male student in my class of about 140. You would think since there were only two of us, people wouldn't mix us up. It's not overt, it's not like someone openly saying we all look the same, but it's something people don't think about, it's people not seeing you as human or an individual. For me, when it happens, I just brush it off and go on with my day, but there are definitely days where it feels like the straw that breaks the camel's back.
It's the same with security stopping me when I walk into the hospital while White students breeze right through. Hospital security is important, and they need to check people, but they make a lot of assumptions based on race. When a White colleague walks through, they think, "It's OK, they're not here to do anything wrong." But when someone of color walks through, they think that person needs to be stopped and questioned. A white coat and badge may not necessarily protect you. People will invariably lump you into a certain box.
I do talk to my roommates and friends about these things. I fume about them, but I normally don't talk about them openly. It's the ethos in medicine. A lot of bad things happen, and you just carry that weight and move forward — you have to be strong. But I'm talking about it openly right now because people are listening. Police militarization and brutality are in the national dialogue, but people should remember that racism permeates all institutions. Medicine is not immune.
One thing that needs to be addressed is how we treat patients. A lot of academic institutions are coming out and saying, "We support Black Lives Matter," but at the same time, they are segregating care. They have different spaces for treating privately insured people and publicly insured people. And publicly insured people tend to be Black and brown. If they're serious about change, they have to walk the walk before they talk the talk.
Most academic centers have departments that address issues of diversity, but change needs to happen at every level, including the individual-provider level. The question people need to be asking themselves is, What are you doing every day to learn more about these issues? What are you doing to learn more about the historical circumstances that have led to the disparities we see in our communities? White Coats 4 Black Lives, an organization that has done a lot of important work over the years, is one place to start listening.
I don't drive a lot in New York, but whenever I have a rental car, I make sure to put my wallet in a very visible position so if I get pulled over I don't have to reach for anything. This is always in the back of mind and it's probably something people who are not Black never think about. For me, with a public health background, I see this as part of my own preventive healthcare. These are definitely things I think about. All of the cloth reusable masks I'm wearing now are all very bright colors and not intimidating.
I definitely have a lot of things to grapple with in the moment. Starting a residency is hard enough, but starting one in the middle of a pandemic adds a lot of uncertainty. Is there going to be a second wave? Are the hospitals prepared? I'm starting in a borough, the Bronx, that was hit hard and still has patients recovering. I think about whether I'm prepared for all the chronic conditions patients are going to have. On another front are all the issues of race in the country. I'm glad to see people are out in force and are listening, but it's tough hearing that so many people involved in violence against Black individuals are not even getting prosecuted. I'm worried all this may be more performative rather than people displaying real, fruitful outrage. It weighs on you. Then there's the assault on immigration. I'm an immigrant. I'm on a visa, so there's a lot of uncertainty. They said there would be an exception for healthcare workers, but who knows?
Samuel Kebede, MD, MPhil, 27, grew up in the Congo, Ethiopia, and Zimbabwe, a son of two physicians who work for the World Health Organization in Tanzania. Kebede studied public health at Johns Hopkins University as an undergraduate, received his MD from the Icahn School of Medicine at Mt. Sinai in 2020, and earned a master's degree in epidemiology from Cambridge University as a Gates Cambridge Scholar in 2019. This month, Kebede started as a primary care and social internal medicine resident at Montefiore Medical Center.
Usha Lee McFarling is an American science reporter who has written for the Los Angeles Times, Boston Globe, STAT News, and the Knight Ridder Washington Bureau. In 2007 she won a Pulitzer Prize for Explanatory Reporting. Follow her onTwitter @ushamcfarling.
Medscape Internal Medicine © 2020

Cite this: As told to Usha Lee McFarling. When a White Coat and Badge Don't Protect You - Medscape - Jul 10, 2020.