Harvard Medical School student LaShyra "Lash" Nolen, 25, has been writing about — and speaking out against — systemic racism for a long time. In the aftermath of the George Floyd killing, she says, it seems more people are finally paying attention.
Previously, most who read her publications — and those who followed her on social media — were fellow students or were already longtime advocates for social justice, she says. But her audience has recently expanded to include more leaders with the power to make lasting change. "The people I really wanted to hear, I think they're finally listening," says Nolen, who finished her first year of medical school on June 26.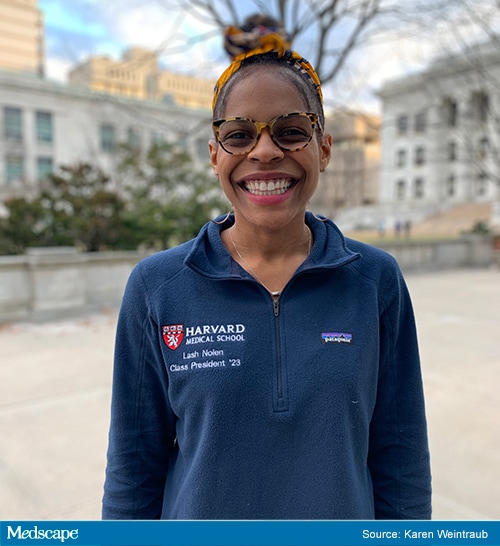 LaShyra "Lash" Nolen, Harvard Medical School's first Black female class president, just completed her first year. "No matter how good of a doctor I become, my patients will still have to confront systemic ills that I can't only address in the clinic."
Specifically, when it comes to issues of inequality and medicine, Nolen has observed a change. "Now, I feel like my professors are engaged in this, [and] administrators, people who have decision-making power who never really engaged with this topic so thoroughly before."
The double crises of COVID-19 and police brutality in the United States have cemented Nolen's commitment to becoming both a doctor who provides direct care and a civic activist who raises issues of public importance to a broader audience.
"For me, what I realized is, no matter how good of a doctor I become, my patients will still have to confront systemic ills that I can't only address in the clinic," she says, citing a lack of access to affordable housing, a quality education, healthy foods, and other social problems that disproportionately affect Black people. "What this [double crisis] has really confirmed for me is that I see myself in a career in the realm of policy and government leadership…so that everyone can have optimal health outcomes."
Nolen is the first Black woman elected council president of a Harvard Medical School class — a position often held by enthusiastic, cheerleader types who plan social events for fellow students. Although she certainly has the right persona — she is someone who punctuates her conversations with laughter and contagious energy — she made her intentions about her role clear from the start.
"Yes, we're going to do social, fun stuff. But what I'm about is advocacy and social justice."
Active Advocacy
On Twitter, Nolen recently helped launch a petition to rename one of Harvard Medical School's academic societies. The society was named after Oliver Wendell Holmes Sr, someone who, the petition states, "was one of the first American proponents of eugenics" and "did not acknowledge the basic rights and humanity of Black medical students."
She also recently posted a hip-hop song to which she'd rewritten the lyrics and a performance of a spoken word poem she'd written. Both were in honor of Juneteenth, a day that celebrates when American slaves in Texas were finally informed of their freedom; Harvard University made it a school-wide holiday this year.
In the poem, Nash says that Independence Day used to be her favorite holiday, until she realized it celebrated a freedom denied to people who looked like her. Nolen also encouraged her non-Black Twitter followers to make the most of the holiday by talking about what they read, learned, or contributed "to further promote the liberation of Black people."
Like many of her first-year classmates at Harvard Medical School, she has been sequestered in her family's home, finishing her courses online. Yet Nolen works hard to balance her advocacy with her studies. She was barely off the plane back in Los Angeles when she started drafting an op-ed about how custodial workers need protection during the pandemic.
She has written about the blue-collar, "hidden" heroes in the fight against COVID-19, about a slave named Onesimus who helped save thousands of lives during the 1721 smallpox epidemic in Boston, about how medical education is "missing the bull's eye" for NEJM , and about how she'd like to respond when her professors ask "How are you today?" She has also been featured in Teen Vogue.
All this, while completing her first year of studies against the backdrop of a pandemic and increasing civil unrest nationwide.
Parallels and Perspective
Nolen's journey echoes that of another pioneering woman from Harvard's past. Vietta Johnson, MD, says she confronted similar systemic issues of injustice decades ago. Johnson, now an orthopedic surgeon in Chicago, was the first Black woman to hold a position similar to Nolen's at Harvard Medical School in the 1980s —then called "class chair."
Her post was only for one year, whereas Nolen's is a four-year term. After another woman was elected class officer the year after Johnson, Harvard saw a 35-year drought in Black women elected to student leadership at the medical school.
"As much as things have changed, so much is still the same," says Johnson. "There are so many things yet to be done in medicine." When she first spoke with Nolen, Johnson says the parallels were "almost comical. It was eerie." Johnson has always been committed to social justice, dedicating her medical career to helping "people who otherwise would not have access to someone with my level of education."
Johnson says she has tremendous respect for Nolen, and that the younger woman should know that those who have gone down her path have her back. "My job is to help shield her from anything that might come her way that she might not have on her radar. But I've been there," Johnson says.
Nolen is quick to credit those who have helped her along her way, both at her institution and at home. She was thrilled to connect with Johnson, and praises her professors, deans, and fellow students. But she also relates to the person who empties her trash can at school, or who scoops food onto her plate.
"The janitors and custodial staff and cafeteria workers — I see my family through them," she says. "I'm going to treat them with the same respect that I want to be treated with." Family has always been important to Nolen, who says her mother has consistently been her bedrock and an inspiration. "My mom is like my partner in crime. She's my favorite human."
A Joyful Fight for Equality
When she was 8 years old, Nolen's mother helped her with a last-minute science fair project, which they came up with after Googling "goldfish" and "science fair projects." Nolen ended up examining how fish respond to light, watching how animals reacted when she turned it off and on.
Fittingly, working on the project proved a "lightbulb" moment for her, illuminating an interest in science. More than a decade later, the first-place medal she won at the science fair still hung in the dorm room she had to abandon when the pandemic struck in March.
Nolen's interest in science became a passion for medicine thanks to a wide variety of influences. She says she was inspired by seeing doctors on TV, although she didn't see a Black doctor in real life until the summer after her first year in college. She recalls another key moment where she first understood the potential of those in the medical profession to affect change.
During an undergraduate class about homelessness, she and her fellow students stayed on skid row for five days. The experience taught her that "physicians are like the attorneys for the poor. Healing would be the greatest honor in a profession." She says that was when she knew "this [the medical profession] is where I need to be."
Martha Ellen Katz, MD, an instructor at Harvard Medical School who worked extensively with Nolen during her first year, was impressed with Nolen's clarity, focus, and vision. "She's thinking all the time and constantly envisioning what could be changed for the better. She's totally true to her principles."
Katz says she recognizes the pressures and the stresses Nolen may feel being the first Black woman in three decades to hold an elected leadership position at the school — and she's spoken to Nolen about it. "We also talk about how becoming the first isn't enough, and how recognizing her achievements can become only a symbolic gesture if it is not followed by real fundamental inclusion."
For her part, Nolen doesn't seem in any danger of losing her perspective or her passion for bringing change. An enthusiastic dancer and music lover —she adores rap and salsa — Nolen sees her fight for equality as a joyful one.
"I think I've learned to be happy with the small wins. Because, if not, I feel like I'll get fatigued," she says. "It took generations to build a society that was based on sexism, racism and patriarchy. It's going to take time to dismantle that."
She knows the work ahead will be hard, both in terms of academics and advocacy. But she is determined to succeed, and that may be the most powerful tool she has for the long fight ahead.
With a characteristic grin, Nolen says she's taken to heart the spirit of a misquotation often attributed to Emma Goldman, a political and social activist from the early 20th century: "I don't want to be a part of the revolution if I'm not dancing."
Karen Weintraub covers patient safety for USA Today and before that spent 10 years as a freelance health/science journalist. Her work has appeared in The New York Times, The Washington Post, and Scientific American, among other publications. She lives in Cambridge, Massachusetts and is co-writing a history of the city for MIT Press.
For more news, follow Medscape on Facebook, Twitter, Instagram, and YouTube.
Medscape Medical News © 2020

Cite this: First Black Woman Elected Class President at Harvard Med Fights for Change - Medscape - Jul 07, 2020.