Remember the exam-taking advice telling you to go with your first impression if no other answer seems to fit? Fast-forward to your clinical practice today and that advice may still apply: At the least, be sure to follow through on your original suspicions when assessing a patient's complaints. If you don't, you've only helped a plaintiff attorney write his or her trial argument.
A 65-year-old man presented to Dr FM, a family medicine physician, with a 2-week history of abdominal pain, loose stools, and diarrhea. The patient had recently been in Mexico and reported that his abdominal pain began after eating at a stateside seafood restaurant 11 days earlier. According to the patient, he felt the pain after every meal.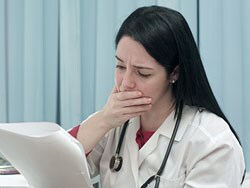 Dr FM's physical exam noted the patient's abdomen as soft with diffuse tenderness, no masses, and no rebounding or significant guarding. Dr FM's assessment was "subacute abdominal pain, etiology uncertain" and questioned possible food poisoning. Dr FM ordered an abdominal ultrasound and lab work. The patient was advised to call if the pain worsened or if he was unable to hold down food or liquids.
The patient had his ultrasound and lab work performed the next day. The ultrasound report noted "mild hepatomegaly," but also concluded with a finding of "minimal free fluid in the right lower quadrant with possible thickened bowel in this area. CT correlation could be helpful." The interpreting physician signed and released the report on the day of the procedure at 5:43 PM.
Medscape Editor's Key Notes:
• Make an effort to contact patients after their initial visit to check the status of their condition.
• Require staff to check in with patients who miss follow-up appointments and attempt to reschedule them.
• Diligently pursue each part of a patient's care plan to confirm an earlier impression or to defend a change in the treatment course.
The report on the lab samples collected that same day showed an elevated white blood cell (WBC) count of 16.9 and an elevated glucose value of 260. There was some evidence, however, that Dr FM did not receive those results until they were sent to him by fax more than a week after the patient's visit.
© 2020 Cooperative of American Physicians, Inc.

This case comes from Medicine on Trial, originally published by Cooperative of American Physicians, Inc., to provide risk management lessons from litigated case histories.