Editor's note: Find the latest COVID-19 news and guidance in Medscape's Coronavirus Resource Center.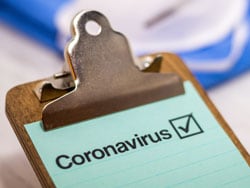 Jensa Woo is a librarian in San Francisco who was sidelined by the coronavirus pandemic and reassigned to work as a contact tracer for the city's Department of Public Health. Registered nurse Joanna Cirillo, a communicable disease expert at Virginia's Department of Health, was reassigned to COVID-19 cases from her usual contact tracing work on other infectious diseases, including tuberculosis and hepatitis A.
Woo and Cirillo are among the thousands of contact tracers nationwide who alert people that they have been exposed to COVID-19. "Exposed" means they came into close contact ― within 6 feet for more than 10 minutes ― with an infected person. "This is usually members of their household or co-workers," says Cirillo, who now trains case investigators and contact tracers.
Contact tracing, along with strategic testing, rapid isolation, and supportive quarantine, is an vital way of slowing the spread of the virus, which has been diagnosed in 2.6 million people nationwide and likely has infected millions more, say public health experts.
Fighting Covid was always going to be hard. There's much we can do. We must support contact tracing with innovative methods; double down on actions at high risk settings like food facilities, congregate settings; educate the public on reducing Covid risk. https://t.co/b20FuujcXI
"Contact tracing is intense, difficult work, but our safety and economy depend on it," says Tom Frieden, MD, a former CDC director and president and CEO of Resolve to Save Lives, which released its COVID-19 contact tracing playbook June 16.
Contact tracers recommend that people self-quarantine for 14 days from the time of exposure to COVID-19, and they connect them with resources such as testing if they have symptoms, and alternate housing if they can't stay at least 6 feet apart from others at home. The health departments will also write employers letters explaining why a close contact needs to stay home.
Urgent Need for Contact Tracers
The surge in COVID-19 cases in more than half of all states has increased the pressure to have enough case investigators and contact tracers in place. As more people test positive, they need to be interviewed quickly by case investigators who support their self-isolation and treatment, and identify their close contacts.
We've not been able to do the contact tracing to the extent we would like ― to reach every contact and get everyone tested.
"We need to have contact tracers in place as fast as we can because it's one of the strongest tools the states have to prevent another round of surges almost immediately after they reopened," says Marcus Plescia, MD, chief medical officer of the Association of State and Territorial Health Officials (ASTHO).
"We have set a goal of contacting all cases within 24 hours of being reported to the health department. We call cases and then contacts who in the meantime are unwittingly walking around out there," says Cirillo.
Twenty-nine states and U.S. territories have seen a jump in their 7-day average of new reported cases as of June 22, with nine states reporting record average highs. While Monday numbers are generally the lowest of the week, the number of new cases is nearly 7,000 higher than the previous Monday, according to tracking by The Washington Post.
Some states have reached new highs in their daily reported cases, such as Florida, which surpassed 150,000 total coronavirus cases, according to data released by the Florida Department of Health. In California, more than 35% of confirmed cases have been recorded in just the past 2 weeks, Gov. Gavin Newsom said in last week.
Most States Fall Short of Numbers Needed
Yet only seven states ― New York, Massachusetts, Vermont, West Virginia, Alaska, Missouri, and Oregon ― and three territories ― Washington, D.C., Guam, and the Northern Mariana Islands ― have enough contact tracers based on their population and rates of COVID-19 during a recent 14-day period, according to an NPR survey of health departments in all 50 states and territories.
Six other states ― Connecticut, Colorado, North Carolina, North Dakota, Idaho and Washington ― have reserve staff that can pivot to meet capacity, while the remaining 37 states still lack the contact tracer workforce needed.
Virginia is among those 37 states and, like many, is scaling up its contact tracing workforce while continuing to reopen. The state should have at least 4 times its current number of contact tracers, according to the workforce estimator developed by the Fitzhugh Mullan Institute for Health Workforce Equity at George Washington University.
"We've not been able to do the contact tracing to the extent we would like ― to reach every contact and get everyone tested. That is why we're scaling up now to reach that degree of thoroughness, which is essential in preventing the transmission of COVID-19," says Marshall Vogt, an epidemiologist and COVID-19 containment team co-lead at the Virginia Department of Health in Richmond. The funding Virginia received through the federal CARES Act has been the "most critical resource that allowed us to hire more human resources, including contact tracers, and buy technology resources, including laptops and cellphones," he says.
Progress is being made. The total contact tracing workforce has more than tripled in the past 6 weeks, from 11,142 workers to 37,100, according to the NPR survey.
Many states are also planning to hire more contact tracers, reassign government staff, or train outside volunteers. Some already have a bank of trained staff or volunteers in waiting, able to trace contacts if new positive cases spike. Many of them are relying on the National Guard, AmeriCorps, Medical Reserve Corps volunteers, or part-time workers to fill these ranks. "With the plans to hire and reserve staff, the national workforce grows to 68,525 contact tracers," reports NPR.
The CDC Foundation also provides staff to support local contact tracing and is recruiting new case investigators and contact tracers.
An estimated 500 staff are deployed by the CDC to help state and local health departments, and another 650 positions will be supported with $45 million from the CDC Foundation, according to the NPR report.
Bipartisan legislation introduced in Congress last month would bolster the workforce by setting up a new National Public Health Corps. "This Corps will help fill the personnel gaps in our health care sector right now and allow us to adequately test, track and trace, and perhaps even to vaccinate our citizenry. In order to get to the other side of this pandemic and return to some semblance of normalcy, we need many, many more people who will be the boots on the ground to carry out these duties," Rep. Chrissy Houlahan, D-PA, said when she announced the legislation last month.
In addition to increasing the contact tracing workforce, health departments are hiring people from the community who represent diverse cultural backgrounds and languages that will increase trust and communication.
For example, Fairfax County in northern Virginia is hiring a large number of community health workers ― trained community members who understand certain neighborhoods and populations in the county that need additional support.
Training and Privacy
Contact tracers are trained by their local health departments and/or their nonprofit partners such as university public health schools. The training can range from 6 to 20 hours, depending on whether it's basic or more advanced.
The Johns Hopkins Bloomberg School of Public Health, with Bloomberg Philanthropies, launched a free online COVID-19 course last month to "help train a new cadre of contact tracers to reach and assist people exposed to the virus. Taking and passing this course will be a requirement for thousands of contact tracers being hired by the state of New York to fight the pandemic," and they also have to pass a final assessment within 72 hours of completing the course, according to a news release.
The 6-hour course is open to anyone, and more than 400,000 people have already enrolled since it launched May 11. Contact tracers learn "how contact tracing is done, including how to build rapport with cases, identify their contacts, and support both cases and their contacts to stop transmission in their communities," the online description says.
Heard about contact tracing, but not sure what it is? It's used by health departments to prevent the spread of #COVID19. Learn more: https://t.co/J3Txu3riWr. #SlowtheSpreadpic.twitter.com/3f8aEQCTuI
For contact tracing to succeed, the public must understand that taking part in and following public health recommendations (including isolation and quarantine) are essential to suppress the epidemic, protect the health of people in the community, and reopen society, according to the Resolve to Save Lives playbook.
"I like to emphasize at the beginning of the call that we're all on the same team, that we're both trying to stop COVID-19 from spreading, and we want to protect co-workers and our community," says Cirillo, who trains case investigators and contact tracers.
The Johns Hopkins course also covers ethical concerns about contact tracing, isolation, and quarantine, and it identifies some of the most common barriers to contact tracing efforts ― along with ways to overcome them.
"The most important piece is robust training in confidentiality and privacy. We need to ensure that people whom we contact feel very secure that it's a private conversation and that confidentiality won't be breached; otherwise, the conversation will not go well," says Plescia.
Cirillo says "the number one question we get from both COVID-19 cases and contacts is, how do you get my information and what do you do with it? We say to the cases that their doctor or hospital gave us this information, and to the contacts that they were identified during an investigation with a confirmed case."
She added that contact tracers are assigned contacts on a random basis, and they don't know the names of the original case. "I want to dispel any myths ― we do not ask about immigration status or Social Security numbers. The information we collect, including names, dates of birth, and phone numbers, is kept private in our secure electronic database."
Woo says she learned about medical and patient privacy laws as part of her training. She had 20 hours of training that included supervised practice and live calls with contacts. Public health experts at the University of California, San Francisco developed and teach the modules, which are being used by 56 county and three city health departments throughout the state.
Technology Challenges
Woo emphasized that she works on a team with case investigators, team leaders, and clinicians. The case investigators, with typically a health care or public health background, interview people with COVID-19 and connect them with resources so they can safely isolate and be treated until they are no longer infectious. They also help the cases recall and identify the five to 10 people they were in close contact with recently so that information can be shared with the contact tracers.
Technology has made the job of contact tracers easier and safer during the pandemic. In the past, most contact tracing was done door-to-door using "old-fashioned shoe leather."
Now, most health departments are using a call center model, although an occasional house call may be necessary if the person doesn't respond to calls, texts, or letters. "We currently use one central telephone number and leave a lot of voicemails. If the contacts call back, the call is routed to the staff person available rather than making people wait," says Cirillo.
The new contact tracers being hired are given cellphones and laptops, which enable them to telework. "I am really excited that Verizon will make contact tracers' phones appear as 'VDH COVID TEAM' on the caller ID," says Cirillo.
.@TheJusticeDept@HHSGov warn about contact tracing scams, noting that legitmate Covid contact tracers will never ask for your financial information. pic.twitter.com/MZLZpvfAqy
The Virginia Department of Health is also asking health providers to tell their COVID-19 patients to expect a call from the VDH COVID Team.
A major challenge of cold-calling contacts is that people don't answer their phones. Contact tracers in Massachusetts have reported that occurs more than half the time. The phone calls should come from an 833 or 857 phone number, and the caller ID should display MA COVID Team, according to a local public radio article.
Massachusetts Gov. Charlie Baker has implored residents to answer the phone from their board of health or MA COVID Team.
Contact tracers are working around this limitation by texting a simple message such as "this is the Virginia health department and we're trying to contact you, please call us at this number," says Cirillo.
But scammers posing as contact tracers are texting people with fake messages and links. The message may say, "you were exposed to someone who tested positive for COVID-19" and click on this link to learn more or sign up for testing, according to the Daily Independent in Arizona, which reported the problem last month.
In contrast, legitimate contact tracers for privacy reasons will not leave a detailed message like that or insert links.
In spite of these challenges, "we have had a very good voluntary compliance rate because of the ability of case investigators and contact tracers to build that trust with folks," says Vogt. There have been only a few instances when the department needed to issue an order to enforce isolation or quarantine.
Woo says that 87% of cases assigned were successfully interviewed as of June 17. "At the time that I started making calls on May 1st, the percentage was 85%."
WebMD Health News © 2020

Cite this: Contact Tracer Teams Growing Amid New Challenges - Medscape - Jun 30, 2020.