Editor's note: Find the latest COVID-19 news and guidance in Medscape's Coronavirus Resource Center.
COVID-19 patients with an underlying condition are 6 times as likely to be hospitalized and 12 times as likely to die, compared with those who have no such condition, according to the Centers for Disease Control and Prevention.
Among those with underlying conditions such as cardiovascular disease or diabetes, 45.4% of patients with COVID-19 were hospitalized, versus 7.6% of patients without an underlying condition, said Erin K. Stokes, MPH, and associates of the CDC COVID-19 Emergency Response team.
The difference in deaths was even greater over the study period of Jan. 22–May 30, 2020: 19.5% of COVID-19 patients with underlying conditions died, compared with 1.6% of those with no underlying condition. The gap narrowed, however, for ICU admissions, with corresponding rates of 8.5% and 1.5%, the investigators reported June 15 in the Morbidity and Mortality Weekly Report.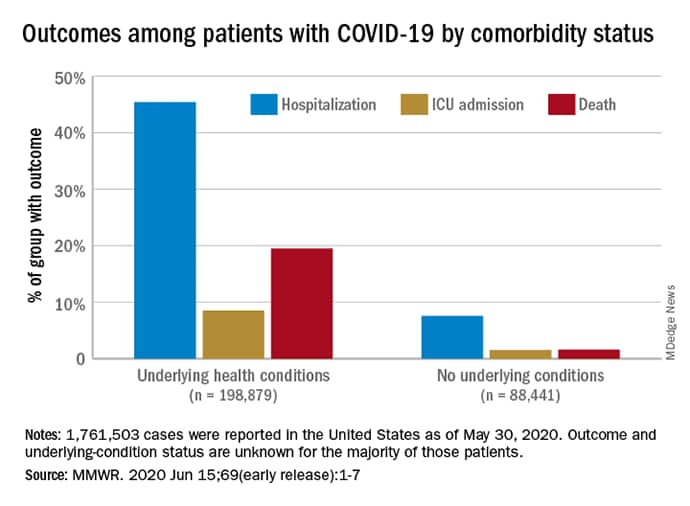 "The COVID-19 pandemic continues to be severe, particularly in certain population groups," they said.
The cumulative incidence of laboratory-confirmed cases up to May 30, for instance, was nearly twice as high for those aged 80 years and over (902 per 100,000 population) than for those aged 70-79 years (464.2 per 100,000). Those aged 50-59 years had the second-highest incidence, 550.5 per 100,000, Ms. Stokes and associates said.
"Among cases with known race and ethnicity, 33% of persons were Hispanic, 22% were black, and 1.3% were [American Indian/Alaska Native]. These findings suggest that persons in these groups, who account for 18%, 13%, and 0.7% of the U.S. population, respectively, are disproportionately affected by the COVID-19 pandemic," they wrote.
Another source of disparity: "Incidence among males and females was similar overall, [but] severe outcomes were more commonly reported among males," the investigators noted. Cumulative incidence was 401.1 per 100,000 for males and 406.0 for females, but 6.0% of male patients died, compared with 4.8% of females.
As of May 30, a total of 1,761,503 cases and 103,700 deaths had been reported to the CDC. Of those cases, approximately 1.3 million were included in the analysis, with data on individual underlying health conditions available for 287,320 (22%). The split on those cases was 198,879 with health conditions and 88,411 without, the CDC data show.
The most frequently reported underlying conditions were cardiovascular disease (32%), diabetes (30%), chronic lung disease (18%), and renal disease (7.6%), and there were no significant differences between males and females, Ms. Stokes and associates said.
The pandemic "is an ongoing public health crisis in the United States that continues to affect all populations and result in severe outcomes including death," they said, emphasizing "the continued need for community mitigation strategies, especially for vulnerable populations, to slow COVID-19 transmission."
SOURCE: Stokes EK et al. MMWR. 2020 Jun 15;69(early release):1-7.
This story originally appeared on MDedge.com.
Medscape Medical News © 2020

Cite this: Comorbidities Increase COVID-19 Deaths by Factor of 12 - Medscape - Jun 17, 2020.