Editor's note: Find the latest COVID-19 news and guidance in Medscape's Coronavirus Resource Center.
A woman in her 20s received a double-lung transplant last week after the coronavirus damaged her respiratory system, Northwestern Medicine in Chicago announced on Thursday.
The woman spent 6 weeks in the hospital's COVID ICU on a ventilator and life support. In early June, her lungs developed irreversible damage, and she was listed for a double transplant. Within 48 hours, the team was able to perform the procedure.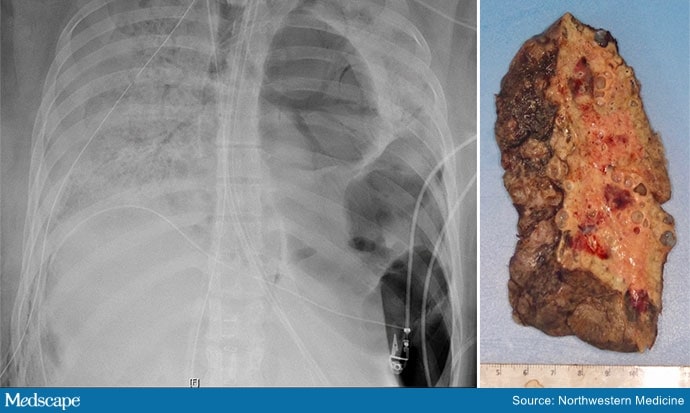 An X-ray of the patient's lungs before surgery, and one of her removed lungs.
Courtesy: Northwestern Medicine
"A lung transplant was her only chance for survival," Ankit Bharat, MD, chief of thoracic surgery and surgical director of the hospital's lung transplant program, said in the news release.
Organ transplants may become more common in severe cases of COVID-19, Bharat told The Washington Post . The coronavirus affects the lungs most often, but it can also damage the heart, kidneys, blood vessels, and nervous system.
"We want other transplant centers to know that while the transplant procedure in these patients is quite technically challenging, it can be done safely," he said. "It offers the terminally ill COVID-19 patients another option for survival."
The patient tested negative for COVID-19 before she was placed on the transplant list.
"For many days, she was the sickest person in the COVID ICU — and possibly the entire hospital," Beth Malsin, MD, a pulmonary and critical care specialist at the hospital, said in the news release.
Researchers at Northwestern Medicine are trying to understand more about COVID-19 and how it damages the lungs.
"How did a healthy woman in her 20s get to this point? There's still so much we have yet to learn about COVID-19. Why are some cases worse than others?" Rade Tomic, MD, a pulmonologist and medical director of the hospital's lung transplant program, said in the news release.
The woman was on immunosuppressant medication previously when she contracted the coronavirus, Bharat told The Washington Post. She developed bacterial infections as well, which antibiotics couldn't help because her lungs were so severely damaged. Her heart and other organs began to fail.
She is now recovering from the operation in intensive care and is awake, eating, and talking to family members by phone, according to the newspaper. Although she has a "long and potentially risky road to recovery" ahead, doctors hope she will make a full recovery, Tomic said.
In late May, surgeons in Austria performed the world's first lung transplant in a COVID-19 survivor, according to CNN. The patient, a 45-year-old woman, had a severe form of the disease that damaged her lungs.
WebMD Health News © 2020

Cite this: Lung Transplant on COVID-19 Patient Is aFirst for the US - Medscape - Jun 12, 2020.