Editor's note: Find the latest COVID-19 news and guidance in Medscape's Coronavirus Resource Center.
Ranjit Sah, MD, was feeling good on January 27 — triumphant, even. That was the day Bikram Singh, a student at Wuhan University who had come home to Nepal for winter break, was confirmed to be recovered from infection with the novel coronavirus later named SARS-CoV-2.
When Singh first arrived in Nepal, he had a cough that quickly escalated into a frightening illness. But for 2 months, he remained the only confirmed COVID-19 case in the entire country — one of the most isolated nations in the world, wedged between India and China in the Himalaya Mountains, but with a far-flung diaspora.
Not anymore. As of June 10, Nepal's case count has reached 4085. The country, a popular destination for mountain climbers because of its massive peaks, including Mt Everest, has reported 15 deaths, the first two of which occurred on May 17 and 18: a 29-year-old woman who had given birth less than 2 weeks prior, and a 25-year-old man who was being held in a quarantine facility for returning emigrants.
The situation is increasingly tense in the capital of Kathmandu, where grocery store closings have led to widespread food shortages and police are enforcing a strict lockdown, says Sah. With no food at home, Sah and his fellow healthcare workers have been eating all their meals at work at the National Public Health Laboratory of Nepal, in between rounds of analyzing COVID-19 diagnostic tests.
It's a critical time for Nepal, Sah says, because the case count is still low enough to warrant hope of containing the virus via thorough aggressive testing, contact tracing, and quarantine. Whether the country has the resources to pull that off, however, remains in question.
As one of Nepal's very few infectious disease specialists, Sah, 31, has quickly stepped up to become the leader of Nepal's coronavirus testing initiative. "Since the country has no option, I have to take charge," he says. He has expanded his original lab's team of six into a staff of more than 80, absorbing staff from other labs and hospital departments to take part in PCR testing. He often works 14-hour days in the lab and educates new staff members on testing procedures and PPE use. "If there were many experts, then probably I would not be here," Sah says. "But there are not."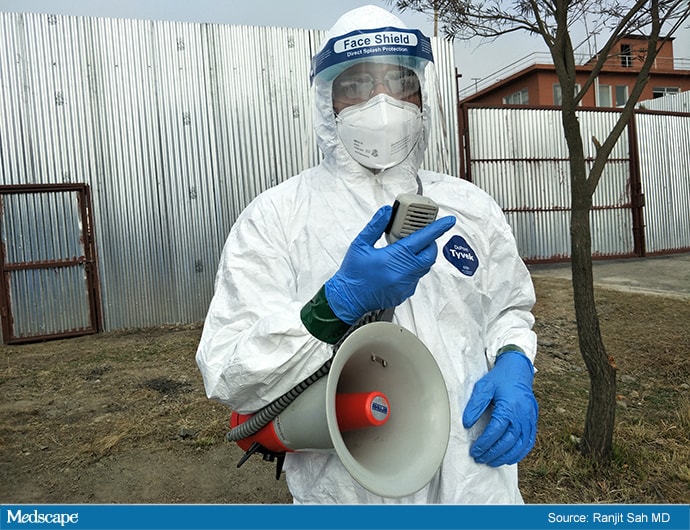 Dr Ranjit Sah, in full protective gear, dispatches teams to conduct COVID-19 testing of returning students at a quarantine facility.
The stakes are especially high, he says, because Nepal lacks the medical equipment needed to treat and control a large outbreak. There are few hospital beds, especially outside of big cities, and the entire country of 28 million people has 450 ventilators, Sah says, though the number in working condition may be even smaller. Sah worries that because most of Nepal's resources and doctors are concentrated in Kathmandu, rural areas of the country will struggle if they face a true outbreak.
It is the poorest residents of the poorest countries who will be disproportionately affected by this pandemic, according to the World Health Organization's representative in Nepal, Jos Vandelaer, MD, MPH. "Nepal, a developing country which is still recovering from the many consequences of the massive 2015 earthquake," he says, "is no exception."
A Young Specialist Steps Up
Sah is intimately familiar with Nepal's vulnerability. Born in Kalyanpur, a modest village near the Indian border and a seven hour drive from Kathmandu, Sah came of age at the close of the Nepalese Civil War in 2006. A diligent student, he decided to become a doctor to help his people in the wake of so much instability. He left for medical school in Bangladesh.
After graduating, he returned to Nepal to work as an emergency physician and soon realized that more than half of his patients suffered from infectious diseases like dengue, diphtheria, and influenza — with almost no specialists to treat them. "That was one big thing triggering me to go train in infectious diseases," says Sah. He left again, this time for specialized training in India.
Today, Sah relies heavily on his infectious disease training in the fight against the coronavirus — he was the physician who recognized the constellation of symptoms in Bikram Singh that led to identifying the country's first case of COVID-19.
When Singh flew home to Kathmandu from Wuhan on January 9, he had already been dealing with a dry cough and likely fever for several days, which he attributed to the cold and foggy Wuhan weather. From the Kathmandu airport, Singh went directly to his apartment. He took cough syrup and tried a few Nepali home remedies like breathing in the vapors of boiling herbs and oils.
But his condition worsened. He dragged himself to the hospital 4 days later, the same institute where Sah runs his lab and normally studies influenza. Physicians there immediately placed Singh on supplemental oxygen, and the staff brought Sah in to consult. Hearing that Singh had come from Wuhan, Sah immediately thought of the new, mysterious virus that was quickly overwhelming parts of China, Nepal's neighbor to the north. Although Sah had no way to test Singh for the coronavirus himself, he contacted a WHO lab in Hong Kong that agreed to test a throat swab that Sah collected, froze and shipped them.
After just 4 days in the hospital, Singh had recovered enough to return home. A week after that, on January 24, the result of his test for SARS-CoV-2 came back from Hong Kong: positive.
Sah and his team scrambled to contact Singh and requested COVID-19 testing materials from the WHO. Singh returned to the hospital, where he and everyone he had been in contact with post-discharge were tested. All results were negative, and on January 27, Singh was declared COVID-free.
Sah and a few other hospital staff monitored themselves for symptoms and attempted to isolate, only going back and forth between home and the hospital for work. "In that period of incubation, 14 days, I took my temperature for fever every day," he says. Sah says that no one involved in Singh's case, including himself, had been wearing personal protective equipment, so they were all vulnerable. "If the infection would be spread, I should be the first person to get it," he says. "I was personally exposed. But I didn't get it, I don't know why."
Everything was moving so quickly in the early days that he really didn't have time to worry, Singh says of his time in the hospital. "At the time, people did not know too much about COVID-19, so there was no fear in me or my family…If I got it now I would be more scared."
Despite consistently negative test results and a fully recovered patient, Sah's satisfaction at controlling Nepal's first case faded quickly. "By that time, a lot of people were dying in China…we were all afraid," says Sah.
February and early March were oddly quiet: Nepal reported no new cases of the virus. Sah remained vigilant, and used that time to build his lab into the biggest SARS-CoV-2 diagnostic operation in Nepal.
In the beginning, it was a little disorganized because there wasn't a set protocol for testing, says Rachana Mehta, a microbiology research associate at Sah's lab who helps run the PCR tests. "I was afraid — I am afraid — because I have a baby," she says, "and when we started testing for coronavirus she was only 6 months old." Despite fear and risks, Mehta continues to go into the lab and appreciates the ceaseless drive of her team. "When coronavirus came, we just worked so hard to set a protocol," she says, "and Dr. Sah was really working hard through this, day and night."
Sah still personally checks all the PCR reagent mixtures for every round of testing and leads PCR training sessions for all new staff. When Nepal's Ministries of Health and Foreign Affairs repatriated and quarantined 175 students from Wuhan in February, they called Sah. He acquired PPE for his team and led them through Nepal's first large testing session. He marshaled his team with a bullhorn and ran test after test — all negative. Recently, he tested all the members of Nepal's parliament as well as the prime minister, who also all tested negative.
A Critical Time
When the WHO officially declared COVID-19 a pandemic on March 11, the Nepal government initially kept its border with India open, and inbound and outbound flights remained fully operational. Nepal's government issued a lockdown on March 19, shutting down schools and prohibiting any nonessential movement.
But it was only on March 22 that they suspended all international flights, and by then they were too late. The country's second case of COVID-19 was a 19-year-old woman who had flown in to Kathmandu from France 5 days earlier. Cases three and four arrived on March 19 from the United Arab Emirates. Nepal was no longer a refuge from the fast-spreading global scourge.
In the first two weeks of May, the country's case number more than quadrupled, from 57 to 246. Then the numbers really began to skyrocket. By the end of the month, the total number had jumped to 1401, nearly six times that mid-May total of 246.
While 584 patients have recovered, Nepal's first COVID-19 deaths have the country shaken, says Sah. The pandemic is now everywhere in the country, he says, so it is imperative for Nepalis to utilize every resource they have. Because the whole world is dealing with this virus, Sah doubts that anyone will come to Nepal's aid: "If things get bad here," he asks, "where would we get help?"
Nineteen testing centers are in operation across the country. Nepal has conducted more than 100,000 tests, mostly of quarantined migrant workers and those in communities with known infection. More than one third of those tests have been done by Sah and his team. Most of the positive test results, Sah says, have been in returning migrants and other travelers.
But major hurdles remain. In some regions, Nepal has found it quicker to dispatch the army to collect swabs and send them back to Kathmandu for diagnostics than it is to set up local testing in those regions. Plus, fear of the virus and poor training means some sample collectors swab improperly and collect unreliable samples. Sah has created educational videos in Nepalese on proper nasopharyngeal and oropharyngeal swabbing, as well as on correct PPE usage.
The Nepali government is also trying its best to conduct contact tracing. But without the same technology and infrastructure as countries like South Korea or China, such as cellphone tracking, their tracing abilities are limited, Sah says.
The military is providing the workforce for contact tracing, but it has proven tricky: Verifying the right contacts to trace when relying solely on people's memories is difficult, and it's often not done in time to prevent further transmission. In a country where large families often live together in tight spaces, the number of exposed individuals can grow exponentially and become unmanageable.
Local media outlets have criticized the country's efforts. The Ministry of Health and Population gave just 3 days of intensive training to newly hired doctors and nurses joining intensive care units, and allocated only 43 beds for COVID-19 patients across three cities. Airport security in Kathmandu screened incoming passengers with six infrared thermometers and a broken thermal scanner.
With the lockdown in place, hundreds of migrant Nepali workers in India and elsewhere are struggling to return to a country that is reluctant to let them back in, an issue that Human Rights Watch has flagged as an infringement of basic human rights.
Al Jazeera has reported that crowds of Nepali laborers have gathered at the India-Nepal border, willing to stay in quarantine if that means they can eventually go home. But Nepal's limited quarantine facilities cannot accommodate so many.
"We can't say no to them," Sah says, "but we can't say yes to them."
Sah is still living in isolation out of fear he might contract the virus, and hasn't seen his family for more than 4 months. Life for him takes place almost entirely behind a mask, except for the few hours when he is alone in his Kathmandu apartment. His frightened parents initially told him to leave the city, that he wasn't being paid enough to risk his life. And although they've stopped trying to get him to come home to Kalyanpur, they still call every day to remind him to be careful — as if he needed reminding.
These days, Sah is more concerned for them as cases pop up closer and closer to his family's village. "I was thinking initially, when there were no deaths in Kathmandu, of arranging for them to come [here]," Sah says. "But now there are deaths and community spread in Kathmandu…They are safer over there."
Sah says his self-imposed isolation will be worth it if Nepal can weather the global pandemic. In early April, when Nepal's case number was less than 100, he estimated that the country would struggle if more than 4000 people were infected. The number of cases reached 4085 on June 10 after tripling in just 10 days.
The doctor's confidence is shaken, but he remains stubbornly optimistic. "We are handling it," he says. Because most cases are mild, he has revised his estimate and now thinks the country may be able to handle up to 10,000 cases of COVID-19. But, he acknowledges, "Anything beyond that will be a disaster for us."
When asked about life beyond the 10,000 case threshold, Sah could only say, "I don't know. And I don't want to think about it."
Hannah Seo is a science journalist based in Brooklyn. She is currently a student in NYU's Science, Health and Environmental Reporting program and an intern at Popular Science.
Medscape Medical News © 2020

Cite this: Meet the Young Doctor Leading Nepal'sCOVID-19 Testing Program - Medscape - Jun 12, 2020.