Editor's note: Find the latest COVID-19 news and guidance in Medscape's Coronavirus Resource Center.
Last week, resident physicians walked out of Brookdale University Hospital and Medical Center in Brooklyn, New York. Their action was part of a "unity break," staged to bring attention to a list of demands they want met before the city's next COVID-19 surge.
When COVID-19 was at its peak in New York City, Oriana Ramirez, MD, worked 12-hour days, 6 days in a row, for 8 weeks straight. "I'd wake up at 4 in the morning, be at the hospital by 6 AM, home by 10 PM, cry in the shower, sleep, and repeat," she said.
Ramirez, a third-year resident in internal medicine, didn't mind the long hours so much as the fact that patients weren't always getting the treatment they deserved. The hospital was short on funds and supplies. Yet when residents tried to bring specific problems to the attention of hospital administrators, they felt their concerns went unheard.
"The bottom line is we were alone," she said. "At least, we felt that way."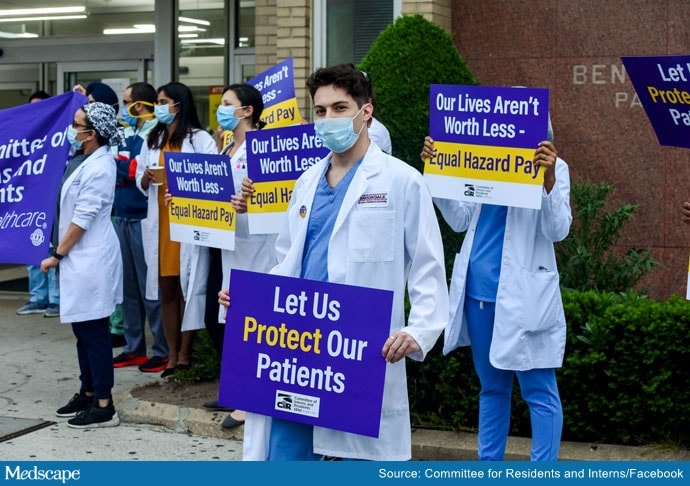 Residents at Brookdale University Hospital and Medical Center staged a 20-minute protest May 28. Among the demands: increased hazard pay and a seat for residents on committees planning for the next COVID-19 wave.
Like many in New York City, Brookdale residents worked without adequate PPE. The hospital required they use N95 masks for 3 days. When one of the residents lost her mask, she worked 2 days without one.
By May, 70% of the emergency medicine residents had tested positive for COVID-19. And most of the improvements in PPE came from GoFundMe campaigns, organized by the residents themselves, to procure masks and other equipment, they said.
The unity break participants came with a list of demands, such as increased hazard pay and a seat for residents on the planning committees that are preparing for the next wave.
These residents want to make sure that their hospital has enough of the medications and equipment that were in short supply during the height of the pandemic. As a safety-net hospital — caring for the low-income, uninsured, and vulnerable populations of New York City — Brookdale doesn't turn patients away. During the peak of COVID-19, Brookdale and other safety-net hospitals were hit especially hard. Beds, negative pressure rooms, medications, and nurses were stretched far thinner at Brookdale than at other hospitals nearby, residents said.
Because of that, Ramirez said, "we saw patients die in a very bad way."
Additionally, residents demanded that the hospital arrange its beds more effectively. "Our emergency room fits 50 comfortably. With 60, it's crowded," said an emergency medicine resident who asked not to be identified for fear of retribution. "At one point we had 160 patients in the ER"
Finally, the residents are using their protest power to draw attention to the fact that, as a safety-net hospital, Brookdale suffers from a severe lack of funding because it serves all patients, whether or not they can pay.
The walkout of about 70 residents occurred on May 28 and was organized by Alexander Andreev, MD, a third-year resident in internal medicine. (Participants ensured that their 20-minute protest didn't interfere with patient care.)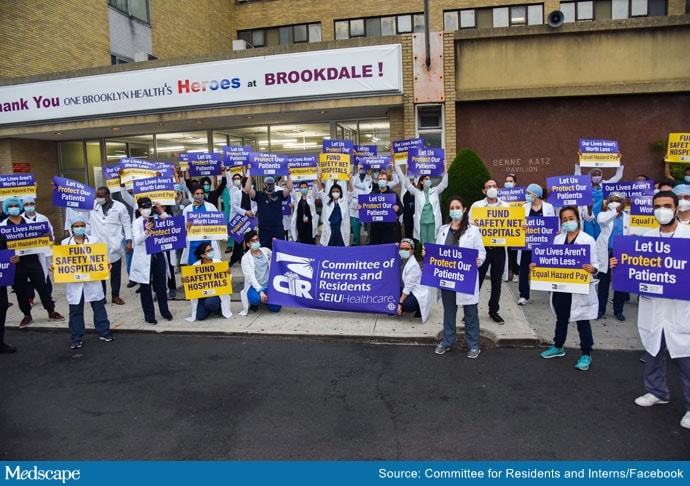 Residents at Brookdale staged a 20-minute protest on May 28. One of the demands: the hospital should arrange the beds more efficiently. "At one point, we had 160 patients in the ER," said one resident.
The hospital did not respond to interview requests from Medscape, but a union spokesperson told Medscape Medical News that administrators have agreed to meet with residents.
Although residents met with administrators near the end of April, they say the hospital made only a couple of minor concessions, such as allowing residents to start attending labor-management meetings. But that was not even remotely enough, the residents said. They believe that knowledge gleaned from their first-hand experience will be critical for making improvements.
"We really know what is going on and what to do," Andreev said. "We want to protect the patients and do everything we can so it will never happen again."
Ramirez agreed. "In the end it's not about the money — there's no money that can make me sleep at night. We want to be involved in any plan for the next peak. They didn't take us into consideration. And we were the ones there all the time."
Residents rarely take such public stands, a union spokesperson said, because their careers rely so heavily on good letters of reference. And many were scared to attend the unity break after administrators sent an email reminding the union leader that such actions could result in disciplinary measures, including termination.
"Due to the culture of medicine, residents being willing to stand up so publicly is very rare," said Lila Folders, organizer of the Committee of Interns and Residents (CIR/SEIU). "It shows what they're willing to do to fight for their patients given the threat of COVID."
Sheila Eldred is a freelance health journalist in Minneapolis. Find her on Twitter @MilepostMedia.
Do you have information on how your hospital or health network is responding to PPE shortages, gag orders, or other related issues? Has anyone you know faced disciplinary measures for speaking out? Write to us: news@medscape.net .
For more news, follow Medscape on Facebook, Twitter, Instagram, and YouTube.
Medscape Medical News © 2020

Cite this: Residents Demand Changes in Advance of Second Wave of COVID-19 - Medscape - Jun 05, 2020.