Hyperbaric oxygen therapy (HBOT) markedly reduces multiple symptoms of persistent postconcussion syndrome (PPCS) following mild traumatic brain injury (mTBI), results from a randomized controlled crossover study show.
In civilians and military veterans with mTBI/PPCS, HBOT led to significant improvement in postconcussion symptoms, memory/cognition, behavioral/emotional problems, and sleep, resulting in significant improvement in patients' quality of life.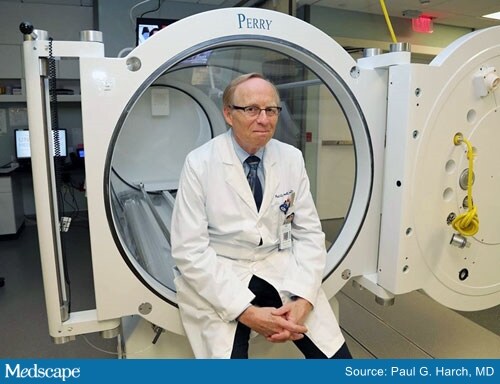 Dr Paul Harch, pictured with a hyperbaric oxygen chamber.
"This study is the culmination of 31 years of clinical treatment and research on hyperbaric oxygen for TBI," lead investigator Paul Harch, MD, clinical professor of medicine, Louisiana State University Health Sciences Center, New Orleans, told Medscape Medical News.
"It's also the first study that looked at both veterans and civilians, and the results really recapitulated what our experience has been," Harch said.
The study is published in the March issue of Medical Gas Research.
Disease-Modifying Treatment
HBOT has been used to help with wound healing. "Over time, we have learned that traumatic brain injuries are considered to be wounds to the brain, which makes [HBOT] a scientifically logical application to this kind of injury," Harch said in a news release.
The study included 63 civilian and military patients who had been experiencing PPCS for an average of 4.6 years after being injured and who had not previously undergone treatment ― the longest average delay to treatment of any of the mTBI/PPCS HBOT studies to date.
Participants were randomly assigned either to a group that received 40 HBOT treatments at 150 kPa for 60 minutes once daily 5 days per week for 8 weeks, or to a control group that received no treatment for the same period, after which the control group crossed over to the HBOT group.
All participants underwent symptom assessment, as well neuropsychological and psychological testing, before and after treatment or control period. Participants were retested 2 months after the last HBOT session. Fifty patients completed the protocol with primary outcome testing.
With HBOT, there was a 26.3-point decrease in the Neurobehavioral Symptom Inventory PPCS symptom score (a primary outcome). For the control group, there was a 2.5-point decrease (P < .0001).
Compared with no treatment, HBOT also led to statistically significant improvement in memory, overall cognitive function, depression, anxiety, posttraumatic stress disorder (PTSD) symptoms, quality of life, and quality of sleep, as assessed using validated measures.
The researchers note that 83% of the HBOT group experienced an improvement in headaches, which was the index inclusion criteria symptom for the study; 33% of the control patients experienced worsening of headaches.
"This symptom has been identified as a primary symptom in TBI, the sole symptom distinguishing TBI/PPCS from PTSD, and is a surrogate marker for brain wounding in mTBI. The reduction in headache underscored that HBOT was treating TBI in this study and not just symptoms," they note in their article.
After crossing over to HBOT, the control group subsequently experienced "near identical and statistically indistinguishable improvements," the researchers report.
"In both groups, most of the improvements were sustained and even improved for some tests nearly 3 months after the last HBOT, suggesting HBOT as a disease-modifying therapy for mTBI PPCS," they add.
The dose of HBOT is "extremely important, just as it is for any drug," Harch told Medscape Medical News. This study demonstrates that 40 HBOT treatments of 150 kPa oxygen for 60 minutes in an 8- to 10-week period is a "beneficial, valid, and durable treatment for mTBI PPCS," the researchers conclude in their article.
Fatigue was the only symptom that worsened with HBOT; 9% of patients reported increased fatigue. This may have been a sign of oxidative stress, which appeared to be clinically significant in four patients late in the protocol.
Promising Findings
Commenting on the study for Medscape Medical News, Kirk Lercher, MD, assistant professor of rehabilitation medicine, Icahn School of Medicine at Mount Sinai in New York City, said the effects of HBOT seen in this study of patients who had persistent symptoms of mTBI are "promising."
"Over the years, there has been a lot of hope and promise on hyperbaric oxygen. But in my over 10 years of seeing brain injury patients, I've had very few who have had this treatment, because access to it is fairly limited, but it has always had this promise," said Lercher, who wasn't involved in the study.
For a long time, hyperbaric oxygen has been used to facilitate wound healing in the military. The theory is that the technique creates more oxygen and increases the vasculature to the injured area. Such effects might be helpful to the brain after TBI, Lercher said.
"There are lot of 'walking wounded' patients with mTBI who look fine, with no overt physical impairments, but who have many unseen impairments that are very limiting and disabling to their day-to-day life," Lercher added.
Hyperbaric oxygen could be "an excellent tool to offer a patient who hasn't responded in that typical time frame in which we hoped they would get better by. However, there is a very small patient population out there that can afford this treatment, both for cost and also for time required to do the treatments," said Lercher.
Harch said the cost of HBOT treatment hovers around $200 to $250 per session ($8000 to $10,000 for the full course). It is not currently covered by insurance.
The study was supported by the US Army Medical Research and Materiel Command Fort Detrick and the Joe W. and Dorothy Dorsett Brown Foundation. Harch owns a consulting company called Harch Hyperbarics, Inc. He also has a financial arrangement with the treatment facility that is the primary location of his medical practice. Lercher has disclosed no relevant financial relationships.
Med Gas Res. 2020;10:8-20. Full text
For more Medscape Neurology news, join us on Facebook and Twitter.
Medscape Medical News © 2020

Cite this: Hyperbaric Oxygen Therapy Eases Persistent Postconcussion Symptoms - Medscape - Jun 04, 2020.