Changes in the mucus that lines the gastrointestinal (GI) tract may contribute to bacterial imbalance in the gut and exacerbate core symptoms of autism, Parkinson disease (PD), Alzheimer disease (AD), and multiple sclerosis (MS), new research suggests.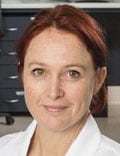 "Our research highlights the importance of addressing gut problems that can be experienced by people with brain disorders, taking a holistic view that recognizes the ways gastrointestinal issues may be exacerbating their neurological symptoms," senior author Elisa Hill-Yardin, PhD, RMIT University, Bundoora, Australia, told Medscape Medical News.
"Our work shows that microbial engineering and tweaking the gut mucus to boost good bacteria have potential as therapeutic options for neurological disorders," Hill-Yardin said.
The study was published online May 28 in Frontiers in Cellular and Infection Microbiology.
New Gut-Brain Connection
Neurologic and GI disorders often coexist. Gut disorders are often associated with and precede core symptoms of autism, PD, AD, and MS, yet the exact causes are unclear.
The review of 113 neurologic, gut, and microbiology studies by Hill-Yardin and colleagues points to a common thread ― changes in gut mucus.
In all of four neurologic disorders, there is evidence of altered levels of mucosa-associated bacterial species, the authors report.
For example, a recent study involving patients with AD who also had symptoms indicative of inflammatory bowel syndrome showed an association between dysbiosis, or microbial imbalance, and an increase in mucolytic bacteria.
Similarly, stool samples from AD patients have shown an increase in proinflammatory bacteria and a decrease in anti-inflammatory bacteria. Previous research has shown that microbial dysbiosis in patients with AD causes an increase in gut permeability, which may lead to systemic inflammation and impair the blood-brain barrier, the researchers note.
Bacterial imbalance in gut mucosa is also evident in patients with autism, PD, and MS.
Multiple pathways relevant to mucus homeostasis may be affected by nervous system impairment in patients with neurologic disease, the investigators add.
Alterations in the gut mucus represent a "new gut-brain connection that opens up fresh avenues for scientists to explore, as we search for ways to better treat disorders of the brain by targeting our 'second brain' ― the gut," Hill-Yardin said in a news release.
"There is a lot more research needed to clearly identify clinical implications. If we can understand the role that gut mucus plays in brain disease, we can try to develop treatments that harness this precise part of the gut-brain axis," she said.
Interesting, Highly Speculative
Commenting on the findings for Medscape Medical News, Alessandro Di Rocco, MD, director of the movement disorders program for Northwell Health in Great Neck, New York, said this is "an interesting review, as mucus is not a common focus of attention in the discussion on the potential role of the changes of the intestinal microbe composition (microbiota) or other intestinal changes in Parkinson's and other neurological disorders.
"This is, however, a review paper, and it builds its argument assembling evidence from other studies, with no single leading experimental evidence. The argument of the role of mucus is therefore highly speculative," Di Rocco cautioned.
"The most interesting aspect of this review article is that mucus could be a potential therapeutic target for an intervention aimed at re-equilibrating the microbiota or to normalize other changes observed in the intestine of patients with Parkinson's disease, and mucus is possibly an easier target for a hypothetical treatment," said Di Rocco.
The research was supported by an Australian Research Council Future Fellowship grant and an RMIT Vice Chancellor's Senior Research Fellowship grant. Hill-Yardin and Di Rocco have disclosed no relevant financial relationships.
Front Cell Infect Microbiol. Published online May 28, 2020. Full text
For more Medscape Psychiatry news, join us on Facebook and Twitter.
Medscape Medical News © 2020

Cite this: The Gut a New Therapeutic Target for Brain Disorders? - Medscape - Jun 04, 2020.