Editor's note: Find the latest COVID-19 news and guidance in Medscape's Coronavirus Resource Center.
How much income will physicians lose this year?
With no sign yet that COVID-19 is under control, no one is prepared to answer this question. Developing a vaccine and then distributing it may take 12 to 24 months.
The financial impact of the pandemic has been devastating. In New York, the hardest hit state, 80% of doctors have lost more than half their revenues since the outbreak started, the Medical Society of the State of New York reported in mid-April.
That is a severe blow, but it won't be fatal if the emergency ends fairly soon, as some are predicting, says Sherry Glied, PhD, a healthcare economist who is a professor of public service at New York University in New York City.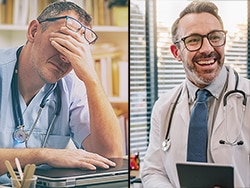 "If the world simply closed between March 15 and May 15, the effects of COVID-19 on physicians' livelihood would not be an overwhelming problem, but if the effects go on and on, it will have serious consequences for the profession," she said.
In Louisville, Kentucky, which has had relatively few COVID-19 cases so far, "all of us are wondering what's going to happen next, and almost everything is speculation," said Terrence R. McWilliams, MD, chief clinical consultant at HSG, a consultancy for not-for-profit hospitals and their employed physician networks around the country.
Even viewing the financial impact of COVID-19 to this point, different physicians have had very different experiences. Some have been devastated financially, others are limping along, and yet others haven't seen a large decline in income.
Hardest Hit: Physicians Who Perform Elective Procedures
The hardest-hit doctors are those whose primary source of income is elective procedures, which have been halted in many hospitals and ambulatory surgery centers. This is true for physicians nationwide, not just in areas hit hard by COVID-19, because closing down elective procedures has become virtually a nationwide phenomenon.
By late April, 37 states ― including all the largest states ― had barred elective procedures, though by that time, a few of them were planning to end those restrictions. In addition, the Centers for Medicare & Medicaid Services issued guidance that limits nonessential elective surgeries.
Physicians deeply affected by this ban include plastic surgeons, ophthalmologists, orthopedic surgeons, gastroenterologists, general surgeons, and vascular surgeons. Many of them have lost 95% or more of their patient volume, and some of them, particularly plastic surgeons, have closed down their practices temporarily.
"These are doctors who are used to doing quite well financially," said Joel Greenwald, MD, a financial advisor for physicians in St. Louis Park, Minnesota. One of his clients, a surgical specialist who had a very successful private practice, told Greenwald that if his finances didn't improve soon, he would have to close permanently.
Many surgeons can fall back on some income from trauma cases, but with so many people stuck inside, the number of trauma injuries has declined. "There are fewer people driving, skiing, or pursuing other risky activities," said Alex Kilian, a physician wealth manager at Aldrich Wealth in San Diego, California.
Among the specialties in this category are the following.
Plastic surgeons. Gary Price, MD, temporarily closed his solo plastic surgery practice in Guildford, Connecticut, in early March. "Almost everything I do is elective, but the primary reason I closed was to protect my patients and staff," Price said. His staff is still being paid, thanks to the new government loan program, and he plans to reopen within the next 2 months.
Orthopedic surgeons. Derek E. Lamprecht, DO, part of a practice with six orthopedic surgeons in Portland, Oregon, says his group lost about 90% of its income in March. Lamprecht practices sports medicine, and his own particular volume fell almost to zero.
"We are now open 4 days a week with less than half staff each day," he said. "We're falling back on our personal savings, plus the money left over from the first 3 months of the year, which were very busy for us."
A 10-physician orthopedics group that Kilian advises projects that income will be down 90% for the year if current conditions continue. "They have enough cash to survive for the short term, but that money would largely come from their personal bank accounts," he said.
Ophthalmologists. "In general, ophthalmologic practices are operating on 5% to 10% of usual cash flow for the moment, with significant differences around the country," said John B. Pinto, an ophthalmology practice management consultant in San Diego. "On the retina side ― where some practices were deemed essential at the outset ― it's more like a 50% drop in revenue."
Otolaryngologists. ENTs have also been badly affected by the ban on elective surgeries. As states begin to remove those bans, these specialists face higher health risks because of the association of the mouth and nose with transmission of COVID-19, says George W. Monks, MD, a dermatologist in Tulsa, Oklahoma, and president of the Oklahoma Medical Association.
Next Hardest Hit: Doctors Who Depend on Patient Visits
Doctors who depend on patients coming to their offices for checkups and routine care have been canceling many of these visits or have seen those visits canceled by patients. Among these:
Primary care physicians. These physicians depend heavily on office visits. In a mid-April survey, only 47% of physicians and other clinicians in primary care thought they had enough cash on hand to stay open for the next 4 weeks.
"Throughout much of primary care, patient demand has decreased considerably," said David N. Gans, senior fellow at the Medical Group Management Association, which represents group practices. "In pediatrics, for example, parents with concerns like minor earaches are waiting rather than going in for an appointment. Also, a lot of pediatrics is well care, which can be delayed."
"Even with telemedicine, many family physicians and general internists are likely to see 20% to 30% declines in income," said Travis Singleton, senior vice president at Merritt Hawkins, a physician search firm.
Clinics for the needy. Federally qualified health centers (FQHCs) ― federally financed clinics serving low-income patients ― have been furloughing staff. Gary LeRoy, MD, president of the American Academy of Family Physicians, works part time at an FQHC in Dayton, Ohio. He says the facility furloughed three quarters of the staff after holding off for 4 weeks of low patient volume. "Patients just don't want to come in," he said.
Physicians in EDs and urgent care. Physicians at emergency departments and urgent care centers are generally seeing declines in numbers of patients. "People do not want to go to a place where there are other sick people, possibly with COVID-19," said Michael La Penna, a physician practice manager in Grand Rapids, Michigan. "They would rather use telemedicine."
Even with a public health emergency, emergency physicians are unusually idle, and their income is falling. "We found out yesterday that we have a 10% salary decrease effective May 2 to December 25," said a pediatric emergency physician at a health system in the Midwest, who asked not to be identified. Another pediatric emergency physician at the same institution added: "Our bonus will be based on clinical productivity, and since our numbers are down, that is likely to go away."
Dermatologists. Dermatologists have seen a big decline in volume, particularly if they perform many elective procedures, such as Botox treatments. Monks, the dermatologist in Tulsa, says he doesn't have a lot of Botox patients, and telemedicine has helped boost visits, but his volume is still down by 60%.
Ryan Inman, founder of Physician Wealth Services in San Diego, says a group of dermatologists he advises has seen its income drop from between $600,000 to $800,000 per year for each of them to zero now. "They have chosen to basically close down, with some staff still working, rather than deal with telemedicine," he said.
Physicians treating chronic conditions. Physicians who treat chronic conditions, such as endocrinologists, nephrologists, and pain doctors, are also seeing some declines in visits. In an April survey of patients with asthma, diabetes, and other chronic conditions, 40% said they were "worried/very worried" about going to a medical facility for needed care, and 10% were actively avoiding care.
According to the survey, cancellations are most prevalent among patients with chronic pain, 52% of whom said they had foregone or would forgo care. Among patients with rheumatoid arthritis, 46% stopped coming in for treatment, followed by patients with arrhythmia (45%), type 2 diabetes (45%), migraine (43%), depression (42%), and asthma (39%).
When the pandemic hit, gastroenterologists and rheumatologists at the PA Clinical Network, a clinically integrated network in Pennsylvania, saw an immediate decline of patients using their infusion centers, says Jaan Sidorov, MD, an internist who runs the network.
"Many of these patients have compromised immune systems, which make them very vulnerable to COVID-19," he said. "But the infusion income went away."
Partially Hit Physicians: Some Income Is Holding Up
For some physicians, the pandemic means performing some procedures — which bring in income — while hitting pause on other efforts. These includes the following.
Urologists. Most urology work is elective, which has stopped, but it also involves cancers, which has continued, says Paul M. Yonover, MD, a urologist at UroPartners, a large single-specialty practice in Chicago, with 62 urologists.
"We went from being very busy, our schedules packed to the gills, to near zero, but we have bounced back somewhat," he says. "Volume is now 60% to 70% of what it was, thanks mainly to telemedicine."
Ob/gyn. Patients are not coming in for gynecologic visits, but obstetrics cannot be put off. "Our volume is cut in half, and I have reduced my salary by 50%," said Sarah Wilkinson, MD, an ob/gyn at an 11-doctor single-specialty practice in San Diego, California.
On the gynecologic side, the practice has stopped conducting annual exams, treating urinary tract infections, and performing other types of routine care, and elective procedures have virtually stopped, she says. She is conducting many video visits even for obstetrics patients.
Rather than see obstetricians, some expectant mothers who are worried about transmission of COVID-19 are opting for home births using midwives. A midwife in New York, for example, said she had received more than 100 inquiries in just 1 week in mid-March, whereas she usually has 70 to 80 clients in a whole year.
Academicians. Although many employed physicians are paid on the basis of productivity, academic physicians mostly receive salaries, which have generally not changed, says Daniel Wrenne, a financial planner for physicians in Lexington, Kentucky.
Wilkinson says her husband, Michael, a cardiologist at University of California, San Diego (UCSD), conducts research as well as provides patient care, and his salary has not changed. However, other physicians at UCSD have told her that they are expecting large salary cuts.
"If an academic physician doesn't have tenure and/or any contractual protection, they can have their salary cut or can be furloughed or laid off," La Penna said. "Moreover, it's not clear yet whether medical schools will start the next academic year."
Radiologists. In affected areas, there may be many x-rays of COVID-19 patients to read, even as other radiology has been largely suspended. Also, "radiologists don't have to be in contact with patients, and they have less overhead," Wrenne said. "Many of them have set up the technology in their house, so being quarantined doesn't hurt. They're seeing less volume for sure, but not nearly as bad as some others."
Anesthesiologists. Anesthesiologists' experiences differ widely, depending on the types of surgeries they attend to. Those who work only on elective surgeries are seeing their business dry up, whereas those who work on essential surgeries are still busy.
Psychiatrists. Among clinical psychiatrists,"some are treating patients they have not seen for years, and already active clients are asking for more frequent sessions," an article in Clinical Psychiatry News reported in mid-April. "Others have patients who are uncomfortable with remote sessions, new referrals are down, and some have lost their job and can't afford care."
Many employed psychiatrists are getting paid, but the future is unclear. "We actually have had a recent raise in base pay, and we are moving to a production-based model, tentatively in July," wrote a psychiatrist at a Minnesota health system, who asked not to be identified. "Haven't heard of any pay cuts...yet."
Cardiologists and neurologists. These specialists deal with the effects of heart attacks and strokes, which are considered higher priority than many other conditions. But unexplained declines in the number of heart attacks and strokes have affected their volume.
In an informal Twitter poll of cardiologists in early April, almost half reported that they were seeing a 40% to 60% drop in admissions for heart attacks, and 20% reported more than a 60% drop.
"Cardiologists have observed that hospital volumes for the most severe type of heart attack, known as a STEMI [ST-elevation myocardial infarction], are mysteriously low," a physician at Harvard School of Public Health commented in April. "Neurologists are also reporting fewer strokes."
Physicians Whose Income Is Less Affected
There is also a subset of doctors who aren't seeing drastic cuts to their income, including the following.
Physicians treating COVID-19 patients. Physicians directly caring for patients with the virus ― such as intensivists, pulmonologists, and geriatricians ― are generally busy. Despite feeling exhausted and concerned about their own health, many are still earning money.
Tertiary specialists. Neurosurgeons, heart surgeons, oncologists, and other tertiary specialists are to a large degree able to carry on with their usual work and are generally busy. They are next in line after COVID-19 physicians for access to personal protective equipment (PPE), staff, and operating space, which may not be available to other specialists.
A client of Greenwald's is an employed oncologist at a hospital system in New York City. "He has not seen any decrease in his income," Greenwald said. Wrenne, the financial planner in Kentucky, advises a pediatric oncologist who is working for a hospital, partly through telemedicine. "He is considered essential, so he gets the PPE he needs," he said.
Concierge physicians. Concierge and direct-care physicians can depend on a monthly fee, and they are providing advice to patients who are concerned about getting COVID-19. Some of them have obtained COVID-19 tests and are providing them to their patients.
"My concierge clients are busier than ever," Wrenne said. "They've lost a couple of patients, who can't afford it anymore, but it's a very small percentage."
"Concierge physicians are treating patients who are concerned about getting COVID-19, so there is a lot of counseling and behavioral health," La Penna said. "Since they are compensated by subscription payment, they may fare better than their counterparts whose compensation is linked to pay per visit."
Telehealth doctors. Telehealth companies, which employ full-time and part-time doctors, have flourished as patients stopped going to brick-and-mortar clinics and payers lifted restrictions on telehealth use. As early as the end of March, PlushCare was seeing a 70% increase in appointments, and Amwell (formerly American Well) saw use of its app rise 158%.
Locum tenens doctors. "The amount of locums work is rising," said Singleton, at Merritt-Hawkins. "Doctors with less to do work for a locums company or for a telemedicine company."
The Worst May Be Yet to Come
Of all the categories of physicians, "I am worried about private practices the most," Singleton said. "They don't have a financial cushion and will start seeing big drops in revenue at the end of May."
"A lot of the A/R [accounts receivables] for practices come within 30 days, and very little comes in after 90 days," said McWilliams, the consultant for not-for-profit hospitals and their physician groups. "So private practices are reaching the point where prior A/R will start to dwindle and they will start feeling the decline in new claims submissions."
Large practices may have a bigger financial cushion, but many of them also have more liabilities. "We don't know the financial loss yet, but I think it's been devastating," said Yonover, the urologist in the large Chicago group. "In fact, the financial loss may well be larger than our loss in volume, because we have to support our own surgery center, pathology lab, radiation center, and other in-house services."
Leigh Page is a freelance writer based in Chicago, Illinois.
For more news, follow Medscape on Facebook, Twitter, Instagram, and YouTube.
Medscape Medical News © 2020

Cite this: COVID-19 and Physician Income: Some Are Suffering While Others Are Not - Medscape - May 20, 2020.