In recent weeks, physicians have gotten the first hints of how much income they could lose in the COVID-19 crisis.
"At a combined system and hospital board meeting yesterday, there was a financial presentation," said a cardiologist in Minnesota, who declined to be named. "We have 'salary support' through May 16, which means we will be receiving base pay at our 2019 level. After May 16, I think it's fairly certain salaries will be decreased."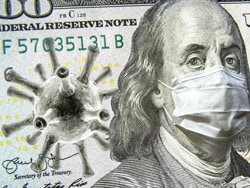 A general internist in the same area added: "The system has decided to pay physicians and other employees for 8 weeks, until May 15, and they are borrowing about $150 million to do this. We don't know what will happen after May 15, but we are supposed to have an update in early May."
Physician income is of huge interest, and many aspects of it are discussed in Medscape's Physician Compensation Report 2020, just released.
The Worst May Be Yet to Come
Of all the categories of physicians, "I am worried about private practices the most," says Travis Singleton, senior vice president at Merritt Hawkins, a physician search firm. "They don't have a financial cushion, and will start seeing big drops in revenue at the end of May."
"A lot of the A/R [accounts receivables] for practices come within 30 days, and very little comes in after 90 days," says Terrence R. McWilliams, MD, chief clinical consultant at HSG Advisors, a consultancy for not-for-profit hospitals and their employed physician networks around the country. "So private practices are reaching the point where prior A/R will start to dwindle and they will start feeling the decline in new claims submissions."
Large practices may have a bigger financial cushion, but in many cases they also have more liabilities. "We don't know the financial loss yet, but I think it's been devastating," says Paul M. Yonover, MD, a urologist at UroPartners, a large single-specialty practice in Chicago, with 62 urologists. "In fact, the financial loss may well be larger than our loss in volume, because we have to support our own surgery center, pathology lab, radiation center, and other in-house services."
Employed Physicians in Limbo
In contrast to physicians in private practices, many employed physicians at hospitals and health systems have been shielded from the impact of COVID-19 — at least for now.
"The experiences of employed physicians are very mixed," says Singleton at Merritt Hawkins. "Some health systems have reduced physicians' pay by 20%, but other systems have been putting off any reductions."
Hospitals and health systems are struggling. "Stopping elective surgeries deeply affected hospitals," says Ryan Inman, founder of Physician Wealth Services in San Diego. "With fewer elective surgeries, they have much less income coming in. Some big hospitals that are pillars of their community are under great financial stress."
"Hospitals' patient volumes have fallen by 50% to 90%," McWilliams reports. "Lower volume means lower pay for employed physicians, who are paid by straight productivity or other models that require high volumes. However, some health systems have intervened to make sure these physicians get some money."
Base pay is often safe for now, but quarterly bonuses are on the chopping block. "Employed physicians are often getting a guaranteed salary for a month or two, but no bonuses or extra distributions,' says Joel Greenwald, MD, a financial advisor for physicians in St. Louis Park, Minnesota, a state mecca for physician employment. "They've been told that they will continue to get their base salary but forget about the quarterly bonuses. This amounts to salary reductions of 10% to 30%."
Assuring payment for these doctors means lowering their productivity benchmarks, but the benchmarks might still be too high for these times. An internist at a large health system in Minneapolis-St. Paul reports that at a lunch meeting, employed doctors learned that payment benchmarks will be reduced to 70% of their 2019 monthly average.
"I am seeing nowhere near 70% of what I was seeing last year," he writes in an email, asking that his name not be used. "Given how slow things have been, I am probably closer to 30%, but have not been given any data by on this, so I am guessing at this point."
Adapting to a Brave New World
Even as they face a dark financial future, physicians have had to completely revamp the way they practice medicine — a cumbersome process that, in itself, incurred some financial losses. They had to obtain masks and other PPE, reposition or even close down their waiting rooms, cut back on unneeded staff, and adapt to telemedicine.
"It's been an incredibly challenging time," says Yonover, the Chicago urologist. "As a doctor. I cannot avoid contact, and it's not totally clear yet how the virus spreads. But I don't have the option of closing the door. As a practice owner, you're responsible for the health and well-being of employees, patients, and the business."
"A practice's daily routine is somewhat slower and costlier," says David N. Gans, MSHA, senior fellow at the Medical Group Management Association (MGMA), which represents group practices. "Between each patient, you have to clean a lot more than previously, and you have to stock up on PPE such as masks and gowns. PPE used to be limited to infectious patients, but now it's universal."
At PA Clinical Network, a clinically integrated network in Pennsylvania, volume fell 40%-50% and income fell 30%-50% from late March to late April, according to Jaan Sidorov, MD, an internist who is CEO of the network, which has 158 physicians in a variety of specialties working in 54 practices around the state.
"Revenue went down but it didn't crash," he says. "And our physicians pivoted very quickly. They adapted to telehealth and applied for the federal loan programs. They didn't use waiting rooms. In some cases, staff was out in the parking lot, putting stethoscopes through patients' windows."
"None of the practices closed, not even temporarily," Sidorov says. "But clearly this cannot go forever without having serious consequences."
How Much Can Telemedicine Help?
Telemedicine has been a lifeline for many struggling practices. "As much as 20% to 40% of a practice's losses can be recouped through telemedicine, depending on variables like patients' attitudes," says Singleton at Merritt Hawkins.
The rise in telemedicine was made possible by a temporary relaxation of the limits on telemedicine payments by Medicare and many private payers. Medicare is currently paying the same rates for telemedicine as for in-office visits.
In a recent MGMA Stat survey, 97% of practices reported that they had taken up telemedicine, according to Gans. He estimates that 80% of primary care could be converted to telemedicine, including medication refills, ongoing care of chronic patients, and recording patients' vital signs from home.
Some primary care physicians are now using telemedicine for 100% of their visits. "I voluntarily closed my practice weeks ago except for virtual visits due to the risk of exposure for my patients," a doctor in South Carolina told the Primary Care Collaborative in mid-April. "I continue to pay my staff out of pocket but have reduced hours and am not receiving any income myself."
However, Inman of Physician Wealth Services says family medicine clients using telemedicine for all of their patients are earning less per visit, even though the Medicare reimbursement is the same as for an office visit. "They earn less because they cannot charge for any ancillaries, such as labs or imaging," he says.
"Telemedicine has its limits," Singleton says. It cannot replace elective surgeries, and even in primary care practices, "there is a lot of work for which patients have to come in, such as physicals or providing vaccines," he says. "I know of one doctor who has refrigerator full of vaccines to give out. That pays his bills."
In many cases, "telemedicine" simply means using the phone, with no video. Many patients can only use the phone, and Medicare now reimburses for some kinds of phone visits. In a mid-April survey of primary care providers, 44% were using the telephone for the majority of their visits, and 14% were not using video at all. Medicare recently decided to pay physicians the same amount for telephone visits as in-person visits.
Financial Boosts Will Run Out Soon
Many private practices are surviving only because they have managed to tap into new federal programs that can finance them for the short-term. Here are the main examples:
Receiving advance Medicare payments. Through the Medicare Accelerated and Advance Payment Program, physicians can be paid up to 3 months of their average Medicare reimbursement in advance. However, repayment starts 120 days after receiving the money and must be completed within 210 days.
Obtaining a federal loan. Under the Paycheck Protection Program (PPP), which is available to all kinds of small businesses, practices can apply for up to 2.5 times their average monthly payroll costs.
PPP money can be used for payroll, rent, mortgage interest, or utility payments for up to 8 weeks. The loan will be entirely forgiven as long as the rules are followed. For example, three quarters of the money must go to payroll, and laid-off employees must be rehired by June 30.
There was such a rush for the first round of PPP loans that many physicians failed to get the loan. "Many of my physician clients applied for the loan as soon as they could, but none of them got it," says Inman, the San Diego financial advisor. "We are hoping that the next round of funding will provide them some relief." The second round started on April 27.
Physicians who have already obtained the PPP loan are very relieved. "This loan made it possible for us to pay our employees," says George W. Monks, MD, a dermatologist in Tulsa, Oklahoma, and president of the Oklahoma Medical Association.
Staff benefiting from higher unemployment payments. Many practices and hospitals are laying off their staff so that they can collect unemployment benefits. This is a good time to do that, because the federal government has boosted unemployment payments by $600 a week, creating a total benefit that is greater than many people earned at their regular jobs.
This extra boost ends in July, but practices with PPP loans will have to rehire their laid-off workers a month before that. Getting laid-off staffers to come back in is going to be critical, and some practices are already having a hard time convincing them to come back, says Michael La Penna, a physician practice manager in Grand Rapids, Michigan.
"They are finding that those people don't want to come back in yet," he says. "In many cases they have to care for children at home or have been getting generous unemployment checks."
The problem with all these temporary financial boosts is that they will disappear within weeks or months from now. La Penna is concerned that the sudden loss of this support could send some practices spinning into bankruptcy. "Unless volume gets better very soon, time is running out for a lot of practices," he says.
Hospitals, which also have been depending on federal assistance, may run out of money, too. Daniel Wrenne, a financial planner for physicians in Lexington, Kentucky, says smaller hospitals are particularly vulnerable because they lack the capital. He says a friend who is an attorney for hospitals predicted that 25% of small regional hospitals "won't make it through this."
Such financial turmoil might prompt many physicians to retire or find a new job, says Gary Price, MD, a plastic surgeon in New Haven, Connecticut, and president of the Physicians Foundation, an advocacy group for the profession. In a survey of doctors by the Physicians Foundation and Merritt Hawkins, released on April 21, 18% planned to retire, temporarily close their practices, or opt out of patient care, and another 14%, presumably employed physicians, planned to change jobs.
Is Recovery Around the Corner?
In early May, practices in many parts of the country were seeing the possibility of a return to normal business — or at least what could pass for normal in these unusual times.
"From mid-March to mid-April, hospitals and practices were in panic mode," says MGMA's Gans. "They were focusing on the here and now. But from mid-April to mid-May, they could begin looking at the big picture and decide how they will get back into business."
Surgeons devastated by bans on elective surgeries might see a bounce in cases, as the backlog of patients comes back in. By late April, 10 states reinstituted elective surgeries, including California, Arizona, Georgia, Indiana, Colorado, and Oklahoma, and New York has reinstituted elective surgeries for some counties.
Price hopes to reopen his plastic surgery practice by the end of June. "If it takes longer than that, I'm not sure that the practice will survive," he says. His PPP loan would have run out and he would have to lay off his staff. "At that point, ongoing viability of practice would become a real question."
Monks hopes a lot more patients will come to his dermatology practice. As of the end of April, "we're starting to see an uptick in the number of patients wanting to come in," he says. "They seem to be more comfortable with the new world we're living in."
"Viewing the backlog of cases that haven't been attended to," Monks adds, "I think we'll be really busy for a while."
But La Penna thinks the expected backlog of elective patients will be more like a trickle than a flood. "Many patients aren't going to want to return that fast," he says. "They may have a condition that makes exposure to COVID-19 more risky, like diabetes or high blood pressure, or they're elderly, or they live in a household with one of these risk groups."
Andrew Musbach, cofounder of MD Wealth Management in Chelsea, Michigan, expects a slow recovery for primary care physicians as well. "Even when the lockdowns are over, not everyone is going to feel comfortable coming to a hospital or visiting a doctor's office unless it's absolutely necessary," he says.
Getting back to normal patient volumes will involve finding better ways to protect patients and staff from COVID-19, Yonover says. At his urology practice, "we take all the usual precautions, but nothing yet has made it dramatically easier to protect patients and staff," he says. "Rapid, accurate testing for COVID-19 would change the landscape, but I have no idea when that will come."
Wrenne advises his physician clients that a financial recovery will take months. "I tell them to plan for 6 months, until October, before income returns to pre-COVID-19 levels. Reimbursement lags appointments by as much as 3 months, plus it will probably take the economy 2 to 3 months more to get back to normal."
"We are facing a recession, and how long it will last is anyone's guess," says Alex Kilian, a physician wealth manager at Aldrich Wealth in San Diego, California. "The federal government's efforts to stimulate the economy is keeping it from crashing, but there are no real signs that it will actually pick up. It may take years for the travel and entertainment industries to come back."
A recession means patients will have less spending power, and healthcare sectors like Lasik surgery may be damaged for years to come, says John B. Pinto, an ophthalmology practice management consultant in San Diego. "Lasik is purely elective and relatively costly," he says. "When people get back to work, they are going to be building up their savings and avoiding new debt. They won't be having Lasik."
"There won't be any quick return to normal for me," says Price, the Connecticut plastic surgeon. "The damage this time will probably be worse than in the Great Recession. Back then, plastic surgery was off by 20%, but this time you have the extra problem of patients reluctant to come into medical offices."
"To get patients to come in, facilities are going to have to convince patients that they are safe," Singleton says. "That may mean undertaking some marketing and promotion, and hospitals tend to be much better at that than practices."
What a New Wave of COVID-19 Would Mean
Some states have begun reopening public places, which could signal patients to return to doctors' offices, even though doctors' offices were never officially closed. Oklahoma, for example, reopened restaurants, movie theaters and sports venues on May 1.
Monks, president of the Oklahoma Medical Association, says his group opposes states reopening. "The governor's order is too hasty and overly ambitious," he says. "Oklahoma has seen an ongoing growth in the number of cases, hospitalizations and deaths in the past week alone (in late April)."
The concern is that opening up public places too soon would create a new wave of COVID-19, which would not only be a public health disaster, but also a financial disaster for physicians. Doctors would be back where they were in March, but unlike in March, they would not benefit from revenues from previously busy times.
Pinto thinks the number of COVID-19 cases will rise and fall in the next 2 years, forcing states to reenact new bans on public gatherings and on elective surgeries until the numbers subside again.
Pinto says authorities in Singapore have successfully handled such waves of the disease through short bans that are tantamount to tapping the brakes of a car. "As the car gathers speed down the hill, you tap the brake," he says. "I suspect we'll be seeing a lot of brake-tapping until a vaccine can be developed and distributed."
Gary LeRoy, MD, president of the American Academy of Family Physicians, recalls the worldwide Spanish Flu pandemic a century ago. "People were allowed out of their houses after 2 months, and the flu spiked up again," he says. "I hope we don't make that mistake this time."
LeRoy believes it's not possible to predict how the COVID-19 crisis will play out. "What will the future be like? I don't know the answer," he says. "The information we learn in next hours, days, or months will probably change everything."
Leigh Page is a freelance writer based out of Chicago, Illinois.
For more news, follow Medscape on Facebook, Twitter, Instagram, and YouTube.
Medscape Medical News © 2020

Cite this: COVID-19: What Will Happen to Physician Income This Year? - Medscape - May 13, 2020.